While in-field work has continued to rely on increasingly powerful tractors, farms and contracting businesses across the country are still in need of lower horsepower units and are expecting increased levels of versatility from them.
The Vestrum series from Case IH combines the compact dimensions of a manoeuvrable four-cylinder tractor with the cab comfort design of larger Case IH models. The new ActiveDrive8 technology offers 3 ranges of the latest, most efficient transmission including the 24×24 ActiveDrive8 with 8-step semi-powershift gearbox. The new benchmark Active-Clutch II allows the user to inch down to 0km/h using only the brake pedal for complete control. A working range of between 1300 to 1800rpm means great driveability in field, ensures a better tractor response at low load and improves engine lugging in both transport and field operations. A 4-pillar, spacious suspended cab with an optional panoramic roof is available, presenting 360-degree visibility. Fully compatible with Case IH's new L Front Loader series, which has factory installation available, the ease of loader work will be helped by the advanced joystick which includes gear and direction change for optimal control. Users will be able to choose from 4 models from 100 to 130hp with a 4-cylinder, Stage V engine with a maximum output of 140hp.
Claas – www.claas.co.uk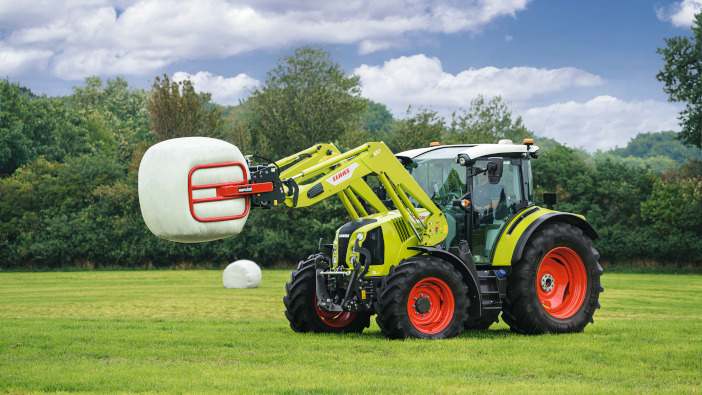 The Arion 400 range benefits from a long wheelbase, an even 50/50 weight distribution and compact overall length, making it extremely versatile and manoeuvrable. With hydraulic outputs of up to 150 l/min it is ideal for use with Claas front loaders, and the multifunction control lever which combines both the main tractor and loader operating functions, makes operation smooth and relaxing. As with high powered Claas tractors, the Arion 400 is available with the new Cemis 1200 terminal and Telematics. Cemis 1200 is capable of handling both online documentation through Telematics, in addition to ISOBUS and Task controller applications and comes with the SAT 900 multi GNSS receiver for a wide range of steering possibilities. Other technology includes the option of cab suspension, in addition to Proactiv front axle suspension which automatically adapts to the tractor loading and has 90mm of travel with independent wheel suspension.
Deutz-Fahr – www.deutz-fahr.com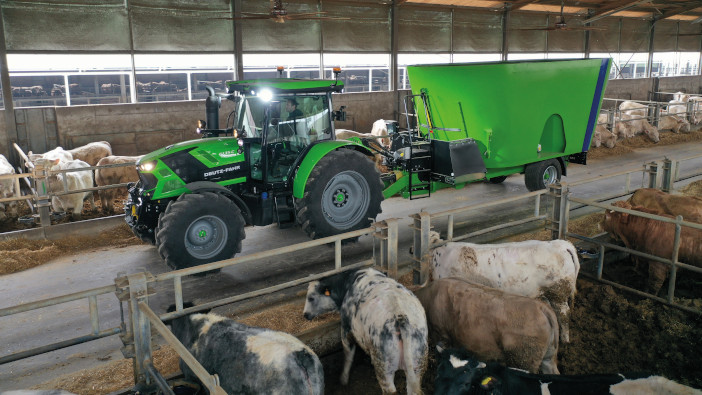 Deutz-Fahr's 6135 RV Shift has a 4 cylinder, 143 Hp FARMotion engine and it's all new RV Shift transmission that offers 20 forward and 16 reverse speeds with a full powershift concept. This compact workhorse is ideal for working within the tight constrains of livestock yards as it is manoeuvrable and versatile. Often specified as "loader ready" from the factory, it incorporates all of the loader controls on a joystick adjacent to the easy-to-use transmission joystick. The RV Shift transmission is based upon the TTV hardware, but with a full powershift concept, tapping forward to increase the gear, pulling back to reduce. It can be operated manually, or APS (Automatic Power Shift) can be selected, then the transmission will change automatically through the range of gears with individual settings for field and road. With the option of suspension and trailer air brakes, 50 KPH is also an option.
Fendt – www.fendt.co.uk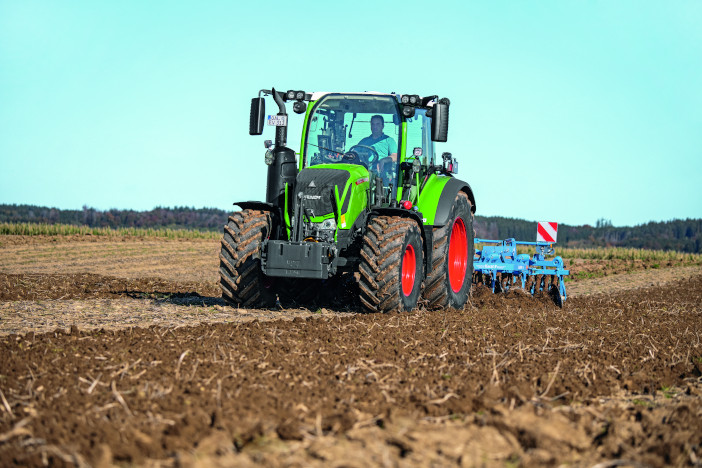 The Fendt 300 Vario series includes four models (Fendt 311 Vario, Fendt 312 Vario, Fendt 313 Vario, Fendt 314 Vario) with outputs ranging from 113 to 142 hp (ECE R120). With the DynamicPerformance power boost concept, the Fendt 314 Vario reaches 152 hp. The AGCO Power engine meets Emissions Stage V with a diesel oxidation catalyst (DOC), diesel particulate filter (DPF) and selective catalytic reduction (SCR) but without exhaust gas recirculation. There are also maintenance-free hydraulic valve lifters built into the engine. The model has an optional 12″ terminal on the armrest as well as the 10″ digital dashboard. All the displays work in unison, so the panes can show the various features in the terminal at the same time. With an emphasis on a comfortable and intuitive tractor, the machine includes a control armrest mounted on the driver's seat, a multifunctional joystick and electric valves. A spring-loaded front axle is fitted as standard and auto air-con and front power lift with load-relief control are available as optional extras.
John Deere – www.deere.co.uk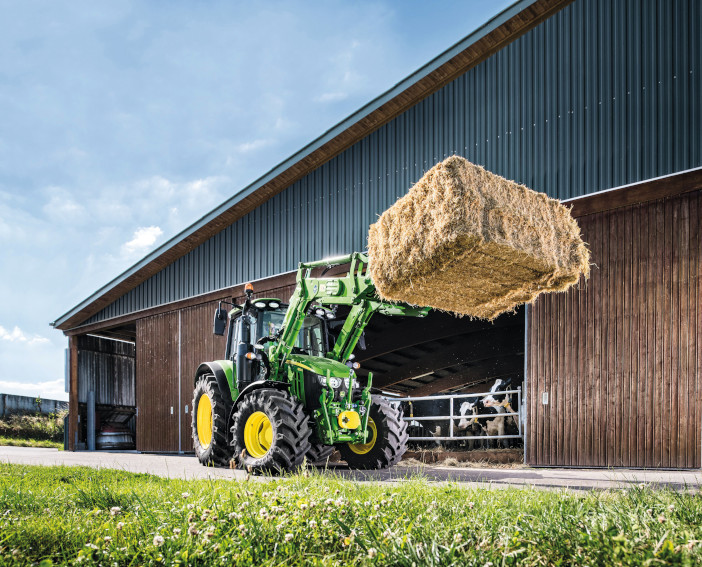 John Deere's 6120M is the company's smallest tractor and the only one in the 6M range to include Intelligent Power Management (IPM). This feature gives the tractor an extra 20hp when certain conditions are met, allowing a maximum power of 145hp in transport and PTO applications. This gives higher productivity and improved fuel efficiency as the additional power is only used when needed. The engine's compact design allows for the drop nose design of this tractor, giving visibility of 6.5m. Another benefit of the compact design is the tight steering angle which allows for a turning radius of just 4.35m. The 6090-6120M are the smallest tractors to have the IVT transmission as an option and the only models in the 6M range to offer this transmission. The IVT includes a lot of the handy transmission features carried down from the larger models such as Autoclutch, Load Anticipation, adjustable PowrReverser sensitivity and FieldCruise set speeds. It also includes the AUTO mode which lets the tractor adjust the transmission settings automatically based on the engine and transmission speeds and the load on the tractor.
Kioti – www.kioti-uk.com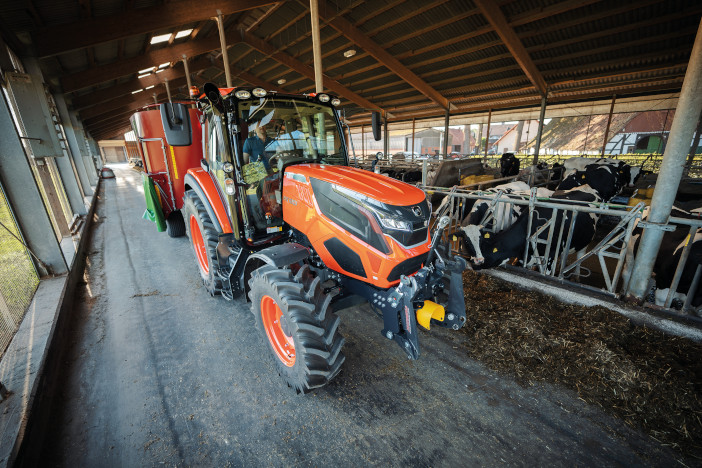 The flagship model in the Kioti line up, the HX series is available in models with 91, 100 or 115hp and all come with a 10hp PTO boost. A lightweight and powerful all-purpose tractor, the HX features a 4.4te lift capacity rear linkage, 2 x d/a spools and 540 (E) / 1000 rm rear PTO. Front linkage/PTO and front loader options are available to further increase versatility. All controls are well laid out and manually controlled for the cap, making it easy to operate, especially when used by multiple operators. Transmission is 32 x 32 forward and reverse and consists of creeper, low, medium and high ranges and a Power Shift button for clutch-less changing and a high/low splitter. There are 16 gear options between 2 and 14 km/hr. The 5-post cabin with glass sunroof gives excellent visibility for multiple tasks.
Kubota – www.kubota-eu.com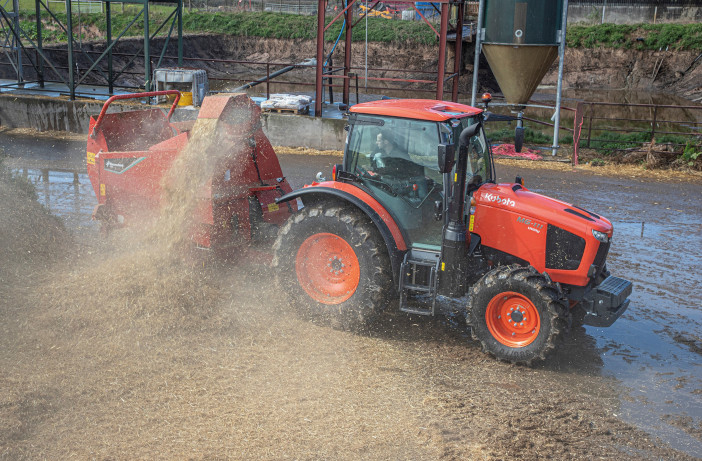 This year, Kubota has rolled out more options for the five models in the 104-143hp M6001 Utility Tractor series and has focussed on improving comfort, versatility and efficiency. Short wheelbase models comprise the M6-101U and M6-111U which use a 3.8 litre Kubota V3800 four-cylinder engine, producing a maximum power of 104hp and 111hp respectively. With a 2.54m wheelbase, these two models offer maximum torque figures of 346Nm and 379Nm. M6-121U, M6-131U and M6-141U sit on a longer 2.68m wheelbase, and use Kubota's 6.1-litre V6108 four-cylinder engine. Power outputs are 123hp, 133hp and 143hp, with maximum torque figures of 503Nm, 544Nm and 586Nm respectively. Previously, only the M6-141 Utility model was equipped with front axle suspension but this option can now be factory-fitted to the other four models, improving ride quality and operator comfort. Further versatility is the addition of a front linkage and front pto package. The linkage comprises a Cat IIIN format with a 2.8t lift capacity. The use of fold-up lower link arms simplifies integration with a loader. In addition, buyers can also add a double-acting spool outlet with the front linkage, while the front pto pack comprises a 1,000rpm speed.
Massey Ferguson – www.masseyferguson.co.uk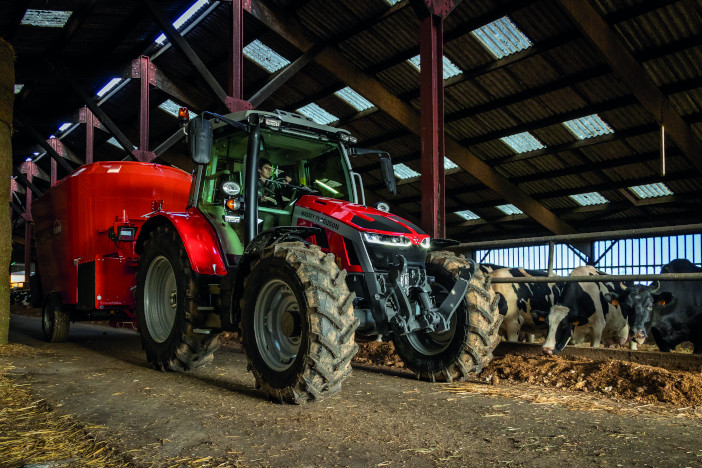 Massey Ferguson's five models from 105hp to 145hp in the MF5S series boast a 4m turning radius, narrow steep-nosed bonnets, greater payloads, and high linkage capacities. All models are equipped with four-cylinder engines and offer a choice of three levels of specification – Essential, Efficient and Exclusive, plus a range of options including Smart Farming technology. Models can be supplied loader ready, or now come equipped with a factory-fitted loader. The machine offers a choice of Dyna-4 or Dyna-6 transmissions with standard Brake-to-Neutral functions and Speedmatching or AutoDrive automatic changing options. The stronger three-point linkage provides 5,700kg lift capacity across the range, while the optional front linkage handles up to 3,000kg. New intuitive Datatronic 5 and Fieldstar 5 touch-screen terminals with Smart Farming technology help to optimise operations and improve accuracy and profit. All MF 5S Series models are equipped with a high specification cab, which keeps operators in optimum comfort. A new HVAC air system enhances air distribution, enabling operators to not only set and maintain the most comfortable temperature, but it also reduces demisting and defrosting times.
McCormick – www.mccormick.it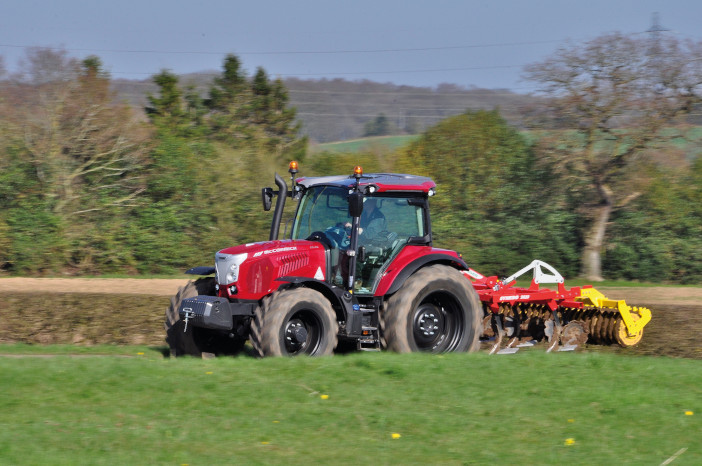 The 2023 Tractor of the Year accolade was awarded to McCormick's X6.4 P6-Drive. The machine is powered by a new FPT NEF 45 Stage V engine with power ratings of 135, 145 and 155 hp and a maximum speed of 50km/h. The model boasts a front axle with independent suspension, four-wheel braking, P6-Drive transmission with six PowerShift gears and four robotised ranges. Smart APS allows for automatic selection of the correct gear to suit load conditions and the Stop & Action with De-clutch function is integrated into the brake pedal for a smoother drive. The front hitch has a 2,500 kg lift capacity and the electronically controlled rear hitch has a lift capacity of up to 7,200kg. The machine's High Vision cab has a large, glazed surface and FOPS certified roof with panoramic hatch for ventilation and the new bonnet design allows for improved forward visibility.
New Holland – www.newholland.com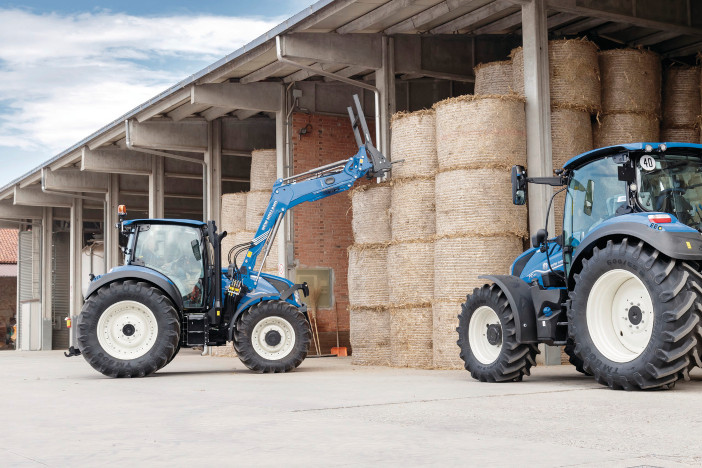 New Holland's T5 range has been engineered to ensure that it productively accomplishes a whole range of agricultural applications – from field, loader and yard work through to high-speed transport. The range is available with either the eight-speed semi-powershift Dynamic Command transmission or Auto Command transmission. The four-model series is powered by FPT NEF four-cylinder 4.5 litre engines and offers maximum outputs ranging from 110-140hp. The Horizon cab is available with the Super High Visibility Roof Panel which offers wider vision for loader applications. The entire range is fitted with a class 1.5 HD axle as standard and an optional class 1.75 axle is available which means the range manages high payloads, ideal when transporting grain or bales. The T5 range has been designed to incorporate a fully integrated, factory fitted, front linkage and PTO. All linkage and PTO controls can either be accessed from the comfort of the cab, or via the conveniently positioned controls on the linkage itself for greater efficiency when hitching.
Valtra – www.valtra.co.uk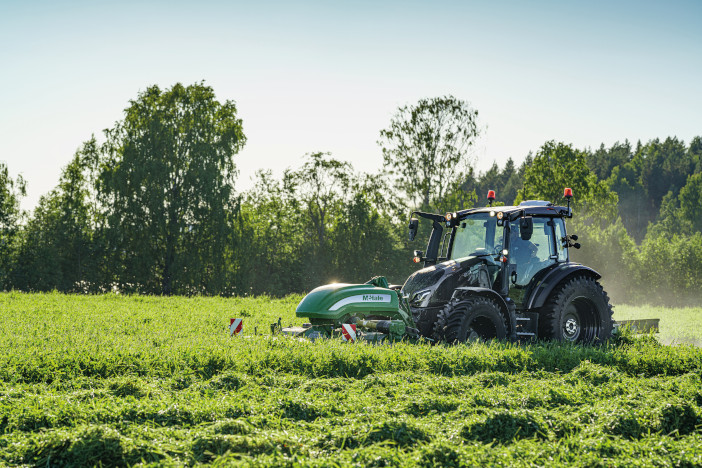 The G Series is the first in the 5th generation of Valtra tractors and a model series that fits between the popular A and N Series. The G Series is the first tractor in the 100–145hp range to offer SmartTouch controls as well as full precision farming capabilities. Valtra Connect telemetry is standard on Versu models of the G Series, while powerful load-sensing hydraulics are standard on Active and Versu models. The new G Series is available in four equipment levels: Basic, Comfort, Technology and Technology Pro and has been engineered for demanding front-loader tasks. It offers excellent visibility, good weight distribution, front-loader that is integrated with the chassis, a hydraulics assistant that automatically increases the engine speed, and the Live 3 feature, which enables the simultaneous use of up to three different front-loader functions. The series is powered by reliable four-cylinder 4.4-litre AGCO Power engines. An electronic wastegate and 1600 bar Bosch common rail injection offer fast response and plenty of torque across a broad range of engine speeds.
Zetor UK – www.zetor.co.uk/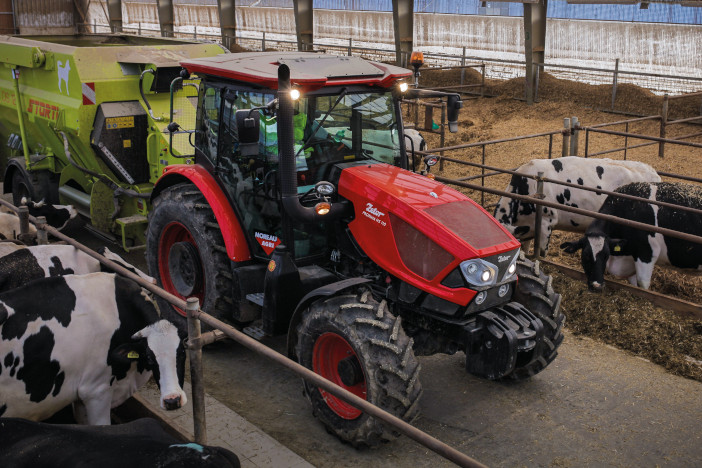 The Zetor Proxima range of tractors is available in 3 models – CL, GP and HS and from 80 to 120hp. The CL is a basic spec tractor ideal for farmers wanting a no-fuss tractor. The engine is a Zetor 4 cylinder stage 3b turbo charged diesel engine. 12 x 12 transmission consisting of 2 ranges with optional creep and 6 gears. It features a dry clutch which provides inch perfect control, ideal for loader or feeder wagon work. The machine can be fitted with front linkage and PTO or Trac Lift front loader for increased versatility and the optional 40km/h gearbox comes with all wheel hydraulic braking. Users wanting to upgrade the features can opt for the GP range with 16×16 gears (2 ranges, 4 gears and double power split) or the HS with 24 x 24 gears (2 ranges, 4 gears and 3 power shifts) both with a clutch button for easy gear changing. The HS also features f & R power shuttle for easier direction changing, well suited for constant direction changes such as front loader work.