The May cattle sale season is well underway and demand has been high with sale averages increasing.
Stirling Limousin
Following on from strong pedigree sales across the board in February, the May 1 sale average was up by a huge 41% on the year, settling at £7182/head. Clearance for 38 bulls sold was 83%, with five bulls making over 10,000gns and a top price of 14,000gns.
Alice Swift, Limousin Society CEO said: "It was pleasing to see Limousin-bred cattle driving the day's commercial trade and even more so that this knocked on into the pedigree ring as buyers continue to seek out bulls that produce well for this market. Thanks must therefore go to commercial buyers.  Their continued loyalty and support for the breed is heart-warming and Limousin breeders were rewarded with a fantastic trade and clearance".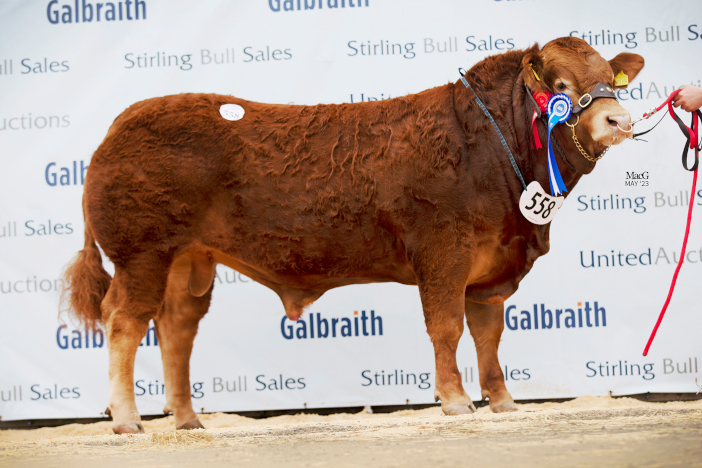 At 14,000gns, Lot 558 Anside Santa for Mr & Mrs S Irvine, Keith lead the way for the day.  Born in December 201 by the homebred Anside Orton and out of a Powerful Irish daughter, Santa was Reserve Champion in the pre-sale show the previous day.  With a Beef Value in the Top 1% of the breed and Myostatin F94L/F94L, Santa headed home with Wilson Peters of Monzie Farms, Crieff. 
The Overall Champion in the pre-sale Show was Lot 548 Corsairtly Solitaire from R&K Davidson from Keith, Banffshire.  This November 2021, born bull has a Beef Value in the Top 25% of the breed, Myostatin F94L/F94L and sold for 10,000gns.  Solitaire was purchased by Messrs Campbell, Allt-Na-Craik, Lochgoilhead.
Wroxall Simmental
The averages in the Wroxall sale were 12 cows with autumn born calves – £3537; 18 cows with spring born calves – £2867.08; five cows-in-calf – £2310; three in-calf heifers – £2800 and two unregistered cows with calves at foot – £3035.
The genuine reduction of the noted Wroxall Simmental herd of CH Evans & Son, Kington Grange Farm, Claverdon, Warwickshire saw a more than solid trade throughout gross just over £120,000 for the 32 cows forward with calves at foot, along with five cows in calf, and three in-calf heifers.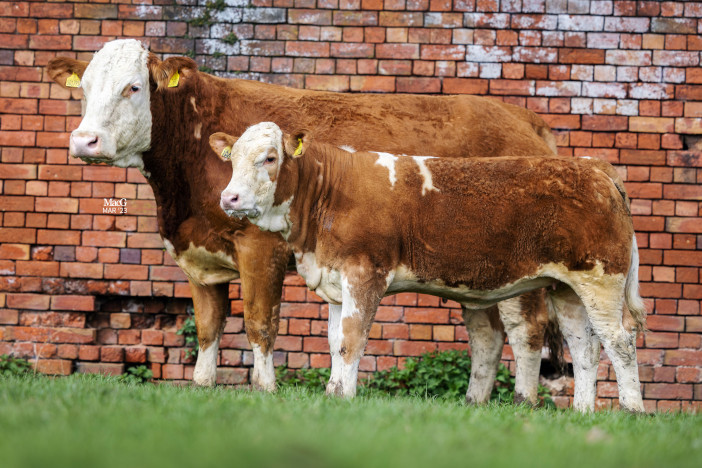 Leading the way at a combined 6000gns was the homozygous polled Wroxall Iona Zilla at 1800gns and with her stylish heifer calf Wroxall NII-Zilla at 4200gns. This unit was snapped up by the noted Coose herd of John Tuohy, Whitegate, Co Galway, Republic of Ireland.
The Wroxall Sale came about due to the end of the family's tenancy at Abbey Farm, Kenilworth after more than some ninety years, and the consolidation of the herd at its new new home at Claverdon. A packed ringside, and buyers online and on the telephone, ensured a strong trade with exports sales and animals selling to all corners of the UK. Some 40 lots, mainly pedigree Simmental cows with Simmental, and Blue calves at foot, grossed over a very healthy £120,000.
Worcester Simmental
The British Simmental Cattle Society's annual show and sale at McCartney's Worcester Livestock Market on Saturday April 29, saw a top price of 5800gns attained by first time exhibitor John Gosmore, Newton House Farm, Tattenhall for his September 2021 born bull Newton House Moneymaker.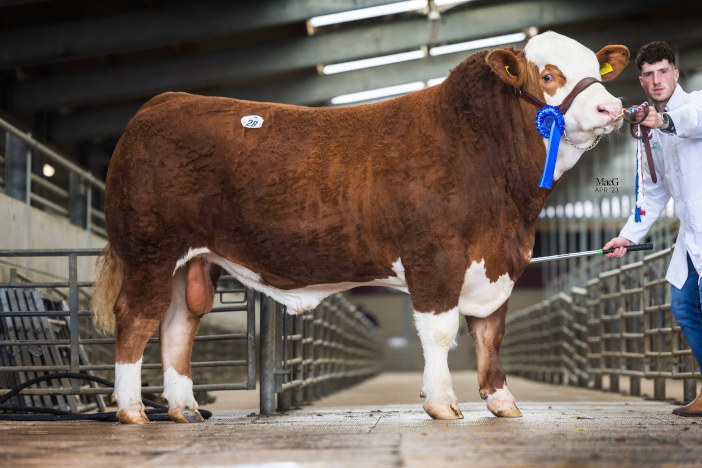 Mr Gosmore said: "We were delighted to achieve the day's top price at what was our first Society Sale. Newton House Moneymaker was just a very correct bull with a nice head and character. He walks well and has a very good temperament.  There's an interest in polled Simmental genetics, and we trust that this bull goes on to do well for the Gowlings."
In all, eight Simmental bulls were sold on the day to average £4699 which was up by £703 on the year, and with three bulls at 5500gns and more.
Another first-time exhibitor was Wayne Mosley, Thorncliff, Chelmorton, Derbyshire who sold Thorncliff Monty for the joint second top price of 5500gns.  Earlier in the day, and capping a fine debut for the Thorncliff herd,  this May 2021 born bull had been placed Overall Supreme Champion in the pre-sale show.
In the small show of females the top price of 4200gns went to regular Worcester consignor Mr WJ Hollingsworth, Midhope Hall Farm, Sheffield, for his Reserve Female Champion, Midhope Megan.  This January born heifer, scanned two months in calf to Strathisla Mandarin, is by Delfur Chas 11, and is out of the Woodhall Everhart daughter, Midhope Indigo.  Buying the top price female was Mr S & Mrs D Shapland, for their Brynsworthy pedigree herd at Brynsworthy Farm, Barnstaple, Devon.
Simmental Stirling
Following up his Supreme Championship in the pre-sale show, the January 2022 born Overhill House Neil from Richard McCulloch, Armadale, West Lothian, duly delivered the goods in the sale ring when making 16,000gns to lead the Stirling May Simmental Sale, and to take the top price across the breeds at United Auctions multi breed fixture on Monday May 1.
The strong sale demand for Simmental bulls was again evident with the 24 bulls sold averaging £5828, up by £195 and, for the third year in a row, to a new record average for this May Simmental Sale fixture. As well as topping the sale day, the 16,000gns price was an all-breeds record for the Stirling May Sale.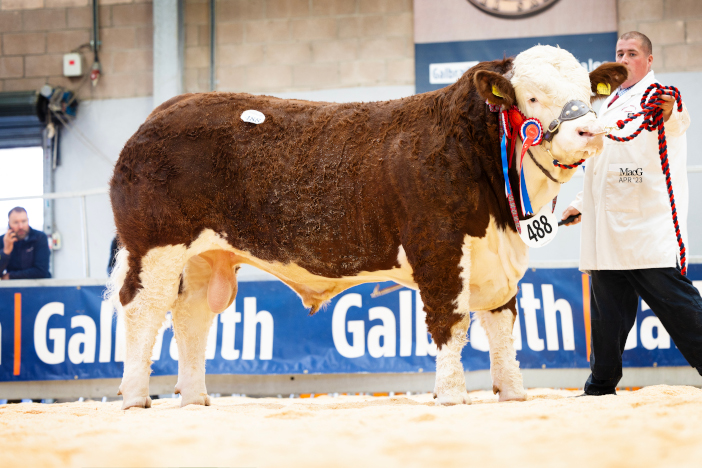 A terrific day's trading for Overhill House saw the herd attain prices of 16,000gns; 7000gns; and 6500gns for three quality Simmental bulls.  A delighted Richard McCulloch said: "Neil is the best bull we've bred to date within the Overhill House herd.  From day one he was just an outstanding calf that had those 'look at me qualities' and just kept going on and improving.  For me he's the overall package in a modern Simmental bull.  He's dark red in colour, has a real Simmental breed head, has four good correct legs, is super clean, and has a back end to die for.  He's been sold into a good pedigree home, and I look forward to seeing how he gets on within the Grangewood herd."  
Taking the second top price of 10,500gns, and again from a strong line up of bulls, was the October 2021 born Delfur MacBeth from Delfur Farms, Aberlour. Purchaser was the noted commercial producer JR Graham & Partners, Greenshields, Biggar, Lanarkshire. Selling at 9000gns was another from the Delfur team in the shape of the first prize winner in class six and pre-sale Reserve Supreme Champion, Delfur Marvel. October 2021 born, Delfur MacBeth is another by Woodhall Instinct and is out of Delfur Jill, an Islavale Cassius daughter. This bull headed back to Aberdeenshire when being knocked down to high-quality commercial producers Farquharson Farms, Fyvie, Aberdeenshire.
Read more