After a three year break, the UK's largest technical beef event returned with a record turnout of spectators. Held at the Darlington Auction Mart (DFAM), the National Beef Association's (NBA) Beef Expo 2022 saw around 6,000 visitors through the gate and brought together the best in commercial and pedigree cattle, equipment, developments and show classes.
The event kicked off on the 27th of May, with over 150 people taking part in two farm tours at South Farm, Cornsay, and Bracken House Farm, Melsonby. The Suddes family have farmed South Farm for over 100 years where they have a herd of 120 pedigree Limousin cows. The Richardson's have been at Bracken House since 1916 and finish between six and seven hundred cattle a year.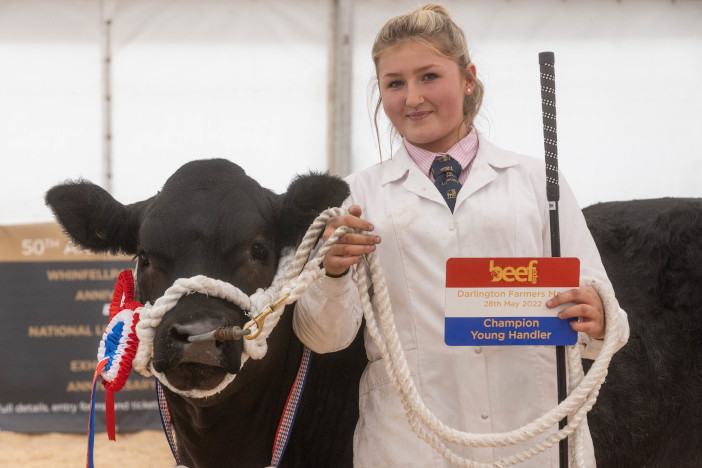 The next day saw farmers from across the country gather at the Auction Mart for the National Commercial Cattle Show, featuring 120 head of cattle across 16 classes and four championships. These were judged by Welsh due Bryn Lloyd and Dafydd Lewis.
Overall Supreme Champion was awarded to B&L Wilkinson, from Leyburn North Yorkshire for their home bred Limousin Heifer Maggie, shown by 22-year-old Beth Wilkinson. The reserve Supreme animal was exhibited by Stewart and Lindsay Bett from Stirling, Scotland and bred by W P Hughes, Anglesey.
The Baby Beef Champion was a June 2021 exhibitor bred heifer from Edwards Brothers, Corwen, Denbighshire, Wales. The Baby Beef Reserve Champion was a June 2021 heifer bred by P & A Jarman, from Cumbria and exhibited by Andrew Ewing from Annan, Dumfriesshire, Scotland.
The Champion Young Handler was Amy Vance, aged 14 from Whithorn, Newton Stewart, Scotland. The reserve Champion Young Handler was Orlena Henderson, aged 17, from County Durham, England.
Commenting on his selection, Bryn said: "There was not a lot of difference between the two – both are excellent heifers. Both have great style and exceptional tops and correctness, however, as soon as I saw the winner, I just thought it can't get better than this."
This year, the Ghyll House Perpetual Trophy was awarded for the first time to the Overall Supreme Champion in memory of Hannah Brown. On being awarded Overall Supreme Champion, Beth said: "To win like this at Beef Expo is just amazing, especially with a homebred animal. This is our first show of the season, so we've set the bar high!"
The Best Breed Society Stand award was presented to Wagyu, 1st for Farmers was awarded Best Indoor Trade Stand, and Glendale Engineering scooped Best Outdoor Trade Stand.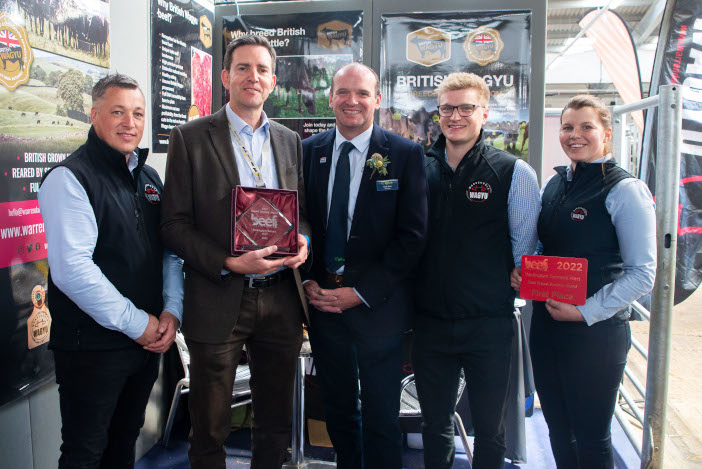 A packed seminar programme
The series of seminars included presentations from several leading experts, including Christine Middlemiss, the UK's Chief Veterinary Officer, who discussed the importance of electronic identification and traceability for the beef industry, and the role the Livestock Information Service (LIS) will have in endemic disease control.
John Powell head of Agriculture Sectors Team at Defra gave an overview of the changes in agricultural policy in England and Alice Stanton Professor of Cardiovascular Pharmacology at the Royal College of Surgeons in Ireland, and director of Human Health at Devenish Nutrition discussed how much red meat is good for human health, and the importance of transparent evidence-based health metrics.
Discussing the day's successes, NBA chief executive, Neil Shand said: "We've waited three years for this event, and it most definitely exceeded all our expectations. I am overwhelmed by the support from exhibitors, sponsors, and the local farming community. To see how far people have travelled to be part of our event today is just incredible, so thank you.
"Once again, this event is testament to the strength and resilience of the British beef industry. Today, under one roof, we have had a number of world leaders speaking to our breeders and producers to help them secure the future of our industry and these seminars have certainly created much discussion and debate. The trade stands have been busy throughout the day and of course for many, the cattle show was as expected truly outstanding, and a showcase of some of the very best of British Beef cattle and of course congratulations must go to the overall Champions of Champions the Wilkinson family for their homebred heifer Maggie."
One highlight of the day was the Young Handler Championship which was won by Amy Vance from Newton Stewart. Reserve was awarded to Orlena Henderson. Judge Dafydd Lewis took a somewhat different approach by asking the two finalists to swap animals. This posed a slightly different challenge and required both handlers to put all their skills to the test. Amy was described as confident in the ring as well as in her handling and caught the eye of the judges from entering the ring.
With all hosted by DFAM, the new state-of-the-art exhibition centre provided a perfect venue for Beef Expo. Rounding up the event, Mark Dent, Chairman for DFAM, said: "It has been a privilege to host the 2022 NBA Beef Expo. I am certain everyone will agree that it has been a fantastic day which has really highlighted the importance of these events for bringing people together.
"Special thanks must go to all the staff here at the mart for all their hard work in setting up and making today run so successfully."