Following record production figures in 2021, Bobcat has invested heavily in its Pontchateau site in Loire-Atlantique in France. All of the company's rigid telehandlers are manufactured at the plant, comprising 29 models for both construction and agriculture.
The factory originally covered 82,000m2 of land, which was expanded in 2019 to meet higher demand.
"In 2016, as our logistics capacity reached saturation and demand grew, Bobcat defined a three-year expansion plan for the facility, representing four million Euros of investment," explained Jerome Miermont, site director for the Bobcat Pontchateau facility.
The addition of 13,000m2 of production space and a 1,500m2 logistics centre has made it possible to meet the growth in sales (+75% between 2017 and 2022). The company also reorganised its manufacturing process.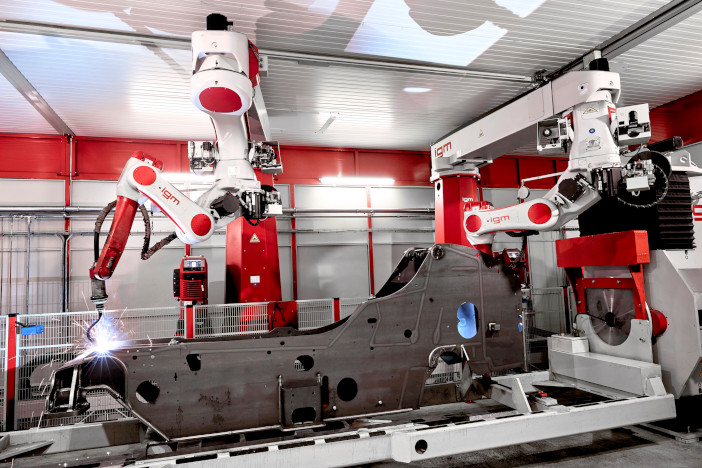 Production starts in the design office, where a team of 40 employees work alongside a Czech team working at the Doosan Bobcat European headquarters. After the steel has been laser cut and bent into the right shape, the machines take shape during the mechanical welding operations, laid out in two lines for the boom and frame respectively.
"To optimize production, we have equipped ourselves with two larger robots, each of which welds all the frames, saving 30% in time. The last robot, representing an investment of 850,000 Euros, arrived last September," Mr Miermont said.
Parts are then sent to the blast chamber for shot blasting before being painted. Staff then carry out priming, fading, lacquer application and oven drying for a high quality finish.
Assembly is organised into 58 stations, each with the necessary components arranged in advance. On sub-assembly lines, various components are assembled and moved to the main line, which alone comprises 17 stations. According to the company, up to 17 machines can be assembled each day.
"Last year we produced 2658 machines. This is a record number, well above the planned target of 2455 units," Mr Miermont added. But with an estimated annual production capacity of 3500 machines in 2022, there is still space for growth. The Pontchateau plant intends to double its activity by 2025.