Brisk bidding at a Limousin cattle auction in Northern Ireland, and one in Carlisle, gave good May Day sale results.
Limousin cattle auction – Northern Ireland
A 13,000gns Northern Ireland record was set at the British Limousin Society's regional show and sale. The May Day sale attracted a large crowd who witnessed a 98% clearance with 39 bulls traded to level at £5,230, an increase of £1,391 on last year's sale.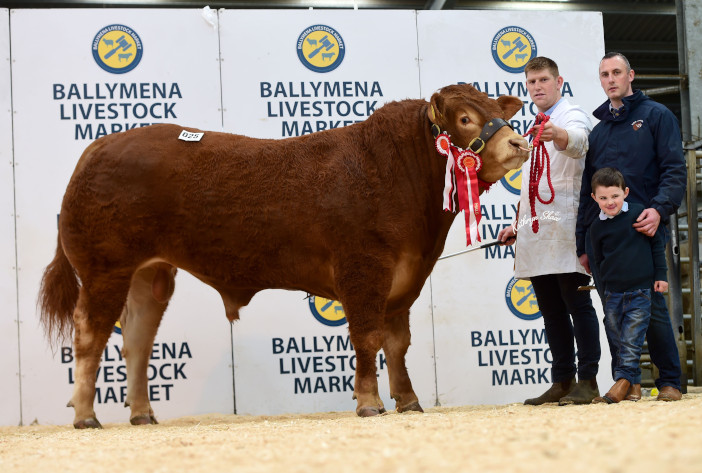 Claiming the headlines in both the show and sale rings was the much-admired Slieve Sportyman bred by the father and son team of John and Shane McGeehan from Fivemiltown, County Tyrone. The nineteen-month-old bull caught the eye of Scottish judge Blair Duffton to claim the intermediate, male and supreme overall championship plaudits generously sponsored by Steele Farm Supplies.
Mr Duffton who runs a 750-cow commercial suckler enterprise at Huntly in Aberdeenshire, praised the quality of Limousin cattle on parade. "It has been an impressive show, with good quality bulls at the top end of every class. The overall champion is a tremendous well-balanced bull. He is very correct, has a great back-end, and shows great potential."
Shattering the breed's previous record for a bull sold at auction in Northern Ireland, Slieve Sportyman also sets a new herd record for the McGeehan's. Carrying F94L and Q204X myostatin genes, he was sired by the 32,000gns Ampertaine Elgin, and is out of a home-bred dam by the 50,000gns Wilodge Cereberus. After spirited bidding he came under the gavel of auctioneer Graham Loughrey, selling to pedigree and commercial herd owner Gareth Corrie from Newtownards.
Female trade peaked at 5,500gns, paid to Howard McFarland for the female champion Rahoney Serena. Sired by Whinfellpark Lomu, she was born in December 2021, and is out of a home-bred dam by Plumtree Fantastic. This heifer was snapped up by Gareth Corrie for his Drumhilla Herd.
The first placed Spage Stella sold at 3,200gns for Paul Campbell, Carnlough. This April 2021 heifer is a daughter of Plumtree Fantastic, and out of Spage Jullie by Procters Cavalier. She also joins Gareth Corrie's herd.
Limousin females achieved an 88% clearance, with 14 heifers selling to average £2,648 each, an increase of £784.
Limousin cattle auction – Carlisle
Responding to strong trade for the breed in commercial rings up and down the country, the day saw a top of 52,000gns with an all-sale average of an incredible £9178. 22 bulls sold to pedigree and commercial homes at prices over 10,000gns, and clearance for 80 bulls sold was 71%.
Commenting on the sale, Alice Swift, CEO of the British Limousin Society, said: "There was an upbeat atmosphere at Carlisle amongst breeders and buyers that translated into a flying trade for bulls ready to work. It's reassuring to see confidence return to the beef industry and I firmly believe Limousin is commercially the most viable breed in Britain today. Nearly a third of bulls sold make five figures, confirming a demand for genetics that deliver growth and efficiency".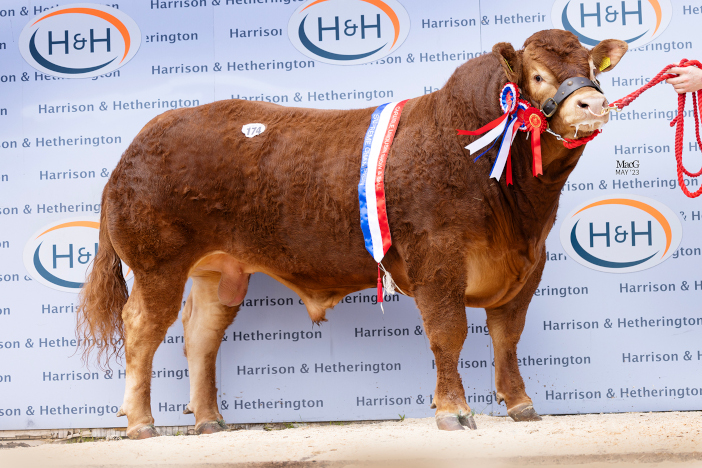 It was Northern Ireland's day with the Intermediate and Overall Champion in the pre-sale show – Lot 174 Craigatoke Seanog – coming from Mr MJ Conway, Co Tyrone, taking the sale's top price at 52,000gns. An October 21-born calf with Myostatin F94L/NT821, Seanog is by Foxhillfarm Ourbest out of cow Craigatoke Nicola, a daughter of homebred Craigatoke Johnny.  He is the exciting new stock bull for Messrs H Wood of the Deerhouse herd, Dutton, Preston.
From Northern Ireland, we went to Wales for the second top price of the day. This was the work of Dylan and Elen Davies with their Lot 208 Blaencwm Sam, who was tapped down at 32,000gns to Garrowby Farms, Bugthorpe, York.  A December 21-born calf out of Pabo Nickiminaj and by Derrygullinanane Kingbull, he has Myostatin of NT821/NT821 and Growth traits in the Top 10% of the breed.
In a great day's trading for Garrowby Farms, Bugthorpe, York, Lot 202 Garrowby Shipley sold for 22,000gns to Messrs TW Bell & Son of the Wanthwaite herd near Keswick. Shipley is by the well known Derrgullinane Kingbull out of the herd's Gunnerfleet Peloche, a Foxhillfarm Manhattan daughter. He has Myostatin F94L/NT821 and Carcase Weight in the Top 1% of the breed.
Read about the Stirling Limousin cattle auction, and auctions for other breeds here