Alistair Hayfield, senior research director at Interact Analysis, looks at the potential growth of electric off-highway vehicles and components.
Unlike in the road vehicle sector, there is a great diversity of equipment in the off-highway vehicle market, from forklift trucks to heavy-duty dump trucks. Off-highway vehicles don't form a group of uniform applications, and each vehicle type has a relatively low customer base compared to road vehicles. This means that it is much more difficult for off-highway OEMs and related component producers to achieve the economies of scale gained by their on-road counterparts, and this is a key factor when considering the issue of electrification of off-road vehicles.
Barriers such as sheer vehicle size and power requirements, charging infrastructure, the wide range and intensity of duty cycles and the length of downtime for charging have meant electrification of off-highway vehicles has seen slow take-up. Nonetheless, almost every OEM has produced an electrified off-highway vehicle of some description, and the market for electrified componentry is forecast to grow. But the success of the electrified powertrains market in off-highway vehicles will not only be determined by purchase cost and fuel consumption issues. Better performance, controllability and flexibility, and reduced maintenance costs will also be key considerations, not to mention the environmental advantages. Here, we take a more detailed look at the electrified components market.
Forklift trucks continue to lead on electrification
Our analysts have found that the global market for electrified components in off-highway vehicles was approximately $10 billion in 2020. We project that this figure will rise to $25 billion by 2030, increasing with a CAGR of 8%, with total revenues between 2019 and 2030 standing at $186 billion. The forklift market, being by far the most mature where electrification is concerned, currently accounts for the great majority of electrified component sales, but this will change as new electrified technologies suited for other applications such as excavators and tractors come on stream.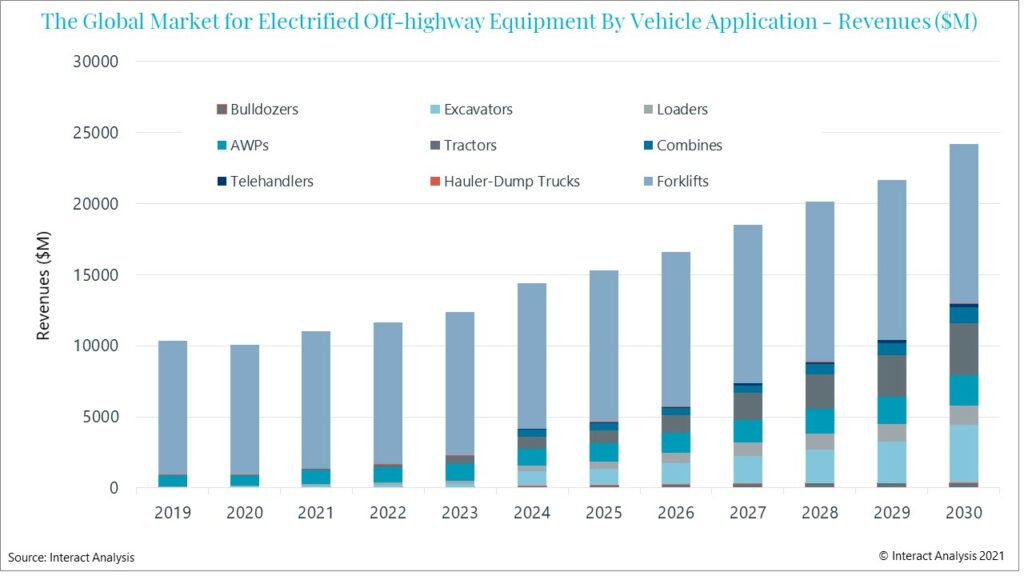 Two electro-tech solutions for off-highway: hybridisation and on-board charging
The three electrified component segments forecast to offer the biggest revenue opportunities are battery packs, inverters, and motors. Battery pricing is of major importance to all electrified vehicle markets. The current price per KWh for a battery for an off-highway vehicle stands at $350 to $500 per watt, 2 or 3 times the price of a similar type of battery for a road vehicle.
The reasons for this are twofold – the aforementioned lack of scale in off-road electrified component manufacturing, and the non-standard, specialised packaging and shape of off-highway batteries, particularly in construction and mining equipment. But our researchers found that battery prices are expected to fall, by between 7% and 10% per year.
Reflecting the current trend towards 'hybridisation' of off-highway vehicles, where the main powertrain may be traditionally ICE powered, but auxiliary functions are driven by electric power, the work function inverter market is expected to grow more swiftly than the traction inverter market.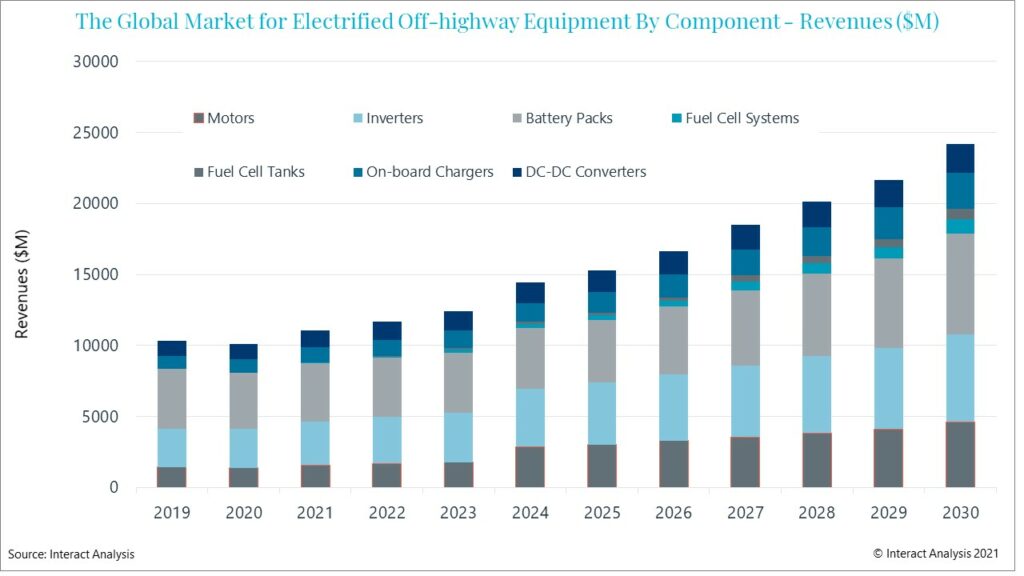 We predict that Permanent Magnet Motors will see the highest revenues in the motor sector. Meanwhile, fuel cell technology is likely to see slow penetration into the off-highway market, but the high price of fuel cell systems and hydrogen storage tanks means that actual revenues from this technology could become quite considerable.
Fuel cells have attractive advantages, such as high energy content, ensuring high-intensity continuous operation and the swift hydrogenation of a vehicle – 1-3 minutes – compared with the much longer charging times for lithium-ion batteries. Much depends on the establishment of infrastructure and the logistics for safe hydrogen transportation.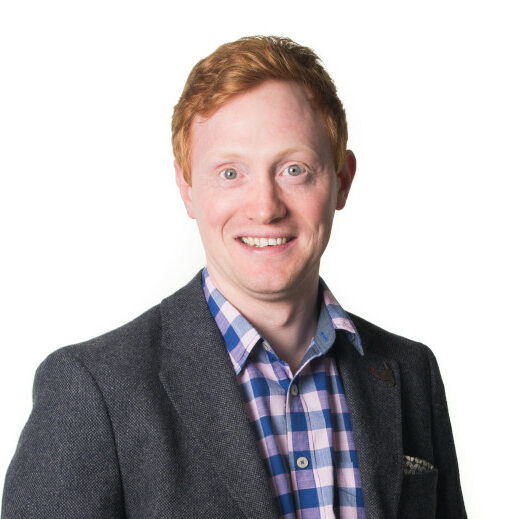 The lack of availability of high-power charging infrastructure means that, as the use of high voltage components increases, so the market for on-board chargers is also likely to grow. It is anticipated that on-board charging technology will become widespread in the off-highway vehicle sector. The global market for on-board chargers was around $1 billion in 2019. We forecast that it will expand to 2.5 times that by 2030.
The focus for electrification of off-highway vehicles will move east
As 2030 approaches, APAC is forecast to become the biggest regional market for electrified power components for off-highway vehicles, raising market share from its current 30% up to 50%, as EMEA sees its dominant market position of 2019/20 erode. China will drive much of the growth in Asia, where there will be a significant proliferation of electrified forklift trucks servicing the burgeoning warehousing sector, as well as an anticipated significant increase in electrified solutions for other off-highway vehicles.
For more information go to www.interactanalysis.com.