A UK turf grower is calling for the end of the use of plastic netting in turf which he said is causing unseen environmental damage.
Owner of Yorkshire-based Lindum Turf, Stephen Fell, described the plastic netting as a completely avoidable source of pollution and the drive for change is being supported by industry body the Turf Growers Association (TGA), who's aim is to have members go plastic-free by 2025.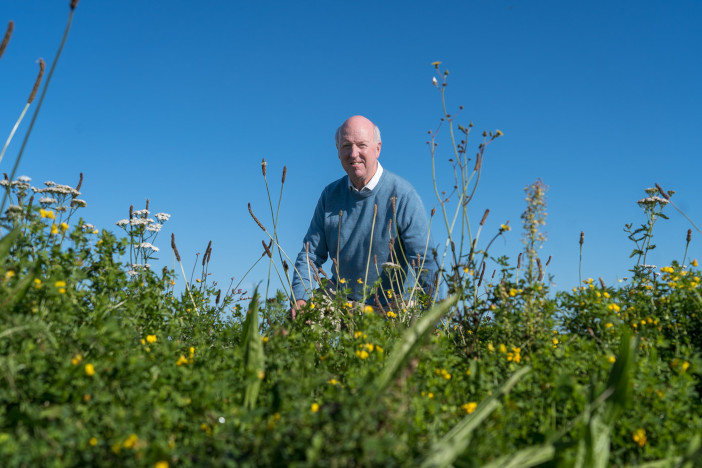 Following a three-fold increase in sales of Lindam Turf's plastic-free wildflower product over the past few years, Mr Fell has seen the trend for replacing lawns with wildflower meadows gathering pace. He said that people buy wildflower turf to increase biodiversity and attract pollinators to their gardens, but are often appalled when they discover the product they are laying could cause significant damage to the environment:
"The trouble is, over time the plastic netting breaks down into micro-plastics and pollutes the soil and can leach off into watercourses. But because the net is hidden within the turf and people can't see it, they don't know it is there."
Degradable?
Although some turf growers describe the plastic netting they provide as biodegradable, the nature of the product means that it degrades into polluting micro-plastics, not organic matter and this can lead to issues in soil and water and for wildlife. With 70m sqm of turf laid in the UK each year, the TGA report that the vast majority of turf growers use plastic netting in some or all of their products, meaning that there are potentially thousands of tons of single-use plastics being buried in the ground each year.
Richard Owen, chairman of the TGA, described plastic turf netting as a major environmental problem. He said: "It is very difficult to quantify exactly how much turf is laid in the UK, but it is likely that a significant amount of plastic turf netting is being put into the ground each year.
"This causes problems for wildlife, for farmers on whose land the turf is grown, and most seriously, it decays into polluting microplastics that can leach into watercourses and get into the food chain.
"It is for this reason we are encouraging our members to stop using single-use plastic mesh in their turf by 2025 and support calls for an industry-wide cessation."
Plastic-free turf
Concerns around single-use plastics within turf netting are also shared by the RHS whose sustainability policy is working to reduce the use of three materials at its shows: concrete, virgin timber and plastics. Having already banned plastic bags and floral foam across the shows, they are aiming for the complete removal of single-use plastics by 2025.
Plastic-free turf allows the RHS and the exhibitors who use it to throw away less organic material after the shows as the RHS allows turf that is not reinforced or meshed to be left for reinstatement or composted.