Morris Lubricants is advising farmers to put oil, lubricant and grease performance ahead of price as they prepare their tractors for the new season.
Rising prices across the agricultural sector is likely to lead to farmers searching for savings in every aspect of their business, however Adrian Hill, Morris Lubricant's technology manager, said that choosing a cheaper and usually inferior oil is not going to save costs long-term. The danger of using an oil that is not to the manufacturer's specification could be that damage is made to equipment performance which could increase their overall running costs.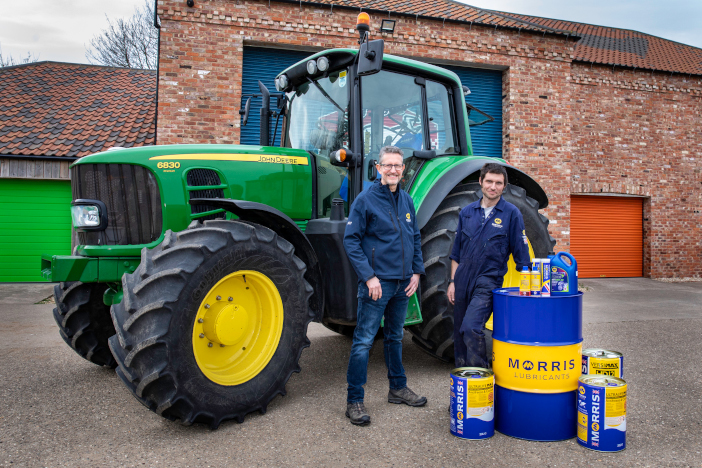 Morris Lubricants, which manufactures the specialist Agrimax range of agricultural lubricants for a wide range of tractors, vehicles and farming equipment, has launched a new video series with tractor enthusiast and mechanic Guy Martin, which can be viewed here. The short videos demonstrates that no matter the agricultural vehicle, equipment type, brand or model, choosing the correct oil, lubricant and grease can have a positive impact on uptime and profitability.
Mr Hill has given five maintenance tips for farmers as they prepare their vehicles for the new season:
Quality First
Modern tractor engines are now designed to Stage V emissions compliance for off-highway vehicles, to meet the latest emissions legislation. These modern engines will include after treatment devices, such as AdBlue systems, diesel oxidation catalysts and diesel particulate filters, to limit harmful particulate matter and NOx emissions.
Oil choice is important. Selecting the correct, high-quality oil will more than pay for the slightly higher purchase price in the long run. For example, an incorrectly specified engine oil can block catalysts or filters, potentially leading to significant remedial costs in the region of £3,000 or more for the replacement part, plus the additional cost of the repair and downtime itself.
2. Service intervals
Investing in a new or modern tractor is a significant expense, and farmers and farming contractors need the assurance that the investment will perform reliably over many years. After the initial three-year manufacturer's service schedule, some owners may choose to delay future servicing, but this can prove false economy.
Engine oil over time may start to degrade, causing damage to vital engine components, so it is always advisable to meet the manufacturer's recommended service intervals.
3. Right oil for the right job
Some older machinery may have always operated reliably using a universal tractor oil, but modern diesel particulate filters can be sensitive to these universal oils. Instead, farmers should ensure they are using the correct oils for both the engine and the transmission (back end) systems.
4. Seek technical advice
Machinery downtime is not only costly but can damage reputation if stock or deliveries are affected. Seeking professional advice regarding the correct engine oil specification, or service intervals will always pay dividends.
5. Choose performance rather than price
Mr Hill recommends that users should be guided by performance and not purchase price. This will prevent farmers from spending funds on unnecessary repair work at a time when budgets are already tight