The Corvus Terrain 4×4 utility vehicle dealer network has expanded within the UK, with the appointment of B&B Tractors and Kirkland UK as new dealerships. The announcement was made by Boss off-road vehicles (Boss ORV), the sole UK distributor for Corvus, who described the two new dealers as a 'natural fit' in the drive to establish a seamless network of specialist Corvus dealers throughout the UK'.
B&B Tractors is a family-owned and managed business, established in 1991. It now has four depots, covering the northern and midland regions of England: Yorkshire, Derbyshire, Staffordshire, Nottinghamshire, Leicestershire and Warwickshire.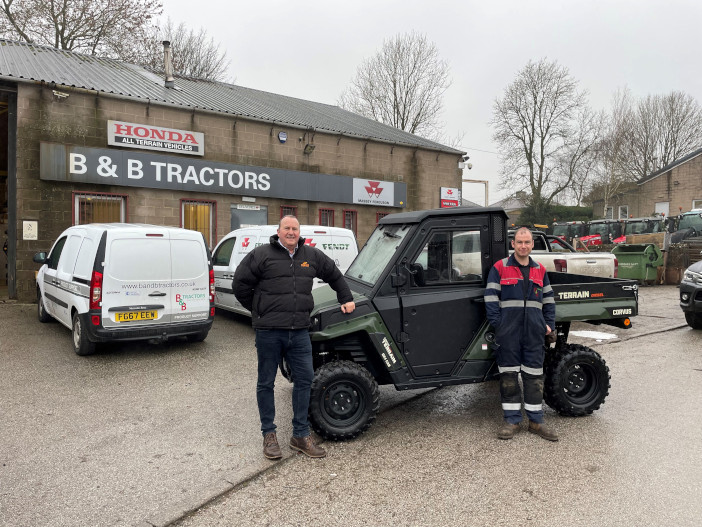 Kirkland UK operates in the southeast of England. The company began in the late 1800s, with current partner Scott Worsley's great, great, great grandfather, who set up Worsley Carriage Builders in Kent – building carriages for farming, fruit growing and vineyards. In 2005, Kirkland UK was established under Scott. Following in his grandfather's footsteps (albeit in a much more contemporary fashion) Kirkland UK offers specialist equipment for vineyard and fruit orchard management.
Phil Everett, Boss ORV's managing director, commented on the announcement: "We wanted to work with B&B Tractors because of their delivery of the highest levels of customer care to their agricultural, municipal and industrial customers, while, after talking to Scott for five minutes, it was obvious that Kirkland UK would be a natural fit with us. We share the same passion for success and rapid growth, and an impatience to achieve."