Boss ORV has announced a big push for Corvus 4×4 vehicles in the South West of England with the appointment of three new dealers.
South West Handling, David Webb Engineering and John Day Engineering form a new hub of Corvus dealers stretching from Devon, through Somerset and into Berkshire.
"We are delighted to announce these recent additions to the Corvus dealer network," said Boss managing director, Phil Everett. "South West Handling Ltd. with its strong and geographically diverse sales team is able to provide coverage in a previously barren area for us. Welcome to Tom and all the team."
South West Handling, based in Okehampton, has long served the agricultural and construction community across Devon and West Somerset, supplying agricultural and construction equipment, parts, and service since 1984. In Somerset, David Webb Engineering is based in Wincanton and have provided service to the agricultural market since 2004.
"I'm very excited to announce another new dealer joining the Corvus dealer network: David Webb Engineering in Somerset," said Mr Everett. "Having known Dave Webb for many years and worked closely with him in a previous (work) life, I know the exact qualities that he and his team will bring to the Corvus network. They are totally focused on customer service and their service support is second to none. It's great to have Dave, Sam and all the team at David Webb Engineering onboard the Corvus journey."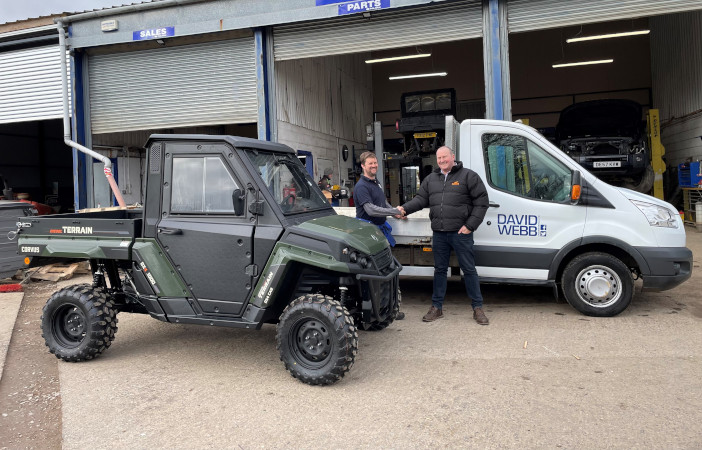 John Day Engineering of Lambourne is the third new appointment, has built a customer base through Wiltshire, Hampshire, Berkshire and Oxfordshire since 1985.
"We welcome John Day Engineering, who over the years have built a loyal customer base through exceptional customer service. We know they will make an ideal partner for Corvus, with their first-rate reputation for after-sales service and support for all types of farm machinery and plant. Chris Day has over 30 years experience in the agricultural industry and we know the future of the Corvus Terrain range in his area is in expert hands," said Mr Everett.