The German Agricultural Society (DLG) has announced a series of awards for the upcoming Agritechnica event, which will be held in Hanover from 27 February to 5 March 2022.
The Innovation Award is conferred to innovations for practical application and is available to all companies exhibiting at the show. An independent DLG panel selects the products to be presented with gold or silver awards, following a period of consultation and deliberation.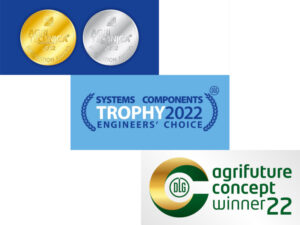 For the second time, the DLG will award the Systems and Components Trophy – Engineers' Choice, for agricultural systems and components, said to indicate the innovative spirit of the supplier industry. A shortlist will be put together and the final award winners will be selected by a jury of engineers from machinery manufacturers.
A new award will also be given out at the event. The DLG Agrifuture Concepts recognises pioneering achievements and future visions. Recognising that while not every concept will make it to market, due to technical or legal factors, they serve to inspire and stimulate farmers and engineers to think in new ways.
Exhibitors will be able to register their innovations from 1 June to 15 September 2021.