As UK farmers look to improve efficiency and accuracy during the application of crop protection chemicals, it is vital to choose the correct machine for farm size, terrain and crops.
At Cereals 2021 (30 June/1 July), visitors will be able to see a redesigned Syngenta Sprays and Sprayers, profiled to mimic real-life applications with a bumpy track and sloped areas to put the machines through their paces.
The latest sprayers will be tested on operator comfort, stability and self-levelling ability, weight, speed, sprayer height, boom length and crop application accuracy.
Below you'll find just a few of the units being tested at the event.
altek Smart-C Spray
The latest GPS-controlled altek Smart-C Spray 124 system allows operators to utilise modern air-inclusion, low-drift nozzles in their plat protection applications.
Designed as an alternative to pulse width modulation (PWM), the system is said to have many advanced features to ensure the most efficient, environmentally friendly operation. These include up to four spray lines, capable of operating individually or in combination to allow multiple nozzle selections and application rates, all controlled from the cab.
Auto Nozzle Select means that the spray lines can change nozzle sizes and combinations to compensate for speed and application adjustments. It's also possible to add variable rate application, fast response to pressure and flow changes, flow monitoring and turn compensation. The Smart-C Spray system can be retrofitted to most sprayer makes.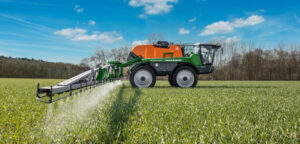 Amazone Pantera 4504
The latest generation self-propelled sprayer from Amazone is said to offer increased work rates while reducing the workload on the operator. It features new twin, pressure-stable and liquid fertiliser proof AR piston diaphragm pumps, with a possible output of 520 litres per minute and a fill capacity of 700 litres per minute.
The SmartCenter Comfort-Pack plus makes operation easier with a new touchscreen, with the sprayer automatically adjusting to the desired function; this includes filling spray agent and freshwater tanks or running the automatic cleaning system.
ContourControl active boom guidance and SwingStop boom tip swing compensation ensure the best possible boom ride, even at widths up to 40m. This reportedly allows for higher forward speeds and can be combined with the AmaSelect electric individual nozzle control.
Mazzotti compact self-propelled from John Deere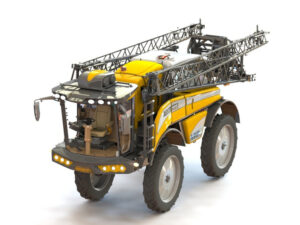 The MAF 4080 will make its UK debut at the Cereals Event, with 175hp under the hood, a 4,000-litre capacity tank and booms from 24m up to 36m. It features the new M-Spray dual circuit solution system, John Deere controls, a new operator station and a hydrostatic transmission offering 40kph or 50kph road speeds.
Alongside the self-propelled model, John Deere will also demonstrate the mid-range R740i trailed sprayer. It has a capacity of 4,000 litres and can be equipped with booms from 18m up to 30m. Premium features include a new multi-function joystick, the Solution Command operator station and the PowrSpray dual-circuit solution system, said to reduce filling times, improve application and increase accuracy.
The R740i can also be equipped with a closed transfer system and individual nozzle control, reported to save customers up to 5% on crop protection chemical costs.
Knight Farm Machinery
Cereals will be the first opportunity to see the latest innovations from Knight, including the 1800 series self-propelled sprayer with a lower set cab to lower the centre of gravity.
"The lower cab position enables us to offer a greater range of wider two-fold booms, which will cut folding and unfolding times and reduce machine weight – an important consideration for some customers," said sales manager David Main.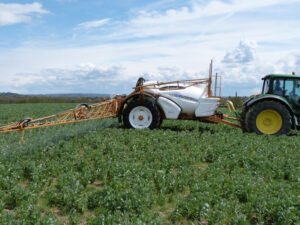 A new 1850 self-propelled model will also be at the event, featuring a 5,000-litre spray tank, developed to complement the smaller models in the portfolio. The full self-propelled range now includes Stage V engines.
The company has also updated the Trailblazer trailed range, with Pro series machines featuring a sprung drawbar, simplified plumbing, an air purge system, auto-clean water tank and a new induction hopper. Further additions across the Knight portfolio include under-boom lighting, single-nozzle switching systems and a boom-mounted nozzle cleaning/checking kit.
New nozzles from Syngenta
Syngenta will introduce its new 3D Ninety nozzle at the event, specifically designed and engineered to better target spray application while reducing the risk of drift.
As well as this, visitors will be able to see the company's EasyConnect closed transfer system in operation.
For more information go to www.cerealsevent.co.uk