Over 2,600 machines, including over 250 rare vintage and classic tractors, 65 vintage motorcycles and over 250 automobilia lots, will be auctioned at the Cheffins Vintage Sale. The event on April 21 and 22 will be one of the largest vintage auctions in 2023.
Tractors
Being showcased among the tractors is a Roadless Ploughmaster 6/4, with an estimate of £35,000 – £40,000. Also available is a 1919 International Junior and a 1920 International Titan, both with estimates of £14,000 – £16,000.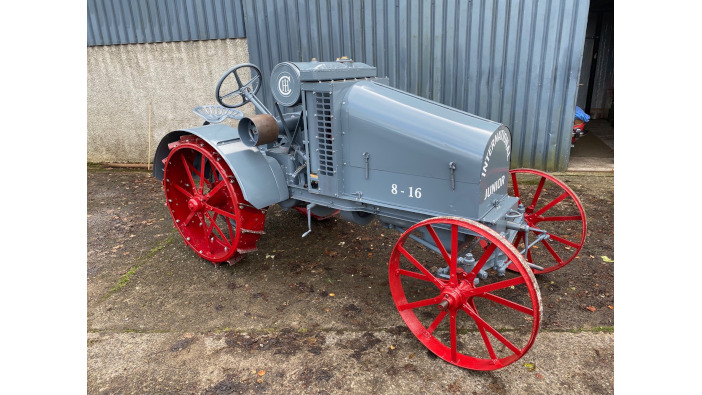 A 1975 Ford 7000 with only 6,334 hours on the clock is also on offer. Available in a clean, original condition with a £25,000-£30,000 estimate, it was first registered to Ernest Doe & Son in Maldon in 1975 and was previously used as a company demonstrator.
Motorcycles
The 65 motorcycles for sale include five Kawasaki two-stroke triples, with estimates ranging from £4,000 – £10,000; a 1956 Matchless 500cc G50, estimated to sell for £25,000 – £28,000; and a 1968 250cc Aermacchi Ala d'Oro racer with a £18,000-£20,000 estimate.
Other brands for sale include Ducati, Moto-Guzzi, Raleigh, BSA, New Imperial, Cotton, AJS, Velocette, Norton, Triton, Greeves, Royal Enfield and Triumph, as well as a series of project machines and choppers.
Automobilia
The automobilia section sees a number of collectable items for sale, including a rare 181cm tall Kismet Autocol air and water tower pump, dating from the 1950s with an estimate of £3,500-£4,500. Also on offer is an Esso-branded Avery-Hardoll forecourt petrol pump from the 1960s which is expected to sell for £1,000 – £1,500 and an Avery-Hardoll Century petrol pump from the post-war era, which at 190cm tall is set to make £2,000 – £2,500.
'Kicks off the calendar'
Oliver Godfrey, head of machinery division at Cheffins, said: "The April Vintage Sale really kicks off the calendar for collectors UK-wide. We always have a really strong consignment, and this year is no different, with over 2,600 lots going under the hammer. Last year saw some incredibly strong prices paid across the whole of the vintage sector, with classic tractors from the 1970s onwards in particular seeing some real growth in values. We expect the 1975 Ford 7000 to be of significant interest to a number of our regular buyers, whilst the excellent range of motorbikes ought to bring the motorcycle enthusiasts to the sale."
The sale will take place on Friday 21st April (live and online auction for literature, models, bygones etc) and live on Saturday 22nd April (tractors, motorcycles, automobilia, vehicles, implements etc) at the Cheffins Machinery Saleground, Sutton.
For more information, visit www.cheffins.co.uk