Visitors to the Midlands Machinery Show on the 9th and 10th of November will have the opportunity to see some of the latest electric-powered machines.
One company introducing a battery-powered unit is Avant, with its latest E6 loader. "We want to give everyone a real-life practical demonstration of what benefits a zero-emissions machine can offer," explained Richard Jenkins at Avant UK.
Avant will be demonstrating the machine's capabilities with different attachments and there will be the opportunity for visitors to ask any questions.
"The industry is starting to think more about zero emissions but have their concerns and doubts towards this next step. We want to tackle these preconceived ideas head-on, by showing the machines in action and proving the capabilities in a practical application," Mr Jenkins added.
For those interested in zero-emission grass cutting, either as a landowner, contractor or for a municipality, Iseki Tractors will be demonstrating its Raymo mower.
"The Raymo mower is great for solar farms and steep banks, as you can cut the grass under them without having to resort to pesticides," said Alan Prickett, business development manager at Iseki UK and Ireland.
The radio-controlled mower is beneficial from a safety point of view as well, he explained. "When used as a brush cutter on a steep slope, the associated risks of trips, falls and strains are taken away – which is one of the main benefits."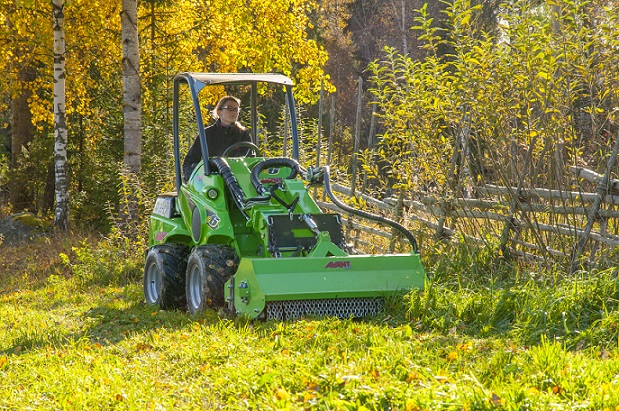 Additionally, Reesink Agriculture will be showcasing FarmTrac's flagship model, the FT25G, said to be the industry's first all-electric tractor.
"Since entering the market in 2019, the FT25G has hit the headlines and generated much interest from those wanting a clean energy alternative for their grounds," explained Craig Cooper, Reesink Agriculture.
"Revered for its efficiency and sought after green credentials, the FT25G is powered by a 72V lithium-ion battery and onboard charger. It can be charged from any domestic socket to 100% in eight hours, and with up to seven hours of runtime it won't run out of power in the middle of a job."
For visitors wanting to continue looking into sustainable agriculture, NFU East Midlands will hold its annual environment conference on 'Carbon – opportunity, not problem' said show manager Elizabeth Halsall.
"With the agricultural industry making steps towards net-zero, it's great to be able to demonstrate electric machinery in practice and allow visitors a chance to answer their burning questions."
For more information or to book tickets go to www.midlandsmachineryshow.com. To book for the NFU East Midlands environment conference, email [email protected]