Visitors to the Croptec Show, held on the 24th and 25th of November at the East of England Showground, Peterborough, will be able to see the latest sprayer technology and book individual sessions with exhibitors and take part in working demonstrations.
Exhibitors include Bateman Sprayers, making their first appearance at the event and one of five British manufacturers demonstrating. Other highlights include Househam's new cabin, the Hardi Aeon Centuraline trailed sprayer being exhibited at Croptec for the first time and the unveiling of Sands Agricultural Machinery's new boom levelling system.
Gareth Jones, CropTec event organiser for AgriConnect Ltd said: "Sprayers are a huge investment for farmers and contractors, so being able to get in the cab, experience and compare up to 10 machines in one location is a great opportunity.
"Booking a demonstration allows visitors to take advantage of dedicated one-to-one time with the machinery experts. They can discuss their specific requirements, ask questions and experience the machines in action.
"We are delighted exhibitors are so keen to return to face-to-face demonstrations with our visitors at The CropTec Show again this year. We know the sprayer demonstrations are a highlight for many showgoers."
David Main of Knights Farm Machinery values the opportunity to meet forward-thinking farmers and demonstrate the company's sprayers: "Putting sprayer operators in the cab is always beneficial as it gives them an insight into the overall operation of the sprayer as well as allowing us to highlight key features."
Chris Potter of Agrifac UK agrees: "Nothing beats face-to-face interactions at exhibitions or being able to walk customers around our machinery first-hand; two benefits we will see restored as The Croptec Show returns as an in-person event."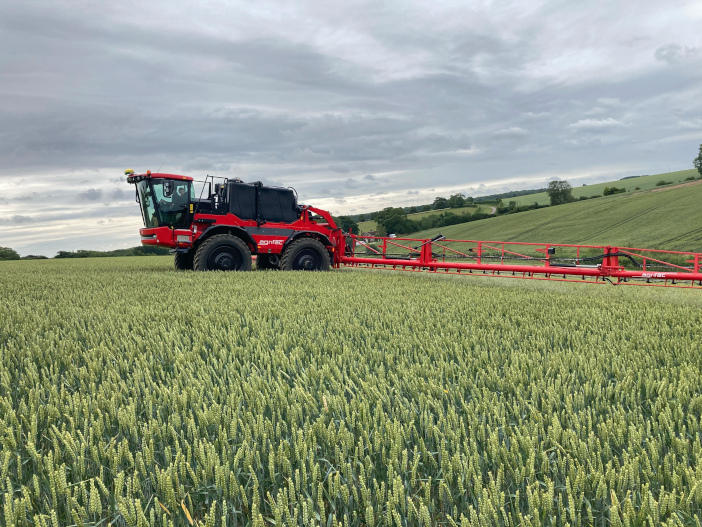 Demonstrations
Agrifac Condor V
The 5,000-litre Condor V is equipped with Agrifac's PWM system StrictSprayPlus, offering single nozzle sections, turn compensation and pressure independent rate control capable of pulsating up to 100 times per second.
The StrictHeightPlus boom levelling sensors are said to guarantee that the selected distance to the crop is maintained, while the company's J-Boom technology ensures machine movements are not passed onto the boom so that every drop hits the right spot.
Bateman RB35
The RB35 self-propelled demonstrator model will be in the arena, featuring Capstan Pulse Width Modulation and a new back frame that is lower, lighter and stronger than previous generations.
The company's E Drive four-speed transmission is said to provide powerful boosted braking, road mode, field mode and cruise control. The new machine also features Bateman Boom Levelling, an in-house designed system that the company states is quickly becoming a must-have option.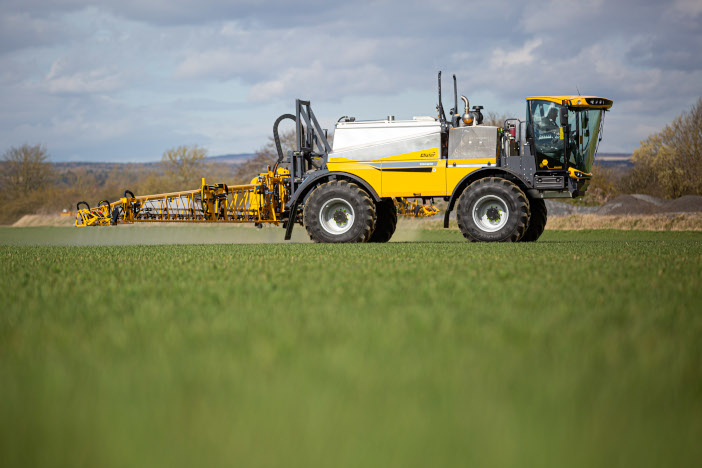 Chafer Interceptor
Built in the UK, the 30m 4,000-litre Interceptor self-propelled sprayer is said to bring new levels of efficiency and usability to the market. A Deutz engine is coupled to the Bosch Rexroth CVT transmission to keep fuel consumption low and to ensure traction is maximised in all field conditions.
The layout of the chassis and spray pack offer greater stability by keeping the centre of gravity low, whilst retaining accessibility for operation and servicing. An open platform GPS setup allows customers to choose their preferred guidance system and have it fitted from the factory.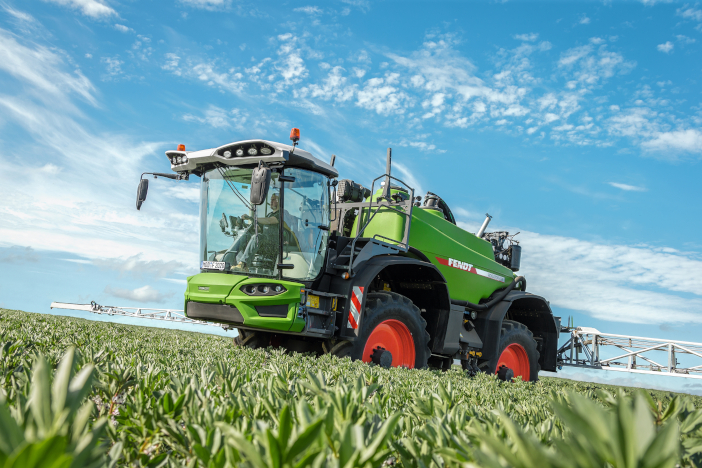 Fendt Rogator 600
Meeting the demand for a high-capacity self-propelled sprayer, the Rogator 600 range includes three models, all of which feature individual nozzle control as standard and Optinozzle control drift reduction technology available as an option.
Tank volumes are from 3,800 litres up to 6,000 litres, filled with a 60-litre induction hopper and a 785 litre per minute centrifugal pump. Boom widths range from 24m up to 39m and are all fitted with AGCO's boom height control.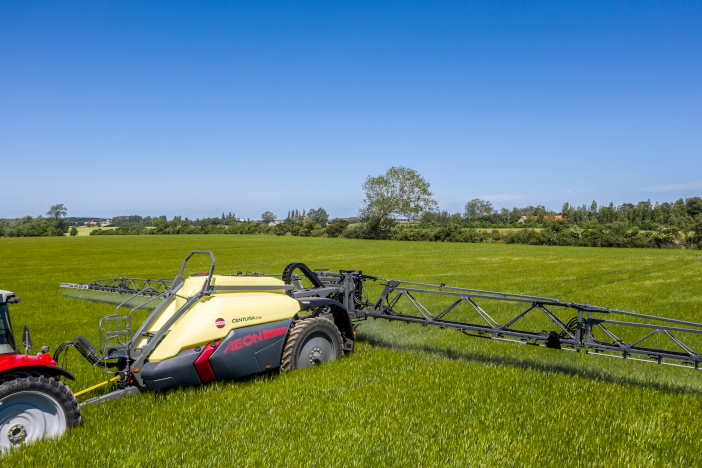 Hardi Aeon CenturaLine
The latest Aeon CenturaLine trailed sprayer from Hardi features a new, sleek design and is available with a tank capacity of 4,200 litres or 5,200 litres and boom widths from 24m up to 39m.
Delta Force steel booms are standard and the technology includes individual nozzle control and automatic nozzle selection. Rear-wheel steering enables sharper turns on the headland while maintaining sprayer and boom stability. As standard, the PrimeFlow pressure-fed boom fluid system ensures rapid priming and prevents sedimentation and clogging.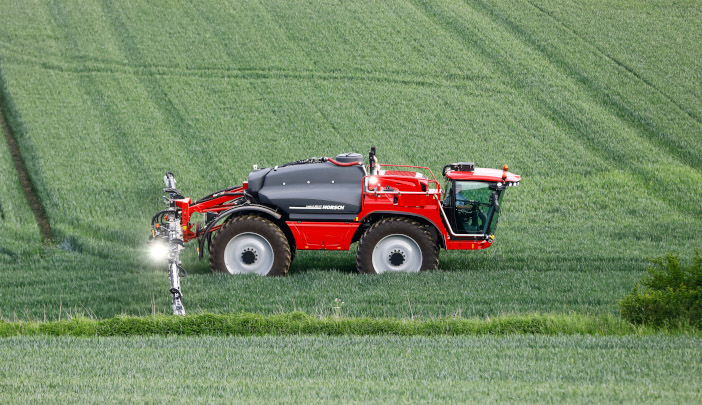 Horsch Leeb 6.300 PT
Offering 6,000 litres of capacity, the Leeb 6.300 PT self-propelled is said to have the highest levels of comfort, flexibility and precision application. The ComfortDrive chassis has hydro-pneumatically spring-loaded wheel suspension with active levelling for driving comfort.
The spacious cabin is said to optimise weight distribution and provide excellent visibility, while the ErgoControl armrest focuses on simple and safe control. The 310hp, Stage V engine and wheel hub drive offers automatically load-dependant controlled stepless drive and anti-slip control.
Increased ground clearance is complemented by the award-winning boom control system, BoomControl Pro, available with boom widths up to 42m with one section per metre.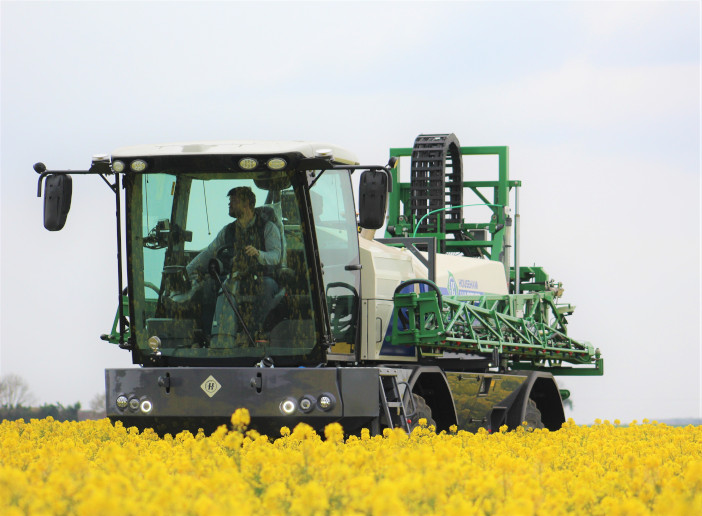 Househam Harrier
Househam will demonstrate its flagship self-propelled sprayer with its latest Claas Jaguar X10 cabin. Available with full climate control, it's said to be an ultra-quiet operating environment with panoramic visibility.
It's available with a range of advanced technologies designed to maximise application accuracy. These include Auto Nozzle Select, Househam Intelligent Transmission System, ultra-sonic Boom Height Control and the Spray Pilot hydraulic controlled auto-steer.
Knight Farm Machinery 1800 series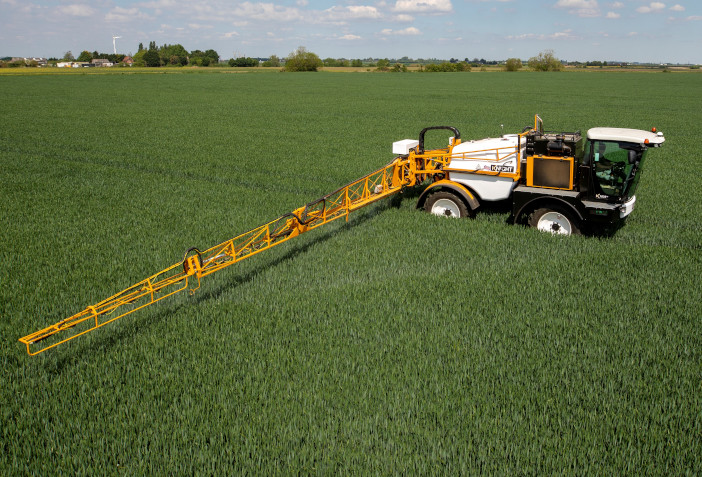 The Knight 1800 series self-propelled sprayers are fitted with a semi air-suspended Claas cabin with digital climate control and category 4 filtration. It's powered by a six-cylinder Perkins engine, offering either 174hp or 225hp, put to the ground with the Poclain hydrostatic transmission.
Active air suspension is standard and the electronic steering is two-wheel or four-wheel, with automatic hillside compensation. Tank capacities are 3,500 litres, 4,000 litres or 5,000 litres and booms are available in widths from 24m up to 40m. Fluid Control Pro simplifies all operations while GPS auto-section control and auto-steering options are available.
Kverneland iXtrack T4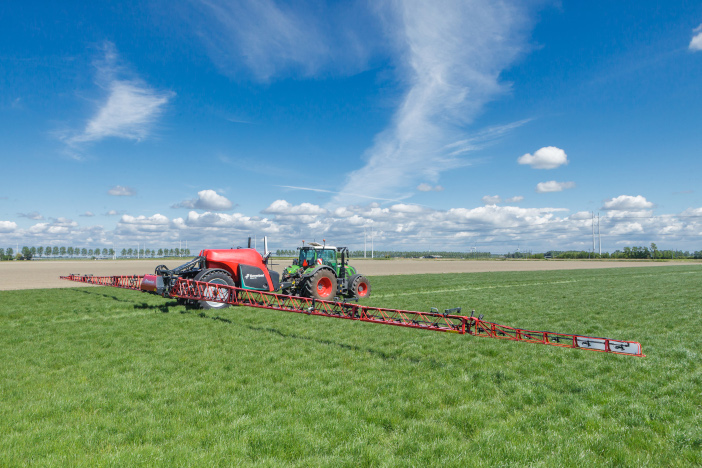 The iXtrack T4 trailed sprayer from Kverneland is available in tank volumes from 3,400 litres up to 4,600 litres, with steel and aluminium boom types from 18m to 40m. A new balancing system provides perfect boom guidance at higher speeds, resulting in efficient application and reduction of drift.
The single central frame, in combination with the specially shaped parallelogram arms, creates room for high tyres and allow a maximum steering angle of 32 degrees. It is 100% ISOBUS compatible while the iXspray hardware and software feature a touch interface for user-friendly operation.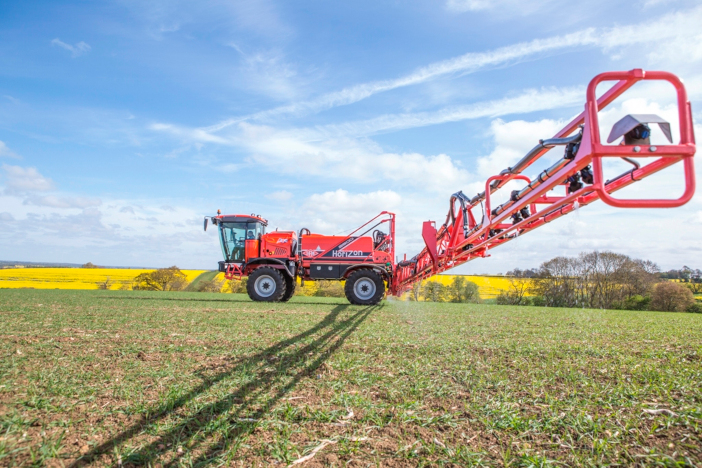 Sands Agricultural Machinery Horizon 4000
The Sands Horizon 4000 sprayer will be demonstrated with a 30m variable geometry boom and the company's own levelling system which uses six sensors along the boom. Visitors will also be able to see the company's own electronic control system in action. This can be either two-inch or three-inch filling while all plumbing is three inches.
All functions such as automatic filling, spraying and washing out are controlled at the touch of a button in the cab or outside beside the mixing hopper.
The Croptec Show will be held in accordance with the latest UK government and Public Health England recommendations regarding Covid-secure business to business trade exhibitions. The team is ensuring that visitors and exhibitors feel comfortable attending the show.
Entrance is free and visitors can register at www.croptecshow.com