Farmers interested in growing Miscanthus are invited to attend a farm walk at James Hoff's Lincolnshire holding to find out about the financial and environmental benefits of growing the plant.
The event on February 2nd will see Mr Hoff showcasing his crop of Terravesta AthenaTM which was planted in spring 2022. With experience of growing the product for the last 20 years, the farm supplies bales to the local power station in Brigg.
Mr Hoff said the method of planting has changed over time: "We first planted Miscanthus in 2005 and the way we planted it was quite basic, compared to the knowledge we have now. We chose Miscanthus because we have lots of little bits of land that are too difficult to cultivate with modern, wide sprayers and cultivators and also some areas of difficult, heavier land.
"The Miscanthus has always done well on this land and we've managed to get a reasonable income for very little work."
The eight hectares originally planted would generate around £4,000 in annual profit.
"That profit comes from land we haven't had to do anything to and wouldn't have got anything from otherwise," he said. "The trouble with alternatives such as wildflower mixes is that you have to maintain them every year, which is an expense, and the weather's never quite right. Miscanthus really does look after itself."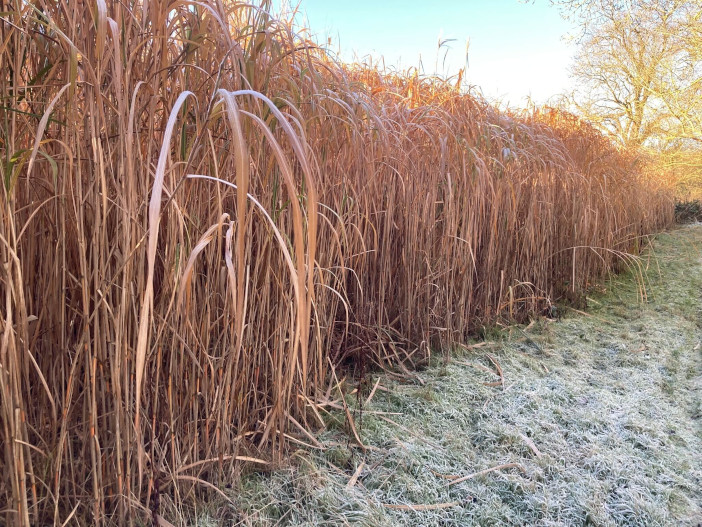 Spring 2022 saw the cropping area increase at the farm from eight to 20 hectares with the introduction of Terravesta AthenaTM. Mr Hoff said: "From an environmental point of view, it's fantastic because it harbours a lot of wildlife. I believe there should be more financial support from the government to encourage the planting of Miscanthus. At the moment it's focused on woodland but there is a large amount of time between planting woodland and seeing any benefit. With Miscanthus, you have your first harvest in two years."
Minimal chemical application, zero fertiliser, no cultivation over a long period of time and ample leaf litter generated by the crop all encourages biodiversity, providing habitat for a wide range of wildlife. The crop also restores soil health and fertility through increasing soil carbon and organic matter naturally, restoring soil life.
Terravista's chief operating officer, Alex Robinson, said: "Miscanthus is net carbon negative, capturing 2.35 tonnes CO2e per hectare, per year in the soil at the very least. As innovations in bioenergy with carbon capture and storage become a reality, Miscanthus can play a significant role in CO2 reduction.
"Terravesta works with Miscanthus growers all over the UK, to service large and small-scale energy markets. Anyone interested in growing the crop and learning about our long-term buy-back contracts should come along to a farm walk to find out more."
The Miscanthus farm walk in Lincolnshire will take place on 2nd February from 9.30-11.30am and will include a presentation from Terravesta in the field, a tour of the crop and some light refreshments.
To book onto the walk, visit www.terravesta.com/events.