Perthshire farmer, Calum McDiarmid, has credited a new efficient grazing system as the reason for his farm's success. A rotational paddock grazing system is in place, with most fields divided into seven to ten acre paddocks using solar electric fencing.
Awarded Scottish Sheep Farm of the Year at AgriScot in November 2022, Mains of Murthly run 1,350 cross Aberfield breeding ewes and 350 ewe lambs near Aberfeldy and the new system has had a significant impact on the volume and quality of grass grown.
Lambing
With his shepherd, Ed Munt, Mr McDiarmid transports all ewes into small batches of about 200 on eight acre hill paddocks in from January until two weeks before lambing. The ewes are fed high quality silage and are condition scored every four weeks, with supplementary feed being given to those requiring it.
April sees the start of the very busy lambing season on the farm. Mr McDiarmid said that a well organised system is key with 100 small pens used for lambing twin and triplet-bearing ewes.
While the system is a success, the farm would like to achieve a better scanning percentage which has been as low as 160. After reviewing the system, the farmer believes it is down to a slight dip in ewe feed intake during the 'golden period' after tupping. This has led to a change in approach this year to ensure ewes are on good grass for 30 days after tupping.
The farm has a policy that sheep can never graze two fields at the same time, so never running through a gate on the same track. This rotational and planned-out system has also seen a positive impacted on flock health.
New equipment
Condition scoring and separating ewes has become more straightforward with the purchase of an integrated Ritchie Combi Clamp and Tru-Test XR5000 weigh head. This is situated in the indoor sheep fank, which has a concrete floor. All sheep are recorded and measured every time they go through the fank, and the floor is scraped clean every week as part of the farm's foot health programme.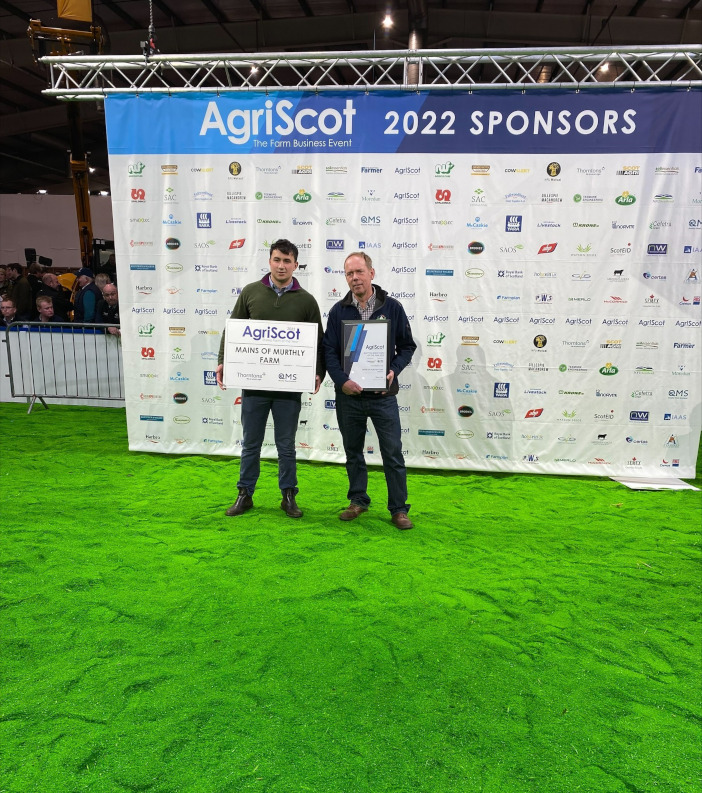 As well as investing in fencing and handling facilities, the farm now has an Opico Sward Lifter, which is helping to increase grass growth. Mr McDiarmid said: "With paddocks getting a rest between rotations and allowing the grass to grow, the root growth is tremendous."
The newest piece of kit to arrive at the farm is a plate meter, allowing the team to regularly measure each paddock's grass output and chart it against lamb growth rates, creating a grass production chart for the farm.
"What can be done with good grass is surprising," said Mr McDiarmid. "As farmers we have to drive our businesses harder, like every other industry, and we have managed to achieve much greater output with fewer inputs."
'Really superb'
AgriScot judge and QMS chair, Kate Rowell, said that the farm's performance is impressive: "Although all three finalist farms we visited were really superb, Mains of Murthly stood out because of the fantastic team approach and the opportunity Calum was giving Ed to drive the business forward.
"From a QMS point of view, I was impressed with the simplicity of the system, the way the business has adapted to meet current challenges and the best use of available land with rotational grazing. Also the fact that they're happy to change what they do to find the best way forward and are so open to new ideas."