JCB has compiled a series of videos to help operators make the most of the Fastrac 4000 high-speed tractor series, addressing features such as the four-wheel steering system.
Published on the company's YouTube channel, the bite-sized videos explain how to use the touchscreen terminal in the Command Plus cab to optimise settings for different tasks and applications.
JCB Agriculture managing director John Smith said: "It would take a very long video to explain all the many features of the Fastrac so instead there are 14 short recordings on specific topics – from setting up the stepless transmission and its various modes to organising a headland management sequence.
"There is no substitute for the detailed operator's manual or our dedicated Fastrac sales engineers, whose main role is to demonstrate and install new machines with customers and dealers.
"But the videos are easily accessible on an office computer or a mobile device out in the field to support inexperienced and seasonal operators, or to provide a quick reminder on functions that a regular operator may not have used for a while."
Several of the videos relate to the tractor hardware, including the four-speed PTO, front and rear linkages, auxiliary hydraulics, four-wheel steering and the transmission, while one covers the daily service checks to ensure the tractor is ready for work.
Another six videos focus on the electronics, covering topics such as setting up joystick buttons, the tractor's area meter, work lights, screen display and headland management sequencing, while a further two explain set-ups for the lighting package and for the in-cab environment.
Mr Smith said: "The JCB touch screen has big and instantly recognisable icons that change colour when selected and requires very few inputs to set up or adjust different features on the Fastrac. It's an operator-friendly device that makes it simple to fine-tune a very sophisticated tractor."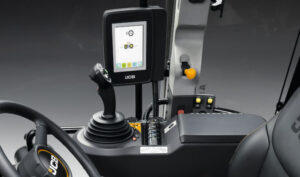 One entry covers automatic switching, reducing the operator's workload by automatically controlling PTO on/off based on the linkage height and disengaging four-wheel and differentials according to ground speed and/or the steering angle. It also informs the viewer about the automatic switching between two- and four-wheel steering based on the implement linkage position or GPS guidance settings.
John Smith concluded: "While being instructive, the "How to…" videos also provide an overview of the features and capabilities of the Fastrac for anyone considering buying one for their farming or contracting business."
JCB has already produced a 'How to…' video series for its AgriPro telehandler range. The full playlist can be accessed on the company's YouTube channel.