To mark the introduction of Stage V emissions regulations, the Claas Arion 400 range has been given a makeover and series of updates to meet increasing demands in the mid-range tractor segment.
Due to be launched in the UK and Ireland this autumn, with more specification details coming later in the year, the seven model range starts at 90hp and tops out with the Arion 470, offering a maximum of 155hp with the Claas Power Management system. Fiat Powertrain 4.5-litre, four-cylinder engines are fitted across the range, with a combination of selective catalytic reduction on filter (SCRoF) and diesel oxidation catalyst (DOC) technology integrated low in the exhaust stack so as not to reduce visibility.
A choice of the 16×16 Quadrishift or the 24×24 Hexashift powershift transmissions will be available, with the clutchless Revershift included either on the shuttle or, as an option, on the multifunction lever. Smart Stop is also featured, disengaging the transmission when the brake pedal is pressed for clutchless stop/start.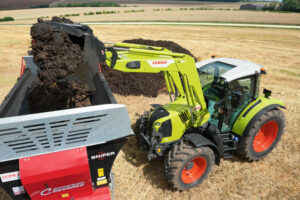 As with previous generations, the Arion 400 can be specified with the CIS or CIS+ control systems, with a choice of cabin designs; either the standard, the low profile or the panoramic, which provides full visibility of the loader throughout the lift range. Loaders are available from the factory and can be controlled using the multifunction lever, or with the optionally Electropilot or Flexpilot joysticks.
Thanks to the full ISOBUS compatibility, implement functions can also be mapped onto the multifunction lever and continuous hydraulic flow for the most intensive attachments is ensured with a maximum 150 litre per minute pump.
Arion 410 and 420 machines have a 2.49m wheelbase, increasing to 2.53m for the rest of the range. Gross vehicle weight has been increased to nine tonnes, permitting payloads up to 3.8 tonnes. The tractors are completed with a range of suspension options, including the Proactiv front axle suspension, mechanical two-point cab suspension and a range of seat variants to maximise operator comfort.
UK specifications will be announced closer to the launch this autumn. More details are available at www.claas.co.uk