The John Deere stand at this year's Cereals Event (30 June to 1 July) will host a range of new machinery, including the 7R 350 and 8RX tractors and the R740i trailed sprayer and Mazzotti MAF 4080 self-propelled sprayer, the latter two also being demonstrated in the Sprays and Sprayers arena.
The 8RX has a compact frame and has been developed to minimise soil compaction with four tracks putting power to the ground. The latest 7R 350 sits at the top of the 7R range, featuring the AutoPowr transmission, with a maximum power of 388hp, with Intelligent Power Management, and a minimum shipping weight of just 11.4 tonnes – providing a power to weight ratio of 29kg/hp.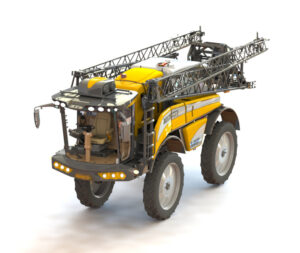 Upgrades to the 7R include a new cabin with a massage seat, the CommandPRO joystick and the latest precision agriculture technologies.
Precision features are also integrated into the R740i trailed sprayer, with a 4,000 litre capacity and boom widths from 18m to 30m. It has a new multi-function control lever, the Solution Command operator station and PowrSpray dual-circuit solution system. It's available with a closed transfer system and can be equipped with individual nozzle control.
The Mazzotti MAF 4080 is the latest compact self-propelled sprayer and comes complete with a Stage V 175hp engine, 4,000 litre capacity tank and booms from 24m to 36m wide. It features the latest M-Spray dual-circuit solution system and a host of John Deere technologies including individual nozzle control, a new operator station and a 40kph or 50kph hydrostatic transmission.
Also making its show debut is the X9 combine harvesting, specifically designed to help operators achieve more tonnes per hour and cover more hectares per day.
For more information go to www.deere.co.uk