The Agricultural Engineers Association (AEA) has released the 2021 market share figures for tractor manufacturers, including machines sold under 50hp.
Competition law restrictions mean that these figures are unable to be published until 12 months have elapsed, hence the delay.
For the second year, CNH (the parent company of New Holland and Case IH) topped the ranking, increasing their 2021 market share from 27.1% to 28.7% and the number of machines sold from 3,229 units to 4,037.
Of these, 2,682 machines were branded as New Holland (19.1%), while 1,355 tractors were from the Case IH brand (9.6%).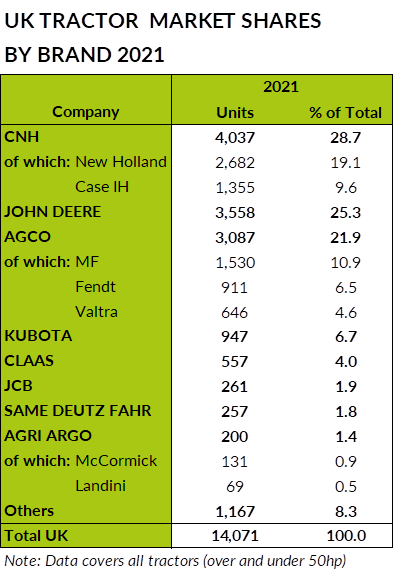 John Deere remained in second place, selling 3,558 machines up from 3,157, but with a lower overall market share down 1.2% to 25.3%.
AGCO, the parent company of Fendt, Massey Ferguson and Valtra, saw the biggest decline in market share, recording 21.9% for 2021. This was a decrease of 4.4%, though represented just 46 fewer tractors sold year-on-year across the three brands.
Within the conglomerate, Massey Ferguson remained the top seller, with 10.9% of the market and 1,530 machines sold. Fendt's market share increased by 1% to 7.5%, totalling 911 tractors, while Valtra dropped 0.9% to 4.6% in 2021 with 646 machines registered.
These three companies represented more than 75% of the market in 2021. The remaining 25% is made up of Kubota (which saw sales increase from 784 to 947, but just a 0.1% market share increase); Claas (increasing from 449 to 557 machines for a 0.2% increase); JCB and Same Deutz-Fahr (both seeing increases in sales but representing just 1.9% and 1.8% of the market respectively); and Agri Argo (the parent company of McCormick and Landini, selling 131 and 69 machines respectively for a total of 1.4%).
'Others', comprising the rest of the manufacturers on the market, saw a significant increase in 2021. 1,167 machines were sold by these companies, making up 8.3% of the market. This is compared to 634 machines and 5.3% in 2020.
The AEA highlights that there was severe market disruption throughout 2020 and 2021 due to Covid-19 and the resulting global supply chain issues, which could have had an impact on market share.
In total, 14,071 machines were registered in 2021, far above the 11,935 recorded in 2020.