The next generation of livestock auctioneers celebrated their achievements at the annual graduation ceremony for the Livestock Market Operations and Management course, hosted by Harper Adams University and attended by the Livestock Auctioneers' Association (LAA) on Monday 9th January.
Highest achieving graduate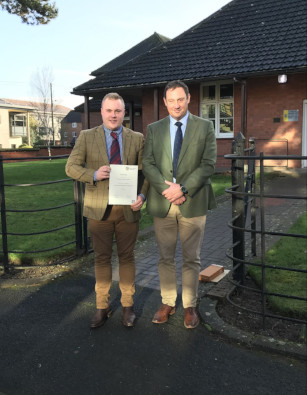 Livestock auctioneer at Darlington Farmers Auction Mart, Daniel Lynn, was awarded the LAA Gavel for the highest achieving graduating student for England and Wales by LAA chairman Alastair Brown of Bletsoes. He graduated with a Certificate of Higher Education in Livestock Market Operations, also receiving his fellowship for the LAA during the ceremony, the culmination of four years of study while in full-time employment.
Mr Lynn, 24, grew up on his family farm and embarked on a career in the industry following a brief stint in the armed forces after leaving school. He began as a trainee auctioneer at Darlington Farmers Auction Mark in April 2016 and was encouraged to enrol on the course in January 2018. He completed the four-year course after five years, due to the disruption caused by the Covid 19 pandemic.
Mr Lynn now heads up all of the sheep sales at Darlington, as well as a large part of the machinery sales. Outside of the rostrum, he also runs his own sheep flock, with a mixture of pure Cheviot, pure Texel sheep and Mile ewes. Commenting on the course, he said: "Those connections have remained strong from day one. I am regularly picking up the 'phone, gaining and sharing advice and updates from different parts of the country. It really helps knowing what is going on, and what has worked well in some places as well as what hasn't worked so well.".
Highest achieving first year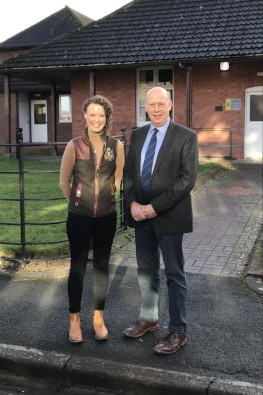 Zanna Dennis of both Bentham Auction Mart and the LAA collected the 'Golden Gavel' Dick Harrison Trust award as the highest achieving first year student.
Ms Dennis shares her time between her position as development officer for the LAA alongside her role as drover and administrator at Bentham Auction Mart. She said: "I am grateful to have the opportunity to study the course, providing an excellent understanding of the day-to-day operations and wider management of auction marts. It has already been of benefit to both my roles at the LAA and Bentham markets.
"Equally, the course provides a hugely valuable opportunity to meet with, and learn from, other auctioneers from across the UK."
Second year graduates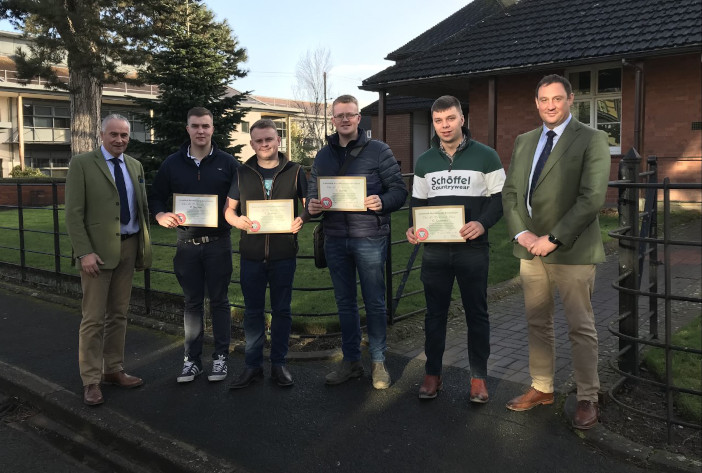 The ceremony also included five graduating second year students being awarded associate membership to the LAA. Oliver Chapman (Louth), George Starkie (Clitheroe), Joe Bowman (H&H), Paul Gardner (Penrith) and Jake Wagstaff (Thrapston) are continuing their studies to complete the full four-year course for Fellow membership of the LAA.
Livestock Market Operations and Management course
The Livestock Market Operations and Management course aims to provide the foundations of knowledge and skills needed by anybody aspiring to succeed in livestock auction practice. First delivered in 2011, the programme has been developed by Dr Mark Simcock of Harper Adams, in conjunction with the Livestock Auctioneers' Association and the Institute of Auctioneers and Appraisers in Scotland
Chris Dodds, executive secretary of the LAA, said: "The course is about encouraging the networking opportunities and developing the skillsets to help build a career that will not only bring great personal reward but will also support the wider UK livestock industry."
Course manager, Dr Mark Simcock said: "All of our farming clients are going to need sound advice from their professional advisors in the years ahead as agricultural policy develops, and our graduates today are in a position to give that advice."
Mr Dodds added: "I would like to congratulate all graduates and current students on their achievements to date, and I look forward to seeing them help shape and support the industry moving forward.
"Investing in the next generation of auctioneers is crucial to secure the future of our livestock market industry. This course is a great example of the industry doing so."