The John Deere Mannheim tractor plant is celebrating the production of its 2,000,000th tractor. The site employs around 3,300 employees to produce 40,000 tractors each year, with machines being exported all over the world.
The factory was established 102 years ago by the Heinrich Lanz company, which produced the Bulldog tractor. Following an acquisition by John Deere, green-liveried tractors have been produced there since 1956. It is now the largest John Deere production facility outside of the United States, and the largest tractor factory in Germany, reportedly producing two-thirds of all tractors produced in the country.
Mannheim is also the base for medium tractor development, with more than 250 engineers working on tractors for the future. In 2026, the company expects to introduce the first fully autonomous, battery-driven tractor.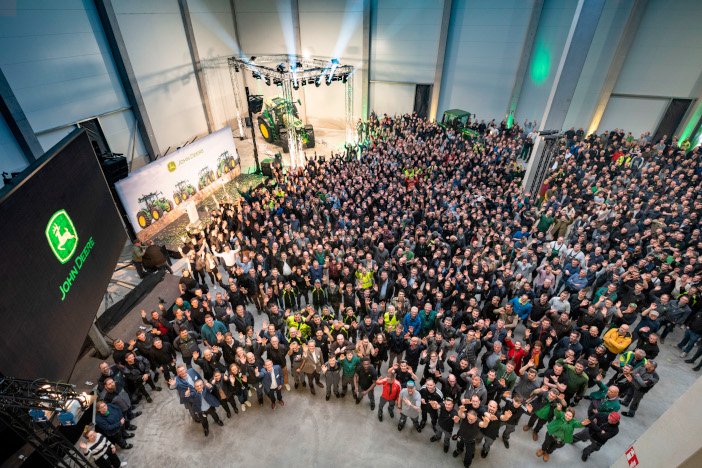 The 2,000,000th tractor will be a 6R 250. As a thank you to the production team, it has been wrapped in more than 300 portraits of the employees who worked on the tractor. It will be unveiled on the 22nd of March, with CEO John C. May in attendance.
It will then be on display in the John Deere Forum, before taking a place of honour next to its brother, the 1,000,000th tractor produced at the factory – a JD 6400. It took 70 years for the factory to reach 1,000,000 tractors, but just 30 to reach the second million.
The ceremony will also look forward, taking place in the new paint shop. More than $80 million is currently being invested in the location, with state-of-the-art environmental technology to reduce energy consumption.
Its training workshop is also celebrating 100 years, currently offering 160 young people qualifications are mechatronics technicians, automotive mechatronics technicians, industrial mechanics, electronics technicians and construction mechanics.