John Deere will use the Cereals Event to exhibit its latest technologies and machinery, including the new HarvestLab 3000 which can now be specified on S-Series and T-Series combine harvesters.
The expanded use of near-infrared technology allows wheat, barley and oilseed rape to measured, in real-time, for important constituents.
"This up-to-the-second analysis delivers numerous benefits, including being able to know for certain whether wheat has met milling quality specifications, the grain quality at an individual point of a field, and gaining an overall picture of which soils have converted nutrients into yield and protein," said Chris Wiltshire, John Deere's tactical marketing manager.
"This greater level of detail and analysis is all part of the progression to site-specific farming; targeting inputs where they are needed, reducing unnecessary expenditure, and paving the way for a more productive and profitable future."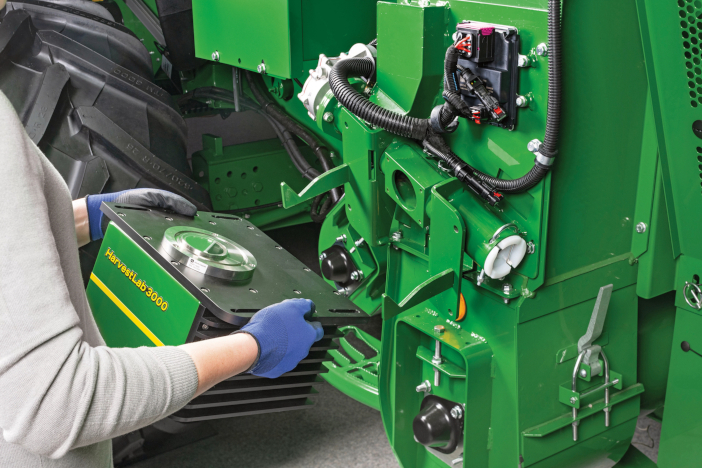 Visitors will also be able to see the 8R 410 tractor with the stepless eAutoPowr transmission, which offers the ability to offboard electric power to trailed implements.
Mr Wiltshire said: "eAutoPowr is the world's first electric infinitely variable transmission with electro-mechanical power split.
"We've completely replaced the hydraulic components with an electric power path. Two brushless electric motors are virtually wear-free and powertrain durability exceeds any other concepts previously offered in the industry. Moreover, this simplifies the design of the transmission and allows real-time remote technical diagnosis."
Sprays and sprayers
The company will also take part in the Sprays and Sprayers Arena, demonstrating the R975i, the company's biggest trailed sprayer.
"With boom widths of 24-40m and a 7,500-litre capacity, we'll be on hand to share how our newest sprayer brings higher accuracy, reduced chemical use and more comfort when filling and operating," Mr Wiltshire added.
Other exhibits include the new 6R series and the flagship X9 combine, said to provide large-scale farmers with greater output, even in tough conditions. The company's 750A All-Till drill will also be working in the Drilling Arena, available in 3m, 4m and 6m working widths and fitted with an Accord air seeding system.
To purchase tickets for Cereals go to www.cerealsevent.co.uk
For more information go to www.deere.co.uk