The first South West AgriTech Showcase was held on the 20th of April at Exeter Racecourse, attracting 150 delegates who learnt about the various opportunities available through the use of agri-tech.
"Food security and supply are key global issues, as is climate change, and this is where the development and use of agri-tech are crucial," said Mel Squires, director of NFU South West, in the opening keynote speech. "It can help us to meet the demand for clean growth and sustainable, good quality food production to feed the increasing global population, alongside protecting our natural resources, biodiversity and landscapes."
She added that collaboration would be vital going forward. "There's so much uncertainty, so it's really important that we all work together to make a far bigger impact."
Visitors also learned about the funding available to encourage the adoption of agri-tech. "In 2023, we have the farming innovation programme, which is £270m of research and development funding," said Chris Lyons, innovation lead in agriculture and food at Innovate UK.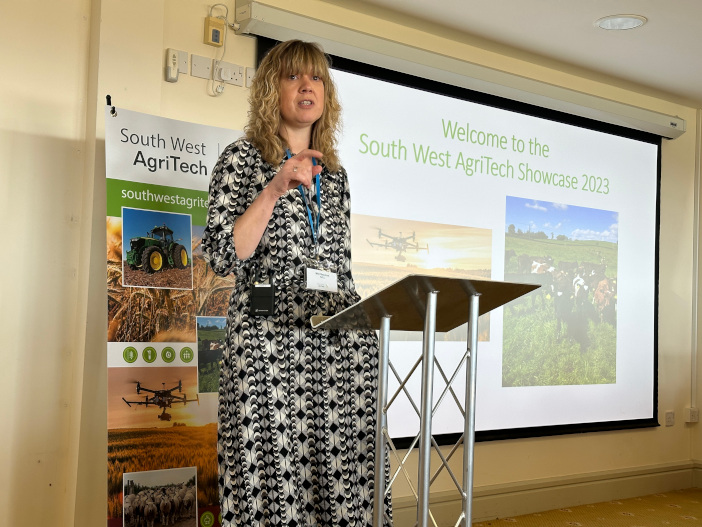 "But we must make sure that the money is being used to drive productivity and meet the challenges we have to deal with. So, one of the key aims is looking at partnerships, and what we can do to drive collaboration," he added.
"In agri-tech, we see a lot of technology coming across from other sectors, whether it's big data, robotics, chemicals or engineering – predictions of growth for that area are particularly significant," said Dr Elizabeth Warham, agri-tech team lead at the Department of Business and Trade.
However, what works on one farm may not be suitable for another. "All farm businesses are different. Even if you have two dairy farms, the type of business they're running will be different, as will the type of individual running it, so finding one solution to fit every single problem across the world won't be possible," said Sarah Carr at the Royal Agricultural University and Gloucestershire Agri Tech Partnership. "Farmers are the most important component for success – so don't forget that."
Bennamann has made waves in the industry with its slurry lagoon cover, which collects fugitive methane which can be converted into fuel for both on-road and off-road vehicles.
"We were introduced to New Holland in 2016, it was then, in secret, developing the world's first methane-powered tractor for production," said Dr Chris Mann, chief executive officer at Bennamann. "At the same time, we were working capturing methane from farms, so for the past five years we've been working together on the complete solution, from raw slurry through to tractor fuel."
The company were also successful in the event's Market Place networking and business development breakout room. "It has been a great opportunity to meet new companies that are non-competitive but have similar goals around sustainability," said Grant Crawford, technical sales lead at Bennamann. "We have also spoken to dairy farmers, so it has been worthwhile."
John Martin, a dairy farmer near Salisbury, was drawn towards practical solutions like Bennamann and Herd Vision. "But it's also fascinating listening to how companies are trying to support the different innovations," he said. "There's a lot to offer, but it comes back to bringing farmers and companies together, and getting the government on-side, too."
Joanna Rufus, Chair, South West AgriTech, said: "We were extremely pleased with the number of attendees at our very first showcase. This would not have been possible without the sponsorship from both partners and sponsors; and we thank them again for their support, which has been invaluable in raising the profile of this key sector within the South West. The feedback we have received from both the programme of the day and Market Place has been very rewarding; so much so we are now thinking of holding another showcase next year."
Devon County Council supported the agri-tech sector by sponsoring this event. "It provided a valuable opportunity to tell a wide range of regional stakeholders about the work we are undertaking, and in particular about the Devon Agri-Tech Alliance (DATA) – Economy and Enterprise," said Charlotte Molyneux at Devon County Council and Devon Agri Tech Alliance.
"We hope that farmers and other agri-tech business delegates will become members as a result, thereby boosting engagement in a range of local and regional collaborations and programmes. It was also a great opportunity to be able to talk to exhibitors and stakeholders, resulting in some productive conversations and potential opportunities."