In a bid to reduce emissions and combat the effects of climate change in fruit production in Germany, Fendt has partnered with the Fraunhofer Institute for Solar Energy Systems (ISE) in a new project: "APV in Fruit Cultivation – agrivoltaics as a resilience concept to adapt to climate change in fruit cultivation".
Fruit production in Germany is already reportedly suffering due to climate change, with intense sunlight, rising temperatures and frequent extreme weather events having an impact on quality and yield. To counteract this, protection nets and membrane sheets are a common sight, and this new project aims to investigate the extent to which agrivoltaics (co-developing land for both solar power and cropping) can assume this protective role in apple growing.
At the Nachtwey ecological fruit farm in Germany's Rhineland Palatinate, an additional aim is to increase resilience in fruit production and to contribute to resource-efficient land use. The Fraunhofer Institute also hopes to determine how the power generated can be used upstream and downstream on the farm, including the use of electrified machinery or electrically operated cold stores for storage.
As part of the project, Fendt is providing a battery-powered e100 Vario tractor, which will be used on the farm to conduct day-to-day tasks including mulching weeds between the fruit trees, transporting the harvest to the warehouse and loading fruit crates. The tractor, with a front loader and work basket, is already on-site and helped build the solar panel modules throughout the spring.
The orchard's self-generated electricity is used to charge the e100, creating a circular economy on the organic farm. By using renewable energy, the tractor significantly reduces CO2 emissions, also meeting the global demand for sustainable agricultural practices.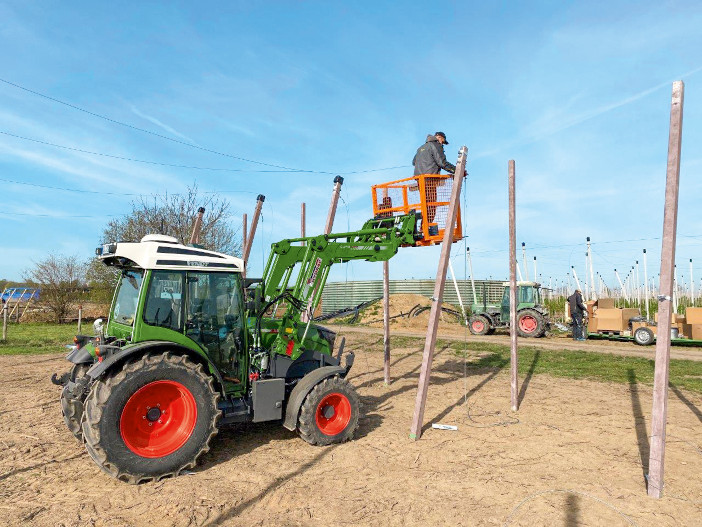 Agrivoltaics – a project for the future
An agricultural solar panel system could be used to replace conventional protective structures, such as hail protection nets and membrane coverings in fruit production, protecting the trees and fruit from environmental influences. The system is adapted to farming requirements in the vegetation phase so that work is not restricted.
The best outcome is, reportedly, not to maximise yield but to enable safe and high-quality fruit production alongside the production of renewable energy.
The Fraunhofer ISE is supported in this project by various partners from the public sector as well as from within the industry. BayWa r.e., the power plants of Schönau and DLR Rheinland Pfalz are managing various tasks that contribute to the success of the research. Due to be completed by 2025, the project will also study the social aspects. At its conclusion, a guideline for fruit growers will be published and the researchers will examine the options of integrating the system alongside local authorities.