Swain's Land Drainage recently celebrated 60 years of business and while they are clearly adding value to their customers' land, managing director Chris Swain believes that not everyone sees the hidden value of well-drained fields.
Mr Swain took over the business from his father in 2017, becoming the fifth generation to offer drainage work since his great-grandfather. He is supported by his two sons, Josh and Jack, and his wife, Fiona, working with farmers within a 50-mile radius of Whitchurch.
"Ninety per cent of our work is agricultural drainage, with the other ten per cent made up of leisure and caravan site projects," he said. "Over the years, we have worked with hundreds of farmers, improving their fields and helping them to grow better quality crops and enjoy increased yields, but surprisingly, there are still farmers out there who don't see the value of drainage."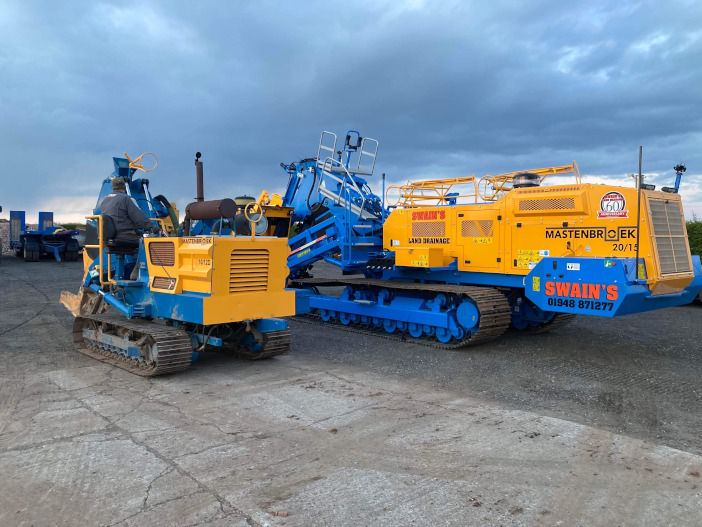 Mr Swain added that drainage will become increasingly important as the industry continues to reduce tillage levels and move towards a no-till approach to crop establishment.
"Zero till cannot be achieved without good drainage," he continued. "Good drainage leads to less spraying as the crops' root structure is so much better on drained land. Drainage can lower the watercourse, which encourages the roots to go looking for the water. This, in turn, improves root establishment and improves the crops' resistance to heat stress.
"My dad installed a drainage scheme for my grandad, and we all saw the benefit first hand. That was 50 years ago. In some respects, things haven't moved much, and today, drainage is still a skeleton in the cupboard.
"Those that invest in drainage reap the benefits. Those that don't want to spend the money – and it can be a considerable amount – don't do it and don't get the yields.
"I guess some people don't like burying an investment. It is one thing to have a £150,000 tractor sat proudly in the yard, but it's another thing to have a £200,000 drainage scheme hidden from view underneath a field, even though it will pay for itself in a few years by improving the yield and quality of the crop."
Investing in the future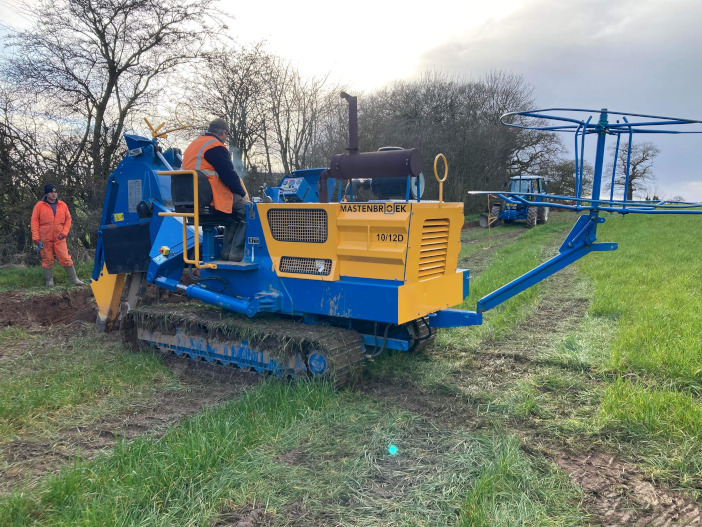 The Swain family have long believed in investing for the future. This April, Mr Swain took delivery of a brand new Mastenbroek 2015 self-propelled trencher, which replaces a 15/15 machine that had been used for almost a decade.
It offers 320hp over the previous machine's 220hp, enabling it to work more quickly and freeing up capacity to take on extra work. The longer digging mechanism (increasing to 2m from the 15/15's 1.8m) also reduces the need to remove topsoil.
"We've only had the 20/15 for a couple of months, so it's too early to talk about its true impact on our business," said Mr Swain. "But I do like having all of the controls operated by the joystick on this machine; it makes it a lot easier. We are also impressed with its speed, and the build quality is as good as ever.
"We've stayed loyal to Mastenbroek for several reasons. Firstly, there aren't that many companies in the UK making trenchers. Then there's the customer service we receive, and finally, just like you can't see from the surface what a good drainage scheme is delivering, there's everything that is going on inside the machine! Mastenbroek machines perform incredibly well and are ideal for dealing with the soil types we encounter."