With inflation of up to 30% in agricultural input costs reversing decades of falling prices, it has certainly been impacting the profit margins of farmers. While attempting to combat these increases, businesses in the agricultural industry need to avoid the cost of replacing expensive and integral equipment.
While farmers gained a boost with the announcement of £31 million being made available by the government for the purchasing of new equipment and machinery, reducing any impact on profit margins is crucial. Choosing whether to repair or replace machinery will benefit different businesses at different times, according to Andrew Powles, managing director at FPE Seals, a worldwide distributor and manufacturer of polymeric seals and hydraulic cylinder parts.
"When it comes to machinery, there are steps to take which can keep machinery working. If you understand the age of the machine or the components, how integral it is to the business, and the job it performs, repairing or replacing can both be viable options.
"Replacing frequently worn parts such as seals, hydraulic cylinder parts and gaskets can be a great, cost-effective option to keep a machine running and avoid downtime – particularly when paired with implementations and strategies including predictive maintenance. Naturally, a replacement will sometimes be the sensible option, but only when repair options are unfeasible and machinery is completely at the end of its lifespan."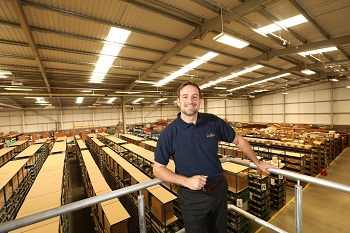 Reducing downtime
Downtime in any business, in any industry, can have a knock-on effect across not just the organisation, but also up and down the supply chain. Effective and quality repair work can reduce the amount of downtime within the business, so strategies such as predictive maintenance are employed to avoid this outcome.
Predictive maintenance uses technology, real-time reporting and data in order to monitor parts and components of the machinery that may be susceptible to faults and address these before they develop into critical production issues.
Maintaining and repairing machinery throughout the production cycle can have a positive effect on both the output and financial performance of a business. Downtime is reduced – well-maintained machinery will allow production to continue, demands kept up with, and employees utilised for the full duration of shifts.
In times of crisis, when new machinery is ill-afforded, repairing and maintaining to reduce downtime can be crucial. The reduction of downtime in the farming industry is huge – often, jobs are time-sensitive and certain tasks can only take place in small time frames. Repair work can enable these times to be kept to, meaning no further impact on profit margins and financial performance.
Employee Welfare and Safety
Further benefits of repairing agricultural equipment relate to the safety and satisfaction of the workforce responsible for the operation. This has positive impacts in more ways than preventing injuries while at work.
The nature of agricultural products means machinery is designed to get jobs done quickly and effectively, and that comes with an element of risk and chance of injury. Of course, safety procedures are in place, but keeping machinery up to the right standard and checking for the need for repairs will enhance the safety of operatives.
Ultimately, safeguarded employees will feel happier within their organisation. There are benefits to this too, which can also be traced back to effective machine repairs. While the reduction in downtime is excellent news for overall business performance, it also helps with company morale. Employees awaiting new machinery to arrive may find themselves with little to do, be utilised in areas of the business outside of their expertise and generally suffer a lack of job satisfaction.
By keeping machinery running with repairs, the business will be able to operate smoothly, with operatives working to their schedules. Production will continue, with workers confident they are using well-maintained, fit-for-purpose machinery, rather than suffering a breakdown and waiting for unspecified periods of time for a replacement.
Cost-Effectiveness
Of course, with the rising costs of other farming equipment and necessities, getting the most cost-effective option is imperative. Even with government funding, farmers will still benefit from saving money whenever plausible.
The option to repair rather than replace is often the most cost-effective option. Predictive maintenance can massively reduce or even remove downtime. In cases where a machine needs to be out of service for repairs, the time will be less than waiting for a new machine to be ordered, delivered and installed. Various factors, particularly if shipping overseas, can affect delivery times, making waits unpredictable.
Additionally, there is the cost of training to consider. Andrew Powles went on to say:
"New machinery may be evolved from the previous model. Even in these instances, staff may require hours of training to be brought up to speed. Repairing a machine everyone is familiar with, providing it is still capable of high-level performance, means that work and production can commence as soon as the repair is completed."
Effective repairing can be a great way to combat downtime and cost problems in the agricultural and farming sector. Reducing downtime, improving the safety of staff, and saving money are all benefits that can be attributed to effective repair and maintenance. Coupled with techniques such as real-time monitoring and predictive maintenance, repairs can ensure that new machinery is only required in the rare cases when the machine and components no longer make fixing it viable.
For more information go to Pneumatic Seals and Hydraulic Cylinder Parts | FPE Seals Ltd