For John Yeomans, a willingness to learn and work with others that led to his success in the Grassland Manager of the Year category at the 2022 National Arable & Grassland Awards.
There's a story to how Midlands-born John Yeomans and his family ending up running a beef and sheep farm near Newtown, Powys. His father, a butcher by trade, had dreamed of owning a farm, having rented a farm near Birmingham with one of his brothers before he was married.
The dream became a reality in 1973 when the family took ownership of a 68-acre smallholding near Newtown. By his own admission, John wasn't particularly interested in farming at the time, but soon decided it was the career choice for him, working on local farms and studying agriculture at the Welsh Agricultural College.
When he came back to the farm in 1986, the business was struggling financially, and efficiencies were not where they should be to make the relatively small enterprise profitable.
"We had 23 cows on the farm, with only 10 calving that year, and 200 ewes, which had lambed at around 90%," John explained. "Efficiencies were down across the board. It was a very difficult period for us."
John took control of the business that year, working with his partner Sarah, who he married in 1987. They started tagging the cows and ewes, and slowly brought the business' finances back to a sustainable position. Jumping forward 35 years, the farm now runs a herd of between 70 and 80 cows plus 10-15 replacements – a mix of pedigree and crossbred Limousins, with some crossed with Belgian Blues and Canadian Speckle Park – and a flock of 720 ewes and ewe lambs – primarily Beulah Speckled Face but some crossed with Blue Faces and Texels.
The focus since taking over the business has been on individual care for the animals. By monitoring the performance of each cow and ewe on the farm, John and Sarah have been able to make small changes that have had long-term effects on efficiency and performance.
John explains that he tries to keep an open mind to discover ways to make his business more efficient. In 1998, he travelled to New Zealand and saw how monitor farms benefited those involved.
On his return, he helped to establish a similar system in Wales, working with a group of farmers and other professionals involved in the business to help evaluate and benchmark their performance.
Similarly, in 2006 while studying on a Nuffield Scholarship looking at carcase classification, he picked up tips on forage management. "We can be closed off in this industry, but by listening, even in situations where it may not seem relevant, you can pick up a lot," he said.
Managing grassland
John and Sarah have implemented rotational grazing on the farm, putting in walkways and water sources to keep animal health high while boosting the efficiency of the grassland. His records show a 20% increase in grass growth since 2013, with more of the farm's acreage being split into blocks since then.
He's also adopted GPS fertiliser spreading, cutting back on the expenditure of inputs and only adding nutrients where they are absolutely necessary. This is backed up by regular soil testing, which gives a clear picture of what is been taken away and put back into the ground.
Following a trip to Finland as part of the Farming Connect Management Exchange, John saw how multiple species of grass, particularly Finnish-bred timothy, have been used to improve dry matter and energy levels in grassland leys. Looking to maximise the performance of some of the upland areas of the farm, when he returned, he applied for a European Innovation Partnership project, which saw greater levels of timothy being used in rotational grazing.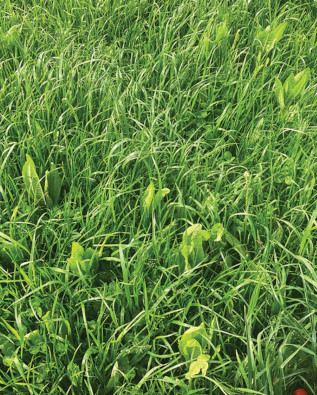 "We established four different leys, increasing the amount of timothy up to 40% and used a slot seeder and an Opico Grass Master harrow for the sowing," he explained. "For the first season, the weather was horrendous, and we were worried that nothing would germinate, but we still saw upwards of 10 tonnes of dry matter. Since then, we've seen almost 13 tonnes per hectare, even at over 1,400ft in very wet conditions, and we're able to run big gangs of sheep over the ground."
Not only does the timothy help extend the grazing season – its wide use in Finland is due to its ability to deal with harsh conditions – it requires less nitrogen input. John said that after the challenging weather at establishment, the percentage of timothy in each ley is increasing again under the grazing regime.
Efficiency and profitability
With an ethos based around constant, small improvements across the board to benefit the business, diversification has played a role in their continued success. Everything on the farm goes back into the livestock, with replacements bred on the farm: weaned, store cattle and breeding bulls, along with breeding ewes, ewe lambs, finished lambs and rams.
Closing the gap between the producer and the customer, a small proportion of beef and lamb is also sold directly to consumers.
John and Sarah have worked hard to measure and adjust the environmental impact of the farm. Alongside the trials, they have installed a solar-powered water pump, providing fresh water to the stock while they are grazing. There's also been investment in solar panels to provide energy to the farm buildings.
John says he is keen to take part in the Welsh Government's plans for net zero and to reduce agriculture's emissions, but that the systems put in place cannot be prescriptive. "We've established thousands of metres of hedgerows, as well as thousands of trees on our more unproductive ground," he said. "We're all willing to do our bit but the rules that are put in place need to represent the carrot, not the stick."
The woodland not only helps to maximise income on unproductive ground. It has the potential to create additional cashflows through the sale and use of woodchip.
More information
Read about the 2023 NAGA winners, including this year's Grassland Manager of the Year Award winner here.
For news and updates about the NAGA awards, nominees and winners, follow
National Arable and Grassland Awards
#NAGAwards