Dr Rolf Peters, Visselhövede
Technical development in potato production is no longer determined solely by the classic influencing factors of performance, process costs and product quality, but also increasingly by the possibilities offered by digitalisation, the challenges posed by climate change and the changing legal framework conditions. The latter are reflected, for instance, in more extensive constraints on fertilisation, the decreasing availability of crop protection agents and restrictions surrounding road traffic.
Cultivation
Increased yields, an increased percentage of tubers that have turned green and the separation of land before planting have led to increased row spacings in potato cultivation in various regions. However, this primarily quality-driven trend is counteracted by a longer development time until complete crop coverage is achieved, thus exposing the soil to increased unproductive water evaporation, particularly in years that are extensively dry during the early summer. At the same time, row spacings in excess of 75cm necessitate special permits being obtained or require technical solutions when transporting four-row planters by road. One possible alternative is the combination of a central storage bunker and laterally folding planting units that are supplied with seed material using sensor-controlled feed belts, something that has already been implemented in some six- and eight-row planters, for instance. Switching to a three-row basic system would have more far-reaching effects on the entire process chain. While the width of self-propelled four-row harvesting machines could also be adapted to the permissible road transport limits more easily, the change of system involves a need for very high initial investment, at least for the new planting and harvesting technology, which could deter many farms from switching.
Maintenance and crop protection
While final ridge formation often takes place at the same time as planting, as one of the basic functions of mechanical maintenance, long-term changes are emerging in weed control. The current discussion surrounding the extension of approval for the herbicidal active substance metribuzin, which is often used both on its own and in combination, is providing increased impetus to get to grips with mechanical maintenance measures. The ridge flanks are considerably easier to process than the ridge crest, although the lateral ridge areas are extremely sensitive area due to their intensive root penetration and should remain undisturbed wherever possible. Besides the classic tools such as hoeing blades, roller hoes or harrows, solutions from other crops such as finger hoes, for example, are also being used. Further potato-specific developments in the form of new tools and sensor control systems, but also the increased combination of mechanical and chemical maintenance measures by means of strip treatment of the ridge crest using conventional crop protection sprayers with adapted application technology, for example, are to be anticipated.
However, the frequency of passage in the previously unused furrows also increases again along with the increase in mechanical measures in potato cultivation, as the limited working width of these implements does not enable just the previous tramlines to be used. This necessitates considerably lighter tractors with narrow wheels and tyres adapted to the row spacing. Paying attention to harmful soil compaction and the formation of undesirable clods when driving over moister soil accordingly gains in importance. While digital solutions for locally forecasting the risk of harmful compaction before actually driving over the land are on the horizon, the conflicting objectives of performing the work in good time and driving that protects the soil remain, however, as the optimum time windows for mechanical measures are far tighter and not only field-specific but also area-specific differences often occur.
Haulm reduction
Potato farmers have also been facing this challenge in haulm reduction for the past two years, because the extremely versatile active substance diquat, which is no longer available, has only been replaced to a limited extent by the remaining active substances. Accordingly, the haulm topper has undergone a renaissance as an important element of what is usually a multi-stage process. Modern haulm toppers are characterised by uniform shredding of the haulm, targeted placement in the furrows and a working height that can be adjusted from the tractor. Added to this is the desire for considerably larger working widths than the previously standard four rows, in order to significantly reduce the number of passages and thus the risk of soil compaction, but also the risk of exposed tubers on the ridge flanks. The remaining siccatives can be used effectively on haulm-topped crops, and the required application quantities can also be reduced in combination with row treatment directly at the rear of the tractor or, in a second operation, using a crop protection sprayer equipped for this purpose.
However, the haulm topper is also a key machine in the alternative haulm reduction methods because it removes the mass of growth above the ground before flame weeding devices or haulm pluckers undertake final removal of the remaining haulm. Work is continuing on the use of electrical current for reducing haulm in potatoes to minimise any potential risk to the quality of the tubers.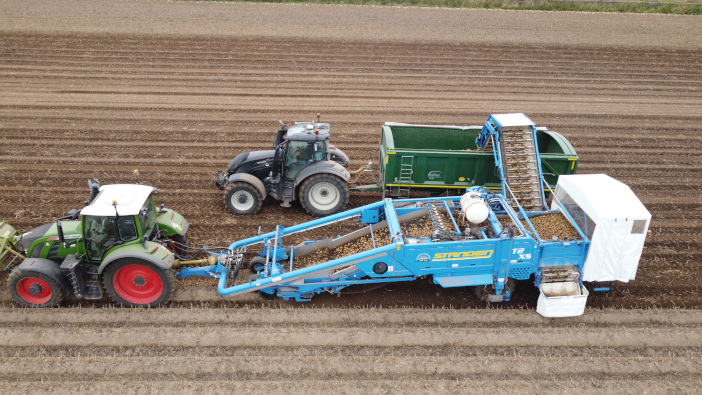 Harvesting
The dry harvesting conditions seen in the past three years have led to increased demands for the development of simpler harvesters. However, experiences this autumn have shown that the current screening and separating elements in the harvesters are entirely justified and should also be evolved. On the one hand, manufacturers are responding to continuous demands to increasingly step-up performance by further optimising the material flow in their machines. On the other hand, not only the bunker volume is increasing; manoeuvring and transfer times at the edge of the field can also be minimised by increasingly using overloading bunkers.
Despite all performance and cost awareness, obtaining a high tuber quality must not be overlooked for the majority applications. Settings that are gentle on the tubers are becoming vastly more simple thanks to the increased use of hydraulic drives, up to and including fully hydraulic models even for one- and two-row hauled harvesters. The integration of sensors in the assemblies' control circuits also enables extensively automatic adaptation to changing operating conditions and therefore offers the driver additional scope, e.g., for transferring the potatoes while driving. However, the complexity of the control terminals also increases along with the number of adjustment options. Manufacturers are attempting to offset this through a targeted selection of adjustment and visualisation tools on the permanent screen level, whereby driver-specific individualisation is usually possible. This configuration can be saved, as can various basic machine settings that serve as experience-based starting points for further manual adaptations to the current harvesting conditions, in the case of recurring operating conditions or applications.
The extensive transfer of data from the harvesting machine to mobile end devices or the farm's PC additionally offers the option of supporting the harvesting work quickly or of documenting information/data for subsequent further processing. Manufacturer-independent data transfer systems offer considerable advantages when machines from different manufacturers are integrated into the process chain or services are carried out on a contract basis. The development of practical solutions for yield mapping during harvesting is being pushed forwards by the manufacturers, as the data produced in this process is indispensable for evaluating partial area-specific measures, for example, during the vegetation period if it is accordingly valid.
Storage
Alternative products are now available following the loss of the previously dominant active substance chlorpropham for controlling sprouting in ware potatoes, but their significantly higher volatility not only necessitates adapted storage regimes, but also modified building designs. Smaller storage units are therefore becoming increasingly important again, because they enable more individual ventilation and also more effective use of the new, considerably more expensive anti-sprouting agents. Increased building and ventilation flap tightness is also sensible at the same time. However, controlling carbon dioxide and ethylene in the storage room air is also becoming accordingly more important to enable the implementation of a batch-specific storage regime with the shortest possible outdoor air times. With their simple combination of limit values for the individual control parameters, the new control computers offer a high level of flexibility in this regard. In this context, efforts must also be made to achieve the most effective use of outdoor air for cooling the potatoes during the storage period, which can be most readily accomplished by means of a forced ventilation system in loose and crate storage. The advantages of forced ventilation were also shown this autumn, when more batches with a higher storage risk came from the field and then required specific and intensive drying ventilation even several weeks after being placed into storage.
Just like the extension of the marketing and therefore also the storage period of domestic potatoes, increasingly warmer winters have led to increased demand for mechanical refrigeration systems. Environmental protection considerations and subsidy law requirements are indicating a trend towards the use of non-halogenated refrigerants such as ammonia, carbon dioxide or propane, which have only a low global warming potential if they escape into the atmosphere, e.g. due to leaks. Added to these are frequency-controlled fans for the evaporators or condensers as well as compressors whose output can be regulated on a needs basis using various techniques.
Processing
As crate warehouses become increasingly widespread, actual crate handling is taking up more and more time, with the result that efforts are being made to achieve increased efficiency by using higher-performance crate fillers and automatic stacking systems in the infeed and outfeed areas. Increased demand for regional products is leading to direct contact between potato farms and individual food retailers more often in ware potato marketing. Small packs are characteristic of this distribution channel, and can only be implemented economically by means of automatic weighing and packaging machines when larger quantities are involved. Besides second-hand machines, models in the lower performance and price range are primarily in demand here. The limited availability of workers is increasing the general desire for optoelectronic sorting of even unwashed tubers amongst agricultural producers. While technical development is making continuous progress in this regard, satisfactory results cannot yet be achieved everywhere so far despite upstream brushing or polishing.