Cattle handling equipment safety and efficiency is essential for beef and dairy producers looking to optimise herd performance.
"Whether it be mitigating injury of livestock and handlers, improving health programme protocols and daily liveweight gains or reducing production losses associated to stress, cattle handling equipment is going to have a long-term economic impact on beef and dairy herds," says Edward Wise of Wise Agriculture, leading UK supplier of Arrowquip.
Upping the standard of its world-renowned cattle handling equipment, Arrowquip is releasing four new squeeze crushes, including two manual and two hydraulic models. According to Steve Langrell, cattle handling expert lead on Arrowquip's research and development team, the new range combines practical functionality with animal behaviour research.
"Arrowquip equipment improves handling safety and efficiency by working with – not against – the natural instincts of cattle," explains Mr Langrell. "Combining this with customer feedback, trial work on our research farm and quality manufacturing, we have developed the most diverse and innovative range of cattle handling equipment on the market."
Q-Catch Series Manual Squeeze Crushes 
The new Q-Catch 87 Series and Q-Catch 74 Series cover a greater demand from producers with different sized herds. With an industry leading seven-year warranty, the Q-Catch Series range ensures a quality investment.
Both crush lines feature the 3E Q-Catch Yoke Gate, a new curtain style head gate that uses light to improve cattle flow through the crush. Operating with an infinite locking system, any size of animal can be secured without the need for adjustments. The same locking mechanism operates the squeeze, easily holding the largest bull to the smallest calf.
Featuring a rear sliding door and ability to operate the head gate anywhere along the side of the crush, the Q-Catch Series is ideal for producers with limited labour resource.
"The Q-Catch Series has multiple access points, including top and bottom access doors that can be opened independently or together, and a needle door that provides generous access to the neck," explains Mr Langrell. "This easy and safe access to the animal has made the Q-Catch Series a preferred option for many veterinarians for TB testing and pregnancy detecting."
The heavier, more refined Q-Catch 87 Series has a textured floor made of virgin Goodyear rubber to keep cattle calm as they enter the crush. Pivots and hinges are engineered with poly bushings and slam latches are poly coated to reduce noise.
"Sudden movement and loud noises, such as clanging equipment or shouting, will kick in an animal's fight or flight instincts and induce stress. This often leads to cattle not flowing through the system properly," explains Mr Wise. "The calm environment provided by the Q-Catch Series and the ability for one person to operate the crush has allowed one of our Scottish customers to weigh cattle at a spot rate of 100 head per hour with only two people."
For producers after an entry-level squeeze crush, the Q-Catch 74 Series is a lighter weight option to improve their farm. Its steel, ribbed floor, fixed width vet cage and steel blinder panels make it ideal for producers needing to make an affordable upgrade on their current crush without compromising quality and safety.
The Q-Catch 87 Series and Q-Catch 74 Series are both available with standard and vet cage options. Outside of the seven-year warranty, these carry lifetime warranties on friction locks, rump fingers and the Goodyear rubber floor.
Q-Power Series Hydraulic Squeeze Crushes
For producers wanting to further increase the efficiency of operating their crush, the Q-Power Series Hydraulic Squeeze Crush line will remove the manual operation of the head gate, rear gate and squeeze. Hydraulic variants of the Q-Catch Series, the Q-Power 107 Series and Q-Power 104 Series come with a three-year warranty.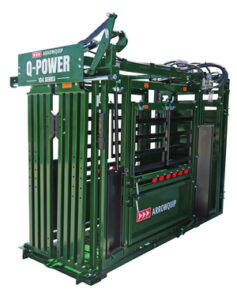 The flagship Q-Power 107 Series features a vet cage, curtain style rear door and wide-range pivoting swing arm allowing for operation on either side of the crush. The fast-responding hydraulic connection is run by a remotely mounted, silenced power-pack to keep noise to a minimum in the work area.
The Q-Power 104 Series is an unrivalled entry-level hydraulic crush with standard and vet cage options. Frame mounted controls and power pack allow for quick and easy set-up.
"Taking the labour intensity out of projects with a Q-Power Series hydraulic squeeze crush will allow users to work quicker and for longer without tiring. We have a customer that operates his contracting business in Northwest England with two Q-Power Series crushes. His crew can TB test 900 head in four hours – which is fast enough for APHA to double-check with the veterinarian that the work times are accurate," says Mr Wise. "Without a doubt, there is a place on any farm, regardless of the herd size, for either the standard Q-Power 104 Series or the heavier duty Q-Power 107 Series."
Mobile cattle handling systems 
The Q-Catch Series manual crushes and the Q-Power 107 Series hydraulic crush have also been integrated into Arrowquip's diverse range of mobile cattle handling systems. With a total of 37 different crush, race and forcing pen combinations, producers can tailor their portable handling system to their unique needs.
"High quality equipment that is built to last for years and engineered to improve efficiency and safety of cattle handling will yield long-term benefits for beef and dairy producers," concludes Mr Langrell. "It's not worth the financial and physical risk for settling for anything less."
Arrowquip cattle handling equipment is available for nationwide delivery through Wise Agriculture Ltd. To learn more about Arrowquip's new Q-Catch Series and Q-Power Series crushes, go to [wiseag.co.uk]wiseag.co.uk.