New Holland Agriculture has announced its new partnership with the 'Il Raccolto' farm in Bologna, Italy. The Il Raccolto farm will become the first New Holland Smart Farm, intended to demonstrate sustainable farming practices through a circular economy model and a connected fleet environment.
Il Raccolto shares New Holland's vision of environmentally and economically sustainable agriculture based on innovation, agriculture 4.0 technologies, and energy independence. The agreement will show Il Raccolta's developments driven by its Clean Energy Leader strategy and demonstrate the resulting advanced solutions while supporting New Holland's research by providing agronomic data collected through the telematics systems on the machines at work on the farm.
Sustainability is key to this new partnership, alongside profitability. With 2,000 hectares, Il Raccolta has an arable and dairy farm, and vineyard. It grows cereals, wheat, livestock feed crops and seeds, as well as grapes. It produces milk for Parmigiano Reggiano cheese and Pignoletto wine – all to the high standards of DOP, DOC and IGP certification.
The farm already runs a fleet of more than 80 New Holland machines made up of the brand's most advanced tractors, combine harvesters, forage harvesters, telehandlers, balers, light construction equipment and grape harvesters.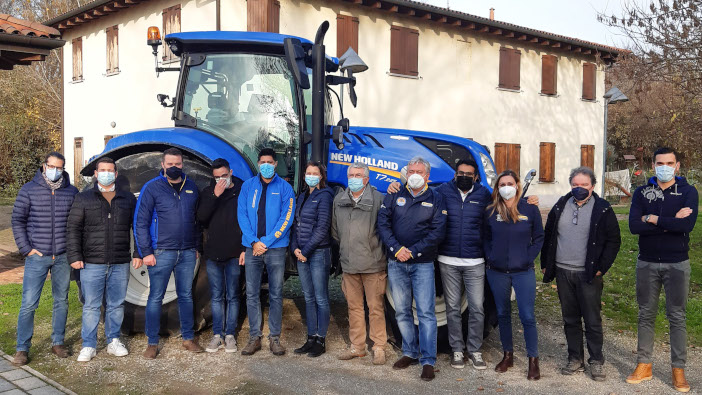 The New Holland brand president, Carlo Lambro, said: "Our partnership will enable us to offer our customers and stakeholders the full experience of successful sustainable farming with energy-independence and a circular economy model."
The New Holland Smart Farm will have a multi-faceted role, being the brand's official Demonstration Farm in Italy and the base for its European Training Team. There will be events hosted on the farm, for dealers and customers to enjoy the full experience of sustainable farming with New Holland, in the field. It will also be a centre for knowledge exchange with New Holland employees, aimed at improving the customer experience through an in-depth understanding of agriculture 4.0 technologies, the circular economy model and biomethane on the farm.