Taking home the Protein Grower of the Year award at last year's National Arable and Grassland Awards, the Parker family has built a circular economy on the farm based around careful soil management and a substantial laying unit.
Based near Melton Mowbray, the third-generation business Sherwood Farms was started by James and Andrew Parker's father and now runs to 630ha, with a mixture of arable cropping and grassland for 70,000 free-range hens. The rotation is primarily wheat, with spring barley, linseed, oats and winter and spring beans making up the balance.
The farm has also integrated niche crops into the rotation, growing small patches of millet and lupins to assess their potential. Both say that despite the strides forward they have made, it is a constant learning process.
"We've made a lot of changes over the years," said James. "We moved away from ploughing 15 years ago, first adopting minimum tillage and recently moving to direct drilling. Now we're establishing a range of cover crops to help boost organic matter and unlock nutrients in the soil."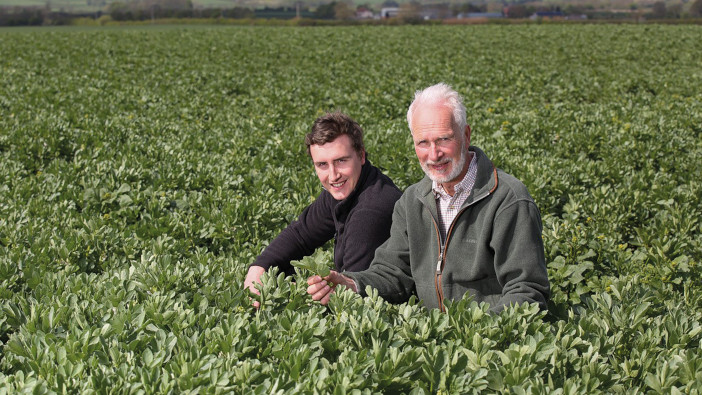 James's son Michael added that they are trying to build up resilience, both in Revolving around the hens the business, and in the individual crops. The move to direct drilling has significantly reduced establishment costs, savings which have been bolstered by techniques to minimise chemical and artificial fertiliser inputs.
Everything revolves around the laying unit, with the bulk of the cropping going into producing feed for the flock. The farm buys in day-one chicks, raising them before packing and selling the eggs from the site to wholesalers. A proportion of the harvested grain is marketed but the bulk of the income comes from the egg sales. It's a circular economy, with the chickens producing valuable nutrients.
The majority of the farm's nutrient needs are met with the chicken muck produced on farm. This is topped up with applications of nitrogen and sulphate, with no phosphorus or potassium applied. Recent efforts have been focused on using up nutrients locked up in the soil – the Parkers have been able to minimise phosphate applications by utilising buckwheat in cover crop mixes to release phosphorus, while the use of Agrovista's Tiros seed dressing helps plants to sequester nutrients more effectively – something Michael and James say has been very successful.
"When a chemical or nutrient application is necessary, we tissue test the crop to get a clear picture of any deficiencies, meaning we can use only what is needed," explained Michael.
By opting to keep OSR out of the rotation, as well as pushing back the drilling date to keep pests at bay, James and Michael have also managed to eliminate insecticide applications – relying on plant resilience and natural predators to keep crop damage down.
Managing costs
The laying unit represents both the greatest source of income to the business and the biggest expense. Beyond the cost of growing and protecting crops through to harvest to feed the flock, there is also the significant expense of heating and powering the buildings.
To tackle this, James and Michael have installed biomass boilers and solar panels, the combination of which powers the entire farm, they say. They have also installed rainwater capture systems, which is used for all crop spraying and pressure washing of both arable equipment and chicken sheds on the farm.
There has been diversification within the business. To boost on-farm nutrient sources and increase income, the Parkers run a 5,000-tonne capacity green waste composting unit. This, alongside the chicken muck and farmyard manures sourced from local firms, is spread on the ground with a Bergmann 16-tonne rear spreader.
"We'll probably look to change this in the next couple of years, but we've seen very good results using a range of different products," Michael said. "We can get a 24m spread on chicken manure, however it is spread at 18m, while compost, which is lighter and so harder to spread, is applied at 9m. This is to fit within the loose 36m controlled traffic system we're running while ensuring everything is spread effectively."
They have been running a controlled traffic system for around 10 years, although both James and Michael are quick to point out that it is not prescriptive.
"With the move to direct drilling, we recognise the importance of minimising soil compaction and keeping machines on the tramlines," Michael said. "To the best of our ability, all the kit fits into a 9m system based around the New Holland combine."
Keeping capital costs down
There has been efforts in recent years to maximise the use of certain machines, keeping capital expenditure to a minimum. Tractor power comes from two Fendt 724s, which Michael calls the perfect tractor.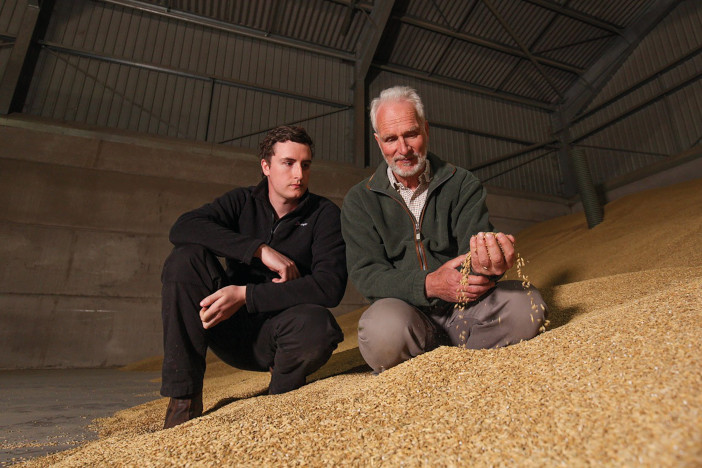 "They are compact and powerful, with a low weight, which means we're not burning fuel when they are on less intensive tasks," explained Michael. "Despite the fact that we're running over 560ha, I believe we could handle the work with just one 724, but it would put some added pressure on at peak periods."
It's a big step down from the high horsepower tracked machines that were previously used on the farm, but with the correct tyre choice, the Parkers have seen no detrimental effect. Both the Fendts are shod with Michelin AxioBib 2s, with Michael (working closely with farm workers) adjusting tyres pressures to further minimise compaction and soil damage.
Going down the direct drilling route has also seen a reduction in the implements on farm. The Parkers have retained some remedial tools, including a 7m set of Sumo discs, but establishment is almost solely based around the Horizon DSX drill, with three hoppers.
"You can independently adjust every aspect of that machine, and we can apply seed and starter fertiliser in one pass," said James. "It also means that we can create our own cover crop mixes to make sure that every crop is providing a tangible benefit. We can sow them at different depths to get the best possible establishment."
Alongside the buckwheat, current mixes also include tillage radishes for the deep rooting characteristics and some of the leftover lupin seed, which makes the cover crop far more economical.
Crop protection is handled with a trailed Horsch sprayer, which, when linked to the FendtOne system, Michael believes provides far more accuracy.
"Both the tractor and the sprayer are fully specced, so that when we have to apply chemicals, we can be confident that it is going where it's need," he added. The FendtOne system links to Gatekeeper and makes our record keeping much more efficient."
The only place where the farm has over-equipped itself is on the handling side, running three telehandlers and three forklift trucks. While this might seem excessive, James and Michael explained that each of the units has a defined role.
"The green waste compost is processed on another site, so we couldn't have a telehandler there if it was needed here, and vice versa," said Michael. "There's always something that needs moving, whether it's compost, grain or eggs, so being over-equipped in this case means that we can be timely and keep things moving."
More information
Read about the 2023 NAGA winners, including this year's Protein Grower of the Year Award winner here.
For news and updates about the NAGA awards, nominees and winners, follow
National Arable and Grassland Awards
#NAGAwards