The Hampshire-based Wheatsheaf Farming was our 2022 Sustainable Farming Award winner, although manager David Miller states they are aiming beyond that.
"While I agree with the principles of sustainable farming, I've always found the phrasing a little strange," David Miller explained when we visited him before Christmas. "To sustain means to keep things the same, and while they are often used to describe the same practices, I prefer regenerative farming because I believe we are putting something back."
Wheatsheaf Farming specialises in whole farm contracts, run at cost and enabling the three partnering farms to justify capital expenditure. It was established in 2002, with the partners paying a monthly fixed rate based on the prospective budget, and then splitting variable costs based on the percentage of land farmed. Grain sales are divvied out based on the same percentages.
By 2010, yields were starting to plateau and David could see a pattern emerging, where more was been spent on artificial inputs to try and maintain the level of production.
Since then, various regenerative and protective measures have been introduced. Cover crops have played a major part, with any bare soil covered with beneficial mixes to boost rooting capabilities and fix nutrients in the soil.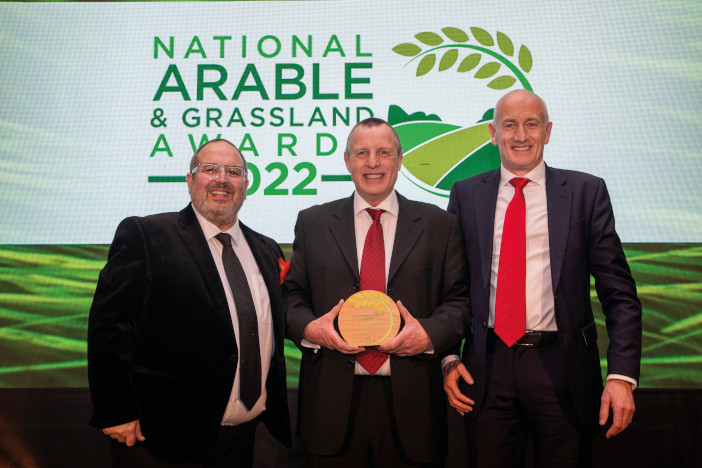 "We don't have easy access to organic manures," David explained. "Nor have we been able to integrate livestock into the rotation, because there's a real lack of mixed farming in the area. We've had to carefully choose our cover crops to maximise the benefit. We've seen organic levels in the soil increase by 0.75%."
The increase in soil health has led to improved resilience in the crops and a reduction in the artificial fertilisers applied. Potash and phosphate applications have been removed, and the farm is in the process of trialling both molasses from QLF and a worm humate to further increase organic matter and soil life.
In oilseed rape, Wheatsheaf Farming has established and grown the crop for the last four years with no insecticide applications.
David said: "Our losses have been minimal, and we're keeping it this way with companion cropping which appears to distract pests."
There have been other natural defences used across the rotation, including orange oil to control aphids and barley yellow dwarf virus. Flexibility has been key to the success of the company's efforts, and this can be seen across the rotation. David notes that there is nothing fixed in place, which allows them to react quickly as and when things go wrong.
"It's a constant learning curve because we're going against decades of conventional, intensive farming," he said. "We've seen a mild yield penalty in areas since taking this journey, but our margins have been better than ever."
As an example, David points out that the reduction in passes in the field have led to a 40% reduction in diesel usage, down to 50 litres/ha. Nitrogen fertiliser is applied at 180kg maximum, with plans to reduce by a further 25%.
Capital expenditure has also reduced, with the company running a small fleet of equipment. Mainline horsepower comes from a JCB Fastrac 4220 and a Claas Arion 650. The Cross Slot direct drill was replaced with a Horizon DSX disc drill, with multiple hoppers to facilitate cover and companion crop sowing and liquid tanks for the application of molasses and other liquids.
To minimise the use of glyphosate during cover crop destruction, a Cousins Cambridge roller is utilised while a Claydon straw rake is used for mechanical weeding and to distribute residues and disrupt slug nests. The Claas 780 Lexion combine is equipped with a 12m header to fit within the company's controlled traffic system, matched with a 24m Sands sprayer, specified to apply liquid fertiliser as well as sprays.
To maximise the use of nitrogen, there has been investment in a handheld N sensor, using the results to create sprayer application maps.
The rotation comprises winter and spring barley, winter and spring wheat, oilseed rape, and spring beans. The beans and oilseed make up break crops, used in combination with cover crops to ensure that something is always growing in the ground. There has also been research into the various varieties available, with spelt wheat proving to be a huge success.
"We're currently in the fourth agricultural revolution," David concluded. "The difference is that this time, it's been driven by the farmers themselves. You can spend a lot of money on various solutions but you have to really want to make the change."
More information
Read about the 2023 NAGA winners, including this year's Sustainable Farming Award winner here.
For news and updates about the NAGA awards, nominees and winners, follow
National Arable and Grassland Awards
#NAGAwards