Amazone is now offering two new rigid models of its trailed Ceus disc and tine combination cultivator, in working widths of 3m and 4m. This means that the combination unit can be used on smaller farmers with tractors from 150hp.
The new Ceus 3000-TX and Ceus 4000-TX are equipped with central running gear and can be used for both stubble and primary tillage, deep loosening and seedbed preparation. Both units can work at speeds of up to 15kph and are capable of shredding and mixing high levels of trash for rapid decomposition and good emergence of the following crop.
At the front, large-diameter leading discs shred organic matter and leave a fine crumbled soil structure for sowing. Smooth and serrated discs are available, each with individual suspension to ensure a high level of through-passage and contour following. A maintenance-free, stone release system is included with rubber spring elements.
The following tine segment offers spacings of 40cm, with adjustable working depth down to 30cm. Amazone states that the tines can also work just below the working depth of the discs, especially in wet and heavy conditions. This can reduce the risk of capping in these soils.
A selection of C-Mix shares is available, with the C-Mix Clip quick-change system also offered, alongside a range of hard-wearing HD units.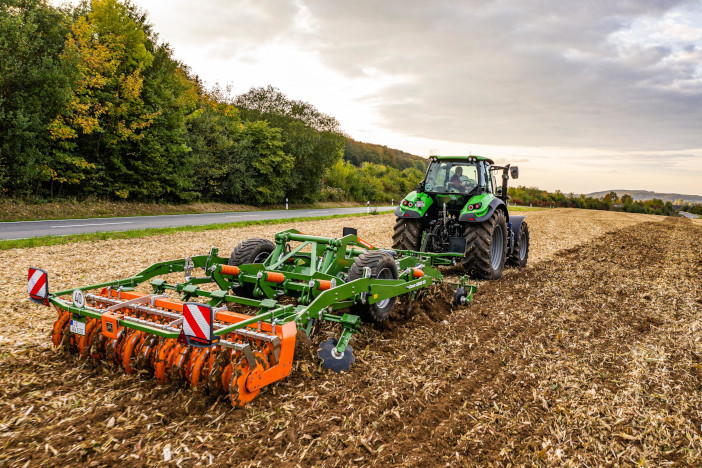 C-Mix Super tines are equipped with a pressure spring overload protection system but operators can also specify the new C-Mix Ultra tines with automatic, hydraulic overload. With this, the trip force can be infinitely adjusted up to 800kg, ensuring a consistent working depth and protecting the cultivator against extreme loads.
The tines are followed by a set of levelling tools, which can be equipped with smooth or serrated discs, or spring tine levellers. The height and inclination of the side discs can be independently adjusted to ensure optimum matching from bout to bout.
Eleven different rollers and various rear harrows are available for consolidation, or the roller can be removed in wet conditions so that the loosened soil can dry and warm up more quickly ahead of planting. It's also possible to specify hydraulic depth adjustment on the latest Ceus TX models.
For more information go to www.amazone.co.uk