Deutz-Fahr has revealed its new 5-Series tractor range, meeting all Stage V regulations and boasting a new design that is said to offer versatility, agility and improved operator comfort and safety.
The five models are powered by FARMotion Stage V engines and feature efficient transmissions , high capacity hydraulics, all-around LED lighting and built-in compatibility with SDF Smart Farming Solutions systems. Outputs range from 95hp to 126hp and a choice of three gearbox configurations, including a hydraulic PowerShuttle with Stop&Go functionality and a range of options to cater to different needs.
At the top end, users can specify a gearbox with 60/60 gears and the new Automatic Powershift (APS) system, in which the 5-Series automatically selects the appropriate powershift ratio for maximum performance. The APS system also includes a dial that allows the operator to set the priority of how the system performs.
Depending on the transmission configuration, the 5-Series covers a range of working speeds from 300m per hour up to 40kph at economy engine speeds. The hydraulic parking brake is said to hold the tractor securely even on high gradients and when heavily loaded, with up to 250% more braking power than a conventional system and can reduce power losses.
At the rear, the PTO offers all four standard speeds and is engaged electrohydraulically via a multi-plate wet clutch. There is also the option of a groundspeed PTO with an independent output shaft and a 1,000rpm front PTO.
The hydraulic system can have up to eight rear couplers and offers flow rates of up to 90 litres per minute. The 5,600kg rear lift can be offered with full electronic control and features an oscillation damping system and the option of automatic PTO engagement. A 2,100kg front lift can also be specified.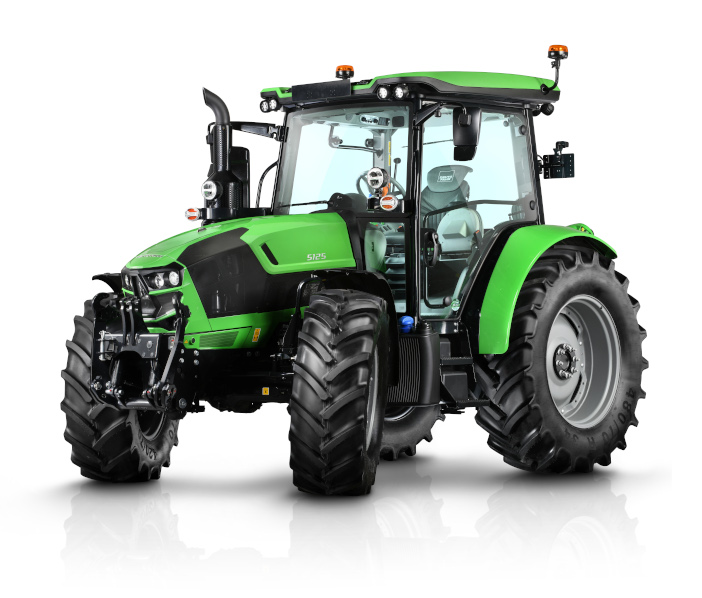 The new 5-Series is said to be very agile and features a power shuttle with adjustable response settings. Also featured is the Stop&Go clutchless braking system and the SDD rapid steering function. Using the new SDF Smart Farming Solutions package, data can be transferred directly from the tractor to the farm including position information, performance data, diesel consumption, average speed and working hours.
Finally, the TopVision cab design and layout offers a greater level of comfort and ergonomics, with a four-pillar structure for an unimpeded all-around view. Hydro silent-block suspension is standard and there is a fully adjustable steering column and air suspension seat with a folding passenger seat.
There is also be a high-visibility roof and opening hatch, climate control system, DAB audio system with Bluetooth and USB ports, and up to 12 LED work lights can be mounted on the cab roof.
For more information go to www.deutz-fahr.com