A new update to the fieldmargin farm management application will allow users to slice, cut out and merge to remove the headache and hassle from managing tasks such as mob grazing, game cover and stewardship margins, as well as multiple crops and even reseeds.
"Users had been asking how they could divide fields into smaller areas so that they could record different crops, mark out biodiversity headlands or manage grazing rotations," explained Camilla Hayselden-Ashby, head of product at fieldmargin.
"The new sub-fields tool addresses all these possibilities by adding a new layer of functionality to the fieldmargin platform. Users said it would improve record-keeping and make ordering, reporting and audits more accurate and we're excited about meeting those needs with this feature."
The new tools can divide field boundaries, which can be imported from RPA data, for the year. For each sub-field created, users can allocate usages, attach notes and photographs, and record field jobs and livestock numbers.
"Recording and sharing an accurate working area for each field makes it much easier to keep track of multiple crops over a season, or to organise rotational and mob grazing systems," noted Ms Hayselden-Ashby.
"In a 'worst-case' scenario, the tool also helps with resolving the difficult situation of a partial crop failure within a field, for example, flea beetle attack in rape or prolonged flooding of winter cereals. Sub-fields allow you to map the viable crop remaining, for input and audit purposes, as well as managing the replacement crop in the affected area."
Each sub-field shows up individually in the app, allowing farmers to record separate input records and automatically calculate the input records and automatically calculate the input requirements for each parcel. Historic details can be saved against both the sub-field and parent fields, ensuring compliance with any restrictions on following crops as well as all farm assurance obligations.
"Early beta users said that calculating an accurate field working area for spray or fertiliser applications not only simplified the process but also allowed more accurate ordering of inputs, saving both time and money as a result," concluded Ms Hayselden-Ashby.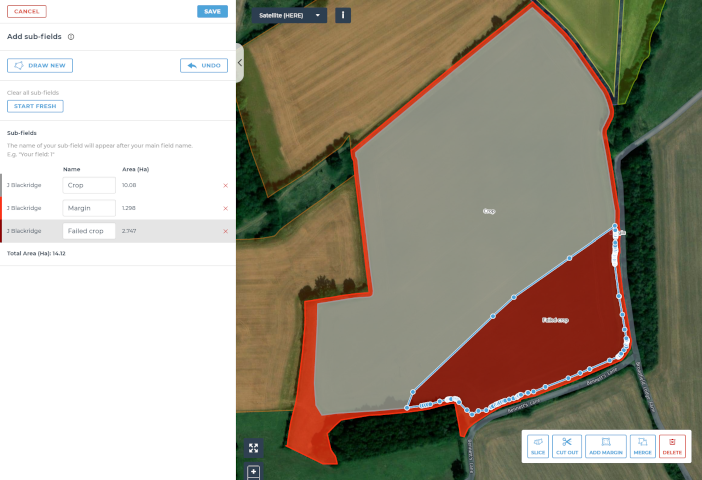 Case study – James Oliver, Herefordshire
James Oliver, who manages the 1,000ha Gatley Farms estate in Herefordshire, originally chose fieldmargin for its ability to add specific user features to the farm maps, such as the estate's extensive water and irrigation system.
"But from there our use of it spiralled, particularly with these newer features such as sub-fields," said Mr Oliver. "Stewardship's a priority here, so that's proved useful in marking out margins and game cover, as well as dividing fields.
"We've also used it in managing the grazing for our 300-strong Stabiliser suckler herd, across permanent and short-term grassland."
In addition to the cattle, the estate grows 400ha of combinable crops and 120ha of potatoes – necessitating a full-time team of six, plus temporary staff and regular contractors.
"As well as being able to share app access with the whole team, it's also very easy to print a map from fieldmargin to ensure a contractor has all the right information."
While the basic version of fieldmargin remains free to use, the sub-fields tool is only available to Plus and Pro subscribers. Subscriptions for the Plus plan cost £20/month per farm. A 14-day try-before-you-buy option is available for the top-level Pro plan.
For more information go to www.fieldmargin.com