Pöttinger has enhanced the versatility of its Terradisc 4001 T, 5001 T and 6001 T trailed compact disc harrow by offering the option of a front knife roller.
It's equipped as a pre-tool, enabling the harrow to be used more effectively for stubble cultivation of cereals, oilseed rape, sunflowers and maize, as well as the incorporation of cover crops.
The additional shredding effect eliminates the need for prior cultivation and the breaking up of stubble, saving time and resources.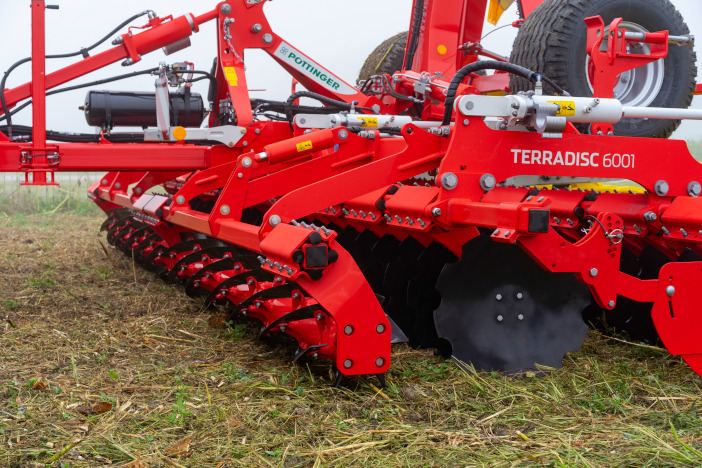 Likewise, it promotes the incorporation of organic matter, as well as microbial decomposition. Harmful organisms will find it more difficult to survive the winter, offering a mechanical method to limit their numbers.
The knives are arranged in a spiral to rotate smoothly and remain in constant contact with the ground. It has a diameter of 350mm for a high speed of rotation for consistent chopping and high intensity. Due to the high cutting resistance, it can operate on hard soils.
Depth is adjusted hydraulically, enabling quick reactions to different site conditions. It can also be folded out of work when not required.
The knife roller is also available as a retrofit option for models manufactured from 2018. All the mounting points are already on the machines meaning that no modifications are necessary.
For more information go to www.pottinger.uk