Offering a new range of semi-mounted ploughs, Pöttinger says that it has developed a machine to suit a wide range of individual requirements. The Servo T 6000 is available in four variants. The Standard and PLUS versions can be fitted with six to nine furrows, while the NOVA and PLUS NOVA units have between six and eight mouldboards.
NOVA and PLUS NOVA units feature hydraulic stone protection with an adjustable triggering pressure of up to 2,200kg. Across the range, point-to-point spacing is set to 102cm, while underframe clearance is 80cm, with the option to increase this to 90cm.
The plough beam has been engineered to absorb loads acting on it. Forces act in straight lines because deflections have been minimised to make greater use of the tractor's pulling power, while the new construction protects bearing points and mounted components.
As mounting geometries continue to change, the Servo is hitched up using double-sided linkage lugs, which allows the operator to adjust to suit various tractor setups. This is complemented by a long drawbar to provide greater space for turning manoeuvres.
The traction control system actively transfers up to 1,100kg to the rear wheels of the tractor to minimise wheel slip and fuel consumption, while also ensuring that the Servo tracks the ground accurately. It also means that additional rear ballasts are not required for the operation.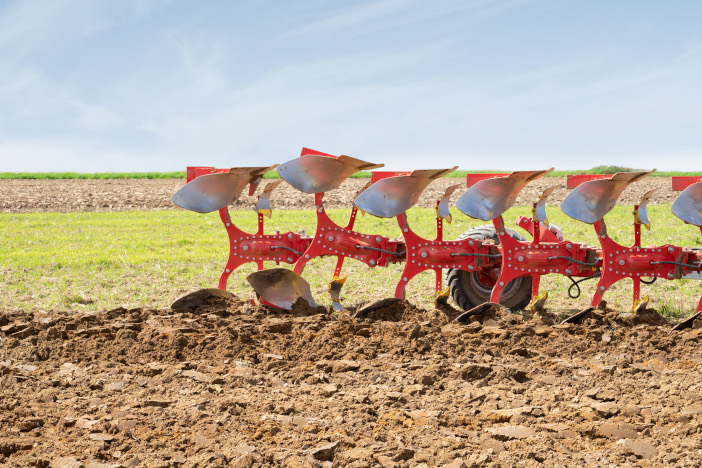 To reduce maintenance time, the Servo T 6000 also has fewer greasing points, which are all easily accessible, and comes with Durastar reversible points as standard.
Working depth is set using swing clips on the support wheel while the front furrow width can be adjusted using the turnbuckle on the stabiliser, or hydraulically as an option. On NOVA and PLUS NOVA units, hydraulic adjustment to suit site conditions is also possible.
For more information go to www.pottinger.uk