Following the launch of the EasyWrap 150 in Summer 2020, Krone has now introduced a trailed, double-arm model; the EasyWrap 165 T. It's capable of wrapping bales from 1m to 1.65m in diameter, with weights of 1,650kg, using a double-arm system to wrap at 40rpm and controlled from the in-cab ISOBUS system.
It features a headstock that swings into position and couples to the lower link arms, with a practical hose holder to connect hydraulic pipes and protects them from damage during work. The slim drawbar is said to make the 165 T very agile and improves visibility. It can also be controlled hydraulically, changing from road to fieldwork at the touch of a button and has the option of storage for up to ten rolls of film.
The lift arm places the bale on the wrapping table, with toolless adjustment to suit different bale sizes. It's also possible to collect the next bale while one is being wrapped. The table is comprised of four textile belts that roll the bale within a deep cradle. Four or six bobbins can be specified to hold the bale in position and wrapping is triggered automatically by a sensor plate.
It uses 750mm film, with pre-stretch levels of either 55% or 70%. Once the operator has entered the number of layers and the bale size into the terminal, the system calculates the actual number of layers required, and if the film ends or breaks, the table stops instantly. It is also possible to continue wrapping with just one film roll.
Once the wrapping is resumed the bale will not roll before the wrapping arm has completed its first round to ensure the optimum overlap.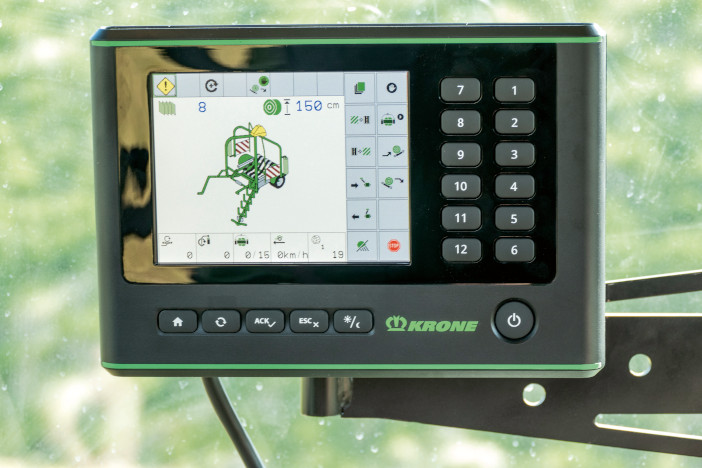 An angle sensor monitors the wrapping arm and requires no timed control. At the end of the wrapping cycle, the film is fixed in the cut-and-tie unit, making the film cling to bale to eliminate loose ends. It is also possible to rotate the finished bale to a suitable position before tilting the table to deposit it on the ground. A guide roller is fitted to prevent the bale from dropping on rolling land and there is the option of a bale turner which is controlled from the cab.
It is also possible to automate the entire wrapping cycle or to trigger each stage of the process at the touch of a button. Control comes via an ISOBUS terminal, either the tractor's own or one supplied by Krone.
The low slung chassis ensures maximum machine stability in any situation, especially during loading, wrapping and depositing the bale. A low centre of gravity and optimum weight distribution makes the 165 T suitable for smaller tractors.
In addition, the wrapper is available with LED work lights and three extra lights for working at night.
For more information go to www.krone-uk.com