MF 2200 Series: large square balers
Massey Ferguson has announced a series of improvements to its MF 2200 Series of large square balers. The newly included features and upgrades will better the durability, performance and ease of use of the five models in the 2200 Series.
The table below shows the new model numbers in the range, plus the chamber size, and whether or not the ProCut Cutter option is available for a model; all 2200 balers are equipped with the Packer feeding system as standard, as well as Tractor Implement Management (TIM) compliancy and MF Connect Telemetry.
| | | | | | |
| --- | --- | --- | --- | --- | --- |
| Model | Chamber size (cm) | Packer feeding system | ProCut Cutter | TIM compliant | MF Connect Telemetry |
| MF 2233 | 80 x 90 | Standard (Std) | Option | Yes | Std |
| MF 2224 | 120 x 70 | Std | Option | Yes | Std |
| MF 2234 | 120 x 90 | Std | Option | Yes | Std |
| MF 2234 XD | 120 x 90 | Std | Option | Yes | Std |
| MF 2244 | 120 x 130 | Std | N/A | Yes | Std |
Better durability, performance and usability
Now included in the 2200 Series is the new MF BaleCreate terminal display. This allows operators to set-up and monitor important functions via three, selectable work screens. Operators can swipe between the three screens, much like a tablet, for simple yet comprehensive electronic control of the entire baling sequence.
Using the BaleCreate terminal display, operators can now electronically control bale length. The system continually monitors the size of the previous ten flakes and ensures that target bale length is maintained to within half of an average flake size.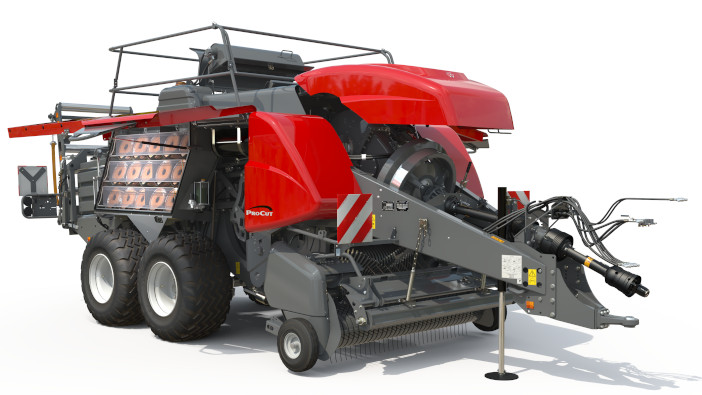 The 2200 Series models now have the latest tandem axle design and suspension system; keeping transport widths to less than 3.0 m on 620/50-22.5 tyres. They also have five bars and 80 double tines (25% more than before) for stronger pick-up – the additional tine bar also helps gather smaller 'bites' from the swath, for increased overall machine performance.
The plunger now runs on new, sealed, high-spec and 11% larger bearings; all new bearings are sealed for life and do not require lubrication. Redesigned pre-compression chamber wrapper bands are now reinforced with an integral support rib, which has negated the need for a cross member so wet and difficult crops can pass through more freely. To support various crop types and to fine tune flake sizes, a lever has now been added for speedy and simple adjustments to be made to the trip door spring tension.
MF 1842S: in-line small square baler
Massey Ferguson has now launched its premium, high capacity, in-line small square baler: the MF 1842S.
This new model produces 'standard' size bales (45.7 cm x 36.5 mm); with possible bale lengths of between 70.0 cm to 132.0 cm and a pick-up width of 198.2 cm.
The machine itself is 264.2 cm wide, 642.6 cm long and 172.7 cm high; it has 56 double tines and a dual, triple-tine fork continuous feed that operates at 145rpm.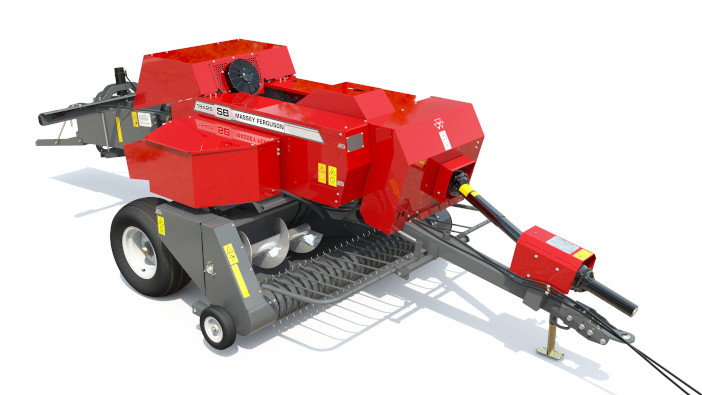 The MF 1842S's PTO power is transmitted via a new primary shaft with mid-mounted support, so it remains in line with the drawbar at all times. A heavier duty slip clutch protects the driveline and delivers 20% more torque the the existing MF 1840.
The plunger works at 100 strokes/min and has a 24% longer stroke, for increased torque and reduced power requirements. While a new 33.8 kg counterbalance, mounted on the drive arm, evens out peak loads on the tractor and maintains a consistent plunger speed.
This model's knotters are made from nickel plated components, with centralised greasing as standard and an electrical cleaning fan that continually blows over the knotters to clear them of dust and debris. The system automatically stops after every 15 minutes and reverses the fan to clear away any build-ups.
On the MF 1842S, bales are formed in the OptiForm bale chamber. Bale density is set using an on-board hydraulic system that applies pressure to rails on the top and sides of the chamber, while adjusting pressure on a dial will initiate the automatic adjustments to changes in crop conditions.
MF RB Series: round balers
Massey Ferguson has made a series of 'significant enhancements' to its RB Series round balers, which greatly improve a machine's productivity, said Massey Ferguson's marketing director for Europe and the Middle East, Jérôme Aubrion.
He continued: "These new features and options are likely to appeal to high capacity users that will benefit from the productivity gains they deliver. The extra choices also enable users to select a higher level of specification to suit their requirements and level of investments."
Exclusive specification and TIM packages
Exclusive specification is now available for all MF RB Xtra Solo balers, so now the tractor's load-sensing hydraulics can be used to automate repetitive tasks. As such, the following tasks can now be automated: raising the pick-up when reversing and during bale weighing; opening and closing the tailgate after tying; and knife selection and inserting knives during tying to clear debris.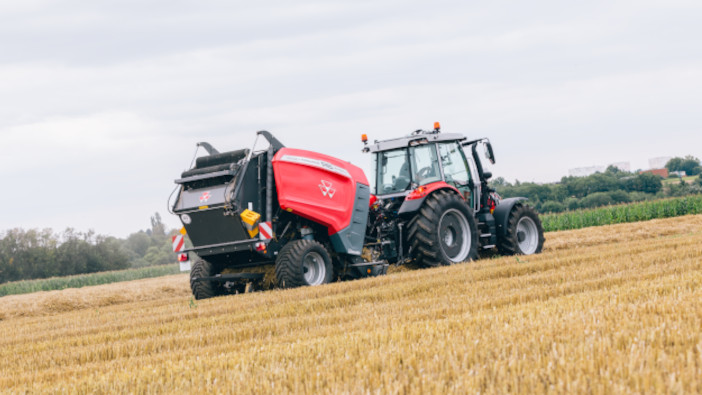 This system also features bale moisture sensing and bale weighing, and will automatically leave the last bale layer uncut (when knives are engaged) for a flatter outer surface. LED maintenance and service are part of the package too.
For balers operated by TIM enabled tractors, the Exclusive TIM package allows communication between baler and tractor via ISOBUS connection. The Exclusive TIM package works in a similar way to the Exclusive specification system, but it includes automatic stopping for the tractor during tying.
New MF BaleControl terminal
For tractors without ISOBUS connectivity, Massey Ferguson is introducing the MF BaleControl baler terminal. To replace the E-Link controller, the BaleControl terminal hosts many functions, plus those that are currently available from the higher-spec E-Link Pro controller – all from a 5 inch touch-screen display.
Now, all terminals benefit from a new Terminal Display (including ISOBUS), for touch-screen control of various functions. With this, ISOBUS compatible terminals will also have Task Controller capabilities.
Improved Protec bale tipper
Massey Ferguson has introduced a redesigned bale tipper for MF RB Protec baler wrapper combinations, for improved strength, performance, safety, and bale handling. Plus, operators can now switch between working and transport positions in a mere four seconds, without leaving the cab.
With the redesigned bale tipper, after leaving the turntable, bales are guided into position by two control bobbins. They are then held in place by a plate at the rear, which tips them onto their ends during discharge.