Pöttinger has announced two new silage mowers, offering working widths of 8.4m and 9.2m. The Novacat V models expand the range, which tops out with the flagship Novacat V 10000, launched last year.
The units are designed to be compact, with angled booms allowing for a short headstock. This is said to provide a lighter-weight configuration, with the centre of gravity kept close to the tractor. According to the company, depending on the terrain, the new Novacat machines can be handled by a four-cylinder tractor.
At the centre of the machine is the company's proven cutterbar, which is 4cm high to enable high throughputs, and 28cm deep for improved ground tracking. A centre pivot enables the machine to travel +20/-16 degrees, while the hydraulic weight alleviation ensures uniform ground pressure.
Fitted as standard is the Nonstop Lift hydraulic collision safety device, which is complemented by a breakback system that folds the mower up and to the rear if an obstacle is hit.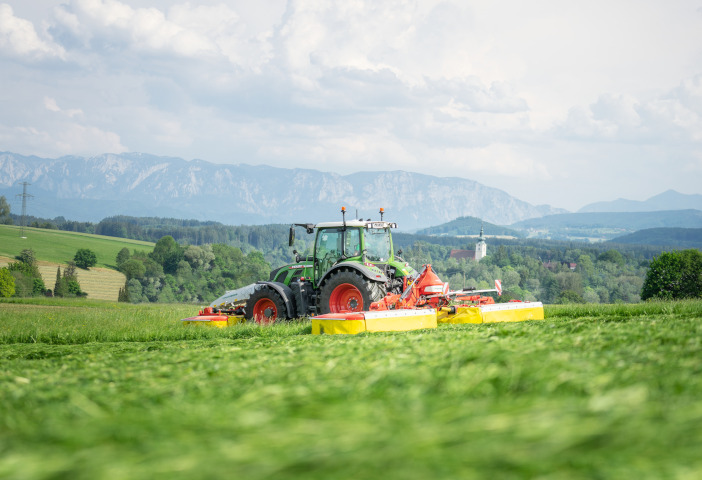 The Basicline preselect system is a standard fitment, with the option to specify the ISOBUS-compatible Selectline control system. On both units, the mower units can be lifted individually using just one spool valve, which also controls the transport safety lock. With the more advanced system, the individual lift can be automated and headland management is offered.
For transport, the mower hydraulically folds through to 92 degrees and is locked into the transport position. Both units can be fitted with swathers, tine conditioners or roller conditioners.
For more information go to www.pottinger.uk