On the 14th of April, Pöttinger opened the second hall of its new rake and baler plant at St Georgen, near Grieskirchen, Austria. Following almost a year and a half of construction, the manufacturer has started operations with a modern cathodic dip priming and powder coating line.
The first part of the expansion was completed in June 2021, representing an investment of 25 million euros. Strong order figures and continued new product development necessitated this second round of investment, totalling some 33 million euros and resulting in the new 7,900m2 building.
It will be used to paint the latest rake and baler models coming off the production line, parts previously sourced from the headquarters in Grieskirchen. Thanks to the paint line assembly, the company can now carry out orders in black CDP, with high wall thicknesses and heavy unit weights of up to 1,200kg. The new state-of-the-art equipment has also led to contract orders from external firms.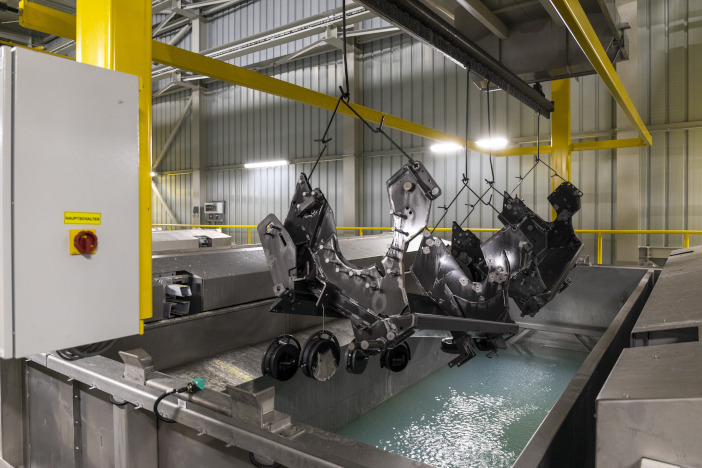 Top paint quality
Pöttinger states that using cathodic dip priming and a powder coating is environmentally friendly, with no solvent used in the mixing or application.
"The finish of the paintwork also plays a major role in ensuring the high quality expected from our machines. The impact-resistant coating lasts the lifetime of the product. This was one of the reasons why we also invested in a painting line at this location," said Gregor Dietachmayr, speaker of the Executive Board, on this expansion phase.
In addition to this, the new building has been constructed in the most environmentally friendly way possible, using generous amounts of wood and including a green roof and the reuse of residual heat.
It will also drive employment in the region, with another 50 employees joining the 60 involved in assembling the Impress balers, Top rakes and Mergento mergers.
For more information go to www.pottinger.uk