For the 2022 season, Massey Ferguson has announced a range of updates to its MF RB and MF Protec machines, designed to improve forage quality and enable users to specifically select certain features.
"As part of our full-line strategy, Massey Ferguson is continuing to invest in upgrading our high quality harvesting equipment range. These changes boost harvesting efficiency and better preserve crops and help to create high quality forage for your stock, with the home-grown feed helping to increase profits," said Thierry Lhotte, vice president & managing director Massey Ferguson, Europe & Middle East.
For the Protec range of baler-wrapper combinations, the company now offers the option of film tying, which can be installed alongside net tying for greater versatility and to meet farmer requirements. Switching between net and film reportedly takes less than two minutes using the Rapid Reload System, which can hold up to three rolls of net, film or a combination of the two.
Replacement rolls can be loaded from the ground using Comfort Load, on which operators stand the net or film vertically onto a loading arm, making it easier to lift it into the horizontal position. In addition to this, a new onboard water tank option is available, enabling users to wash their hands after replacing the roll or performing maintenance work. This also comes with a soap dispenser in the lid.
Other new features to the round baler and baler-combinations include a new bale tipper for improved ground following and with a new hitching system which can be moved into the transport position from the cab; new, optional LED lighting, with one light on the wrapping unit and two others underneath the side panel; and the option of a hydraulic jack.
New specification packages
Massey Ferguson will now offer its fixed chamber and variable chamber round balers, with or without the Xtra cutter, and baler-wrapper combinations with two option packages; the Silage and the Comfort. These combine the most popular specifications for different tasks to help users more easily tailor their balers to the task.
| MF RB F and MF RB V Xtra packages | | MF RB F Protec and MF RB V Protec packages | |
| --- | --- | --- | --- |
| Silage | Comfort | Silage | Comfort |
| 2.4m wide pick-up | E-Link Pro ISOBUS terminal | 2.4m wide pick-up | E-Link Pro ISOBUS terminal and camera video screen |
| 25 knives | Pick-up caster wheels | 25 knives | Bale shape indicator |
| 1,000rpm gearbox | Bale shape indicator | Extra wrap sealing turn | Alpine kit pick-up |
| 550/22.5 tyres | Alpine kit pick-up | 1,000rpm gearbox | On-board wash tank |
| 25 spare knives in holder | Wheel chocks | 550/45-22.5 tyres | LED spotlight kit |
| 25 knife blanking plates | Includes film, net and 10 litre oil reservoir | 25 spare knives in holder | Extra camera |
| | | Bale protection mat | Includes film, net and 10-litre oil reservoir |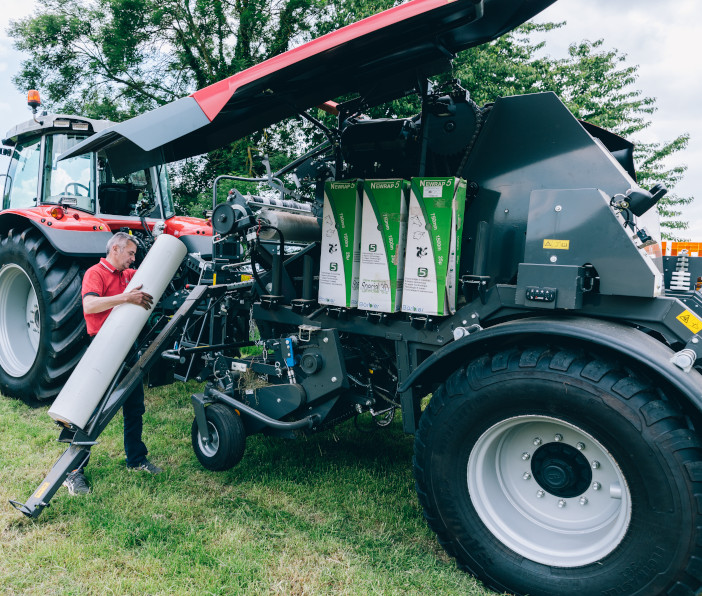 The uprated 1,000rpm gearbox available on MF RB F Xtra and MF RB F Protec machines is said to transmit 20% more power and improve cutting performance in heavy crops, while also reducing fuel consumption.
MF RB F and MF RB V balers can also be equipped with an onboard spare knife holder, allowing operators to carry spare knives and speed up maintenance, or change the chop length based on conditions.
Other upgrades include a new 40mm eyelet hitch option and a new net tying system on MF RB V balers, employing a hydraulically powered conveyor to improve performance.
For more information go to www.masseyferguson.co.uk