Irish manufacturer Samco will be exhibiting at Lamma 2022 with its new CTS 1600 round bale chaser, said to be able to collect up to 16 round bales in as little as eight minutes.
Built at the company's plant in Co. Limerick, Ireland, the machine features a hydraulically operated soft hand bale squeeze, which lifts and rotates the bale onto the chaser. The operation takes just one click of the joystick from the operator and the main functions are powered by a Danfoss load-sensing hydraulic system.
"This handling method allows both netted and wrapped bales to be gathered without damaging them," said Matthew Shine, Samco director. "The new chaser will load itself automatically, by stacking two bales side by side at double height, before moving the stack down its length on floor rollers."
Once full, the CTS 1600 holds the bales with its caged sides, which move inwards to hold the bales in place. Built-in sensors fine-tune the position of the sides to the size of the bales, while gripping bars along the top and rear of the chaser prevent any movement during transport.
It can simultaneously offload eight bales in four stacks of two on their ends to keep unloading times to a minimum. To unload the remaining bales, the operator simply moves the trailer forward. The 7.3m length of the machine means it is possible to unload in tighter areas, allowing more bales to be stacked on a smaller footprint.
"During demonstrations last summer, we were surprised at just how manoeuvrable the chaser was," said Mr Shine. "The operator was able to travel down narrow lanes and negotiate small yards that would previously only have been accessible with a loader. The chaser's manoeuvrability is further enhanced as only the rear half of the chaser tips, enabling bales to be unloaded where height restrictions are an issue."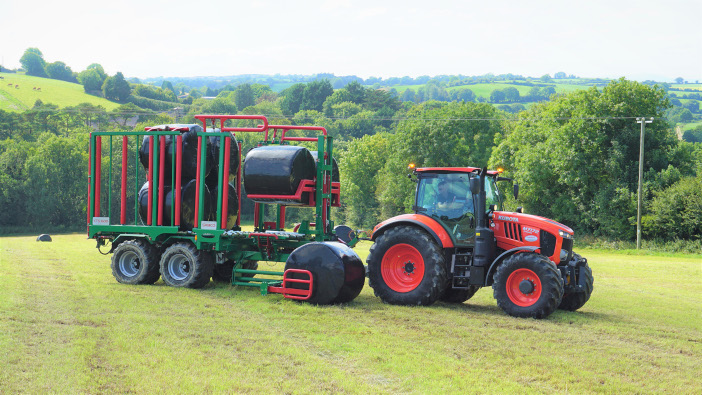 The unit is completed by air-braked ADR axles and comes with a choice of three 710/40 R22.5 tyres and a steering axle if required. In the tractor cab, there is a colour screen for adjusting settings and monitoring bale numbers, as well as a manual mode to help with odd-sized loads. A rear-facing camera is also fitted to aid with unloading.
The chaser will be exhibited at the Lamma on the 11th and 12th of January and has also been entered in Lamma's Young Engineers Award, as the final pre-production and design was completed by 27-year-old Samco employee, Paddy Lane.
For more information go to www.samco.ie