Choosing the recent trends in the silage mower market is not difficult, with increased working width being a popular development from most of the leading manufacturers.
There are plenty of reasons for mowing wider, and these can include the need for increased productivity because of labour cost and availability, faster mowing speeds can also make better use of weather opportunities, and many contractors choose increased output to cope with the additional demand as more farmers with smaller acreages require help with their silage making. There are also other factors including the influence of the upward trend in tractor power, while on some farms the financial importance of making good quality silage is a justification for investing more on the harvesting machinery. Other upward trends in the mower market include the availability of more efficient suspension systems to improve the performance on uneven surfaces, and some of the recently introduced mowers have more user-friendly operating controls.
Another development in the mower market is an increase in the number of companies competing for sales. This may not be good news for the companies that are already established in the UK grass machinery market, but for farmer and contractor customers it means more choices and increased competition.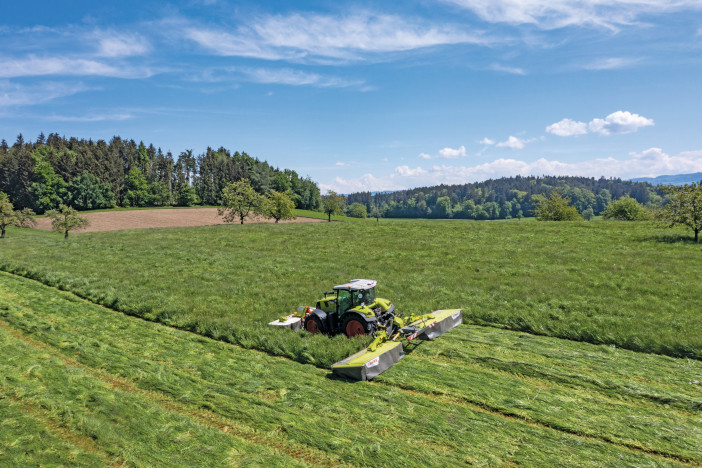 The newest addition to the Claas mower range is the Disco 1010 Trend model, announced last year ready for this year's silage season and described as the widest mounted mower available without a telescopic boom. The 1010 model has the unique vector folding system that was first introduced in 2022 on the Disco 4400 Contour mower, and it is now available on the new Disco 1010. The cutting action is provided by two booms suspended at the centre of gravity, and this provides almost 10m of working width plus secure transport for road travel on tractors in the 150hp category. There are 29 mower and mower-conditioner models in the Claas Disco range, and 12 of them are triple or butterfly models with working widths from 8.1m. The Corto series mowers with a drum type cutting action are much less numerous with just four models cutting 1.85 to 3.05m.
Read about Claas forage harvesters here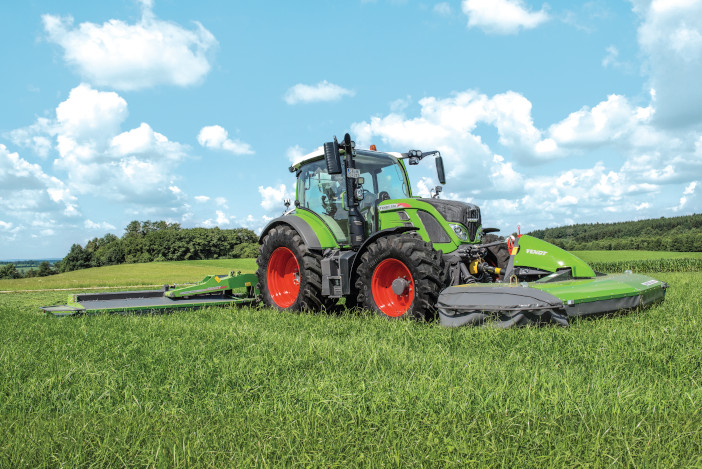 A recent addition to the Slicer range is a mower-conditioner version of the 860 model with 8.6m cutting width. It is available as a KC version with tine-based conditioning, and the Slicer 860RC has a roller conditioner. A feature of the conditioning units is that the RC version, which is recommended for leafy crops such as legumes, has variable adjustment for conditioning intensity, and KC versions have five intensity settings. The first model in the Slicer 860 series was a rear mower in 2021, and the features list for both versions of the Slicer 860 conditioner includes the TurboLift hydropneumatics suspension for the cutterbar control to allow more accurate contour following with reduced ground pressure. Fendt Slicer mowing equipment also includes the 310 series mowers and mower-conditioners with a 3.1m working width,. An addition to the equipment list for Slicer mowers is a blade box containing a supply of replacement knives with a special key to simplify knife replacement.
Read about Fendt's grassland range here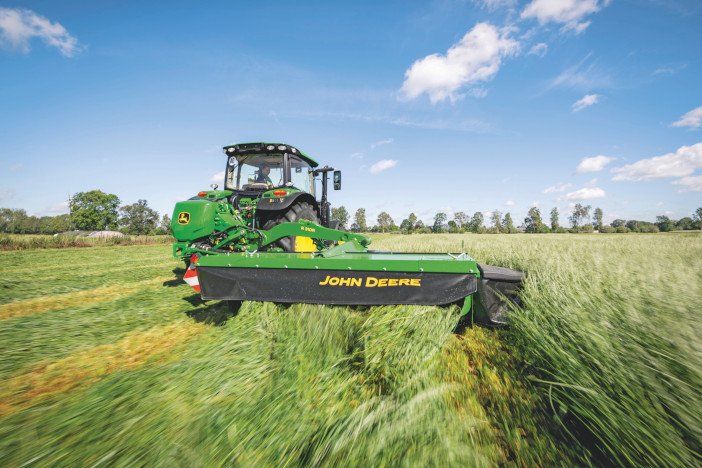 The full range of mower and mower-conditioner models includes front and rear mounting, trailed and trailed centre pivot designs plus triple mower-conditioners. A popular choice for UK customers is the rear-mounted R3103R mower-conditioner providing a 3.1m cutting width using a seven-disc cutterbar and 14 knives. The R310R conditioners are available with an impeller type conditioner to suit machines used mainly in grass, and a roller type conditioner is also available to provide a more gentle action where leafy crops are the priority. An adjustable hydraulic suspension can suit a wide range of conditions, and also reduces the ground pressure. The R9303R is suitable for single pas mowing over large areas, and the 9.3m working width is capable of merging swaths for maximum output. The function control aluminium frame provided for the cross-conveyor belts helps to reduce the machine weight. ISOBUS control is available for all R930R functions.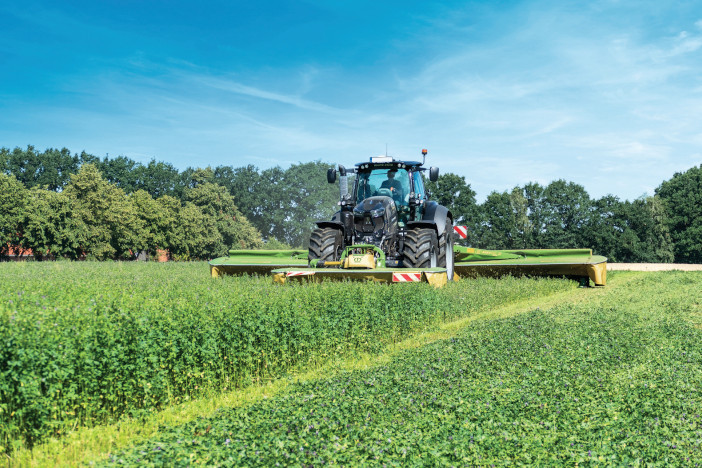 The updated specification for the new version of the 9.45m non-conditioning butterfly combination mower called the EasyCut B 950 Collect has a features list including an ISOBUS-compatible terminal providing operator controls including hydraulically operated lifting or lowering for each mower arm. Swathing mode selection is also hydraulically managed by opening or closing the decks, and the augers feeding crop material for swath formation have a 750rpm working speed. There are also new hardened wear skids with an increased contact width to provide additional protection for both the cutterbar and the sward, and a new control lever has been added for raising the mower hood for maintenance access. The cutting width of the EasyCut B 950 Collect is 9.45m when working with a mid-mounted front mower, and the transport width reduces to 2.99 across the full range. Cross augers are included in the standard specification and the tractor power recommendation is from 160hp.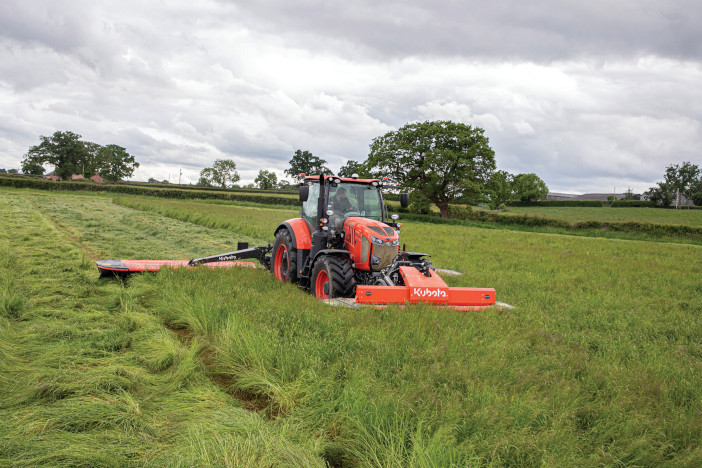 Mower choices available from Kubota include the high output DM3000 series butterfly style disc mowers in two working widths. List prices start at £32,585 for the 8.75m width mower with 16 cutting discs needing 120hp, and the 20-disc model cuts 9.5m on a 150hp tractor. At the other end of the range Kubota offers DM1000 plain disc series mowers starting with the entry level DM1017 model using four discs with a 35hp tractor recommendation to cut a 1.65m working width. The DM1017 list price is £6,701, and the same series also includes two additional models cutting 2.15 or 2.4m. The mower-conditioner choices include a selection of centre-mounted models, popular for filling the gap between rear units in a butterfly style triple unit. There are also mower conditioners available in a trailed version with eight discs providing 2.8 or 3.2m cutting widths and working with a left-handed hydraulic drawbar. List prices are £28,611 or £30,990.
Read about low emission fuels used by Kubota here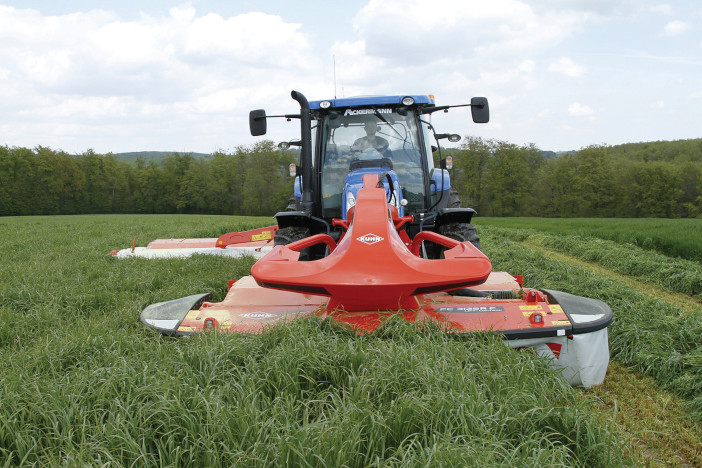 Cutterbars from the Optidisc Elite range are a special feature included on some Kuhn mowers, and particularly on the larger models because the cutterbar is specially suited to high horsepower tractors. A key cutterbar features is that they are lubricated for life, and when working with Kuhn Fast-Fit blades the maintenance requirement is simplified. Optidisc equipment is standard on the FC13460RA triple mower added to the range last year and Kuhn's widest mower currently available. Cutting width adjustments are between 12.40 and 13.40m and the width settings for the swath it produces can be varied between 1.8 and 3.0m. Kuhn conditioning choices are pivoting steel fingers, flexible fingers made of nylon or rubber surfaced rollers, and a special K feature is the Lift-Control pressure system for the cutting units which can help to reduce the amount of soil contamination in the silage, and it can also help to extend the life of the mower.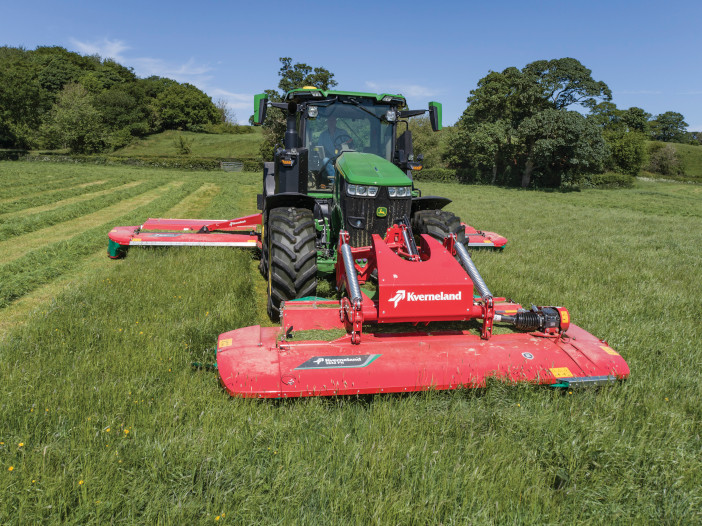 A recent arrival in the butterfly type mower-conditioner range is the 5378T model featuring a semi-swing conditioning unit with steel tines. It features the Kverneland QuattroLink suspension system with four arms, non-stop beakback protection and the working width is 8.75m with 16 discs. List prices start at £54,675, and adding the optional BX swath belt increases the price to £72,310. A special feature on the Kverneland 2800FS mounted plain disc mower is the swathing auger that provides a selection of swathing and spreading options. There are three swath widths available with 1.00 to 1.30m settings, and there is also a spreading mode with up to 2.2m width, and the operator can select the required setting in the field by using a simple lever control. The 2800FS mower has eight cutting discs mowing 3.16m, the minimum tractor requirement is 45hp and it is in the price list at £18,782.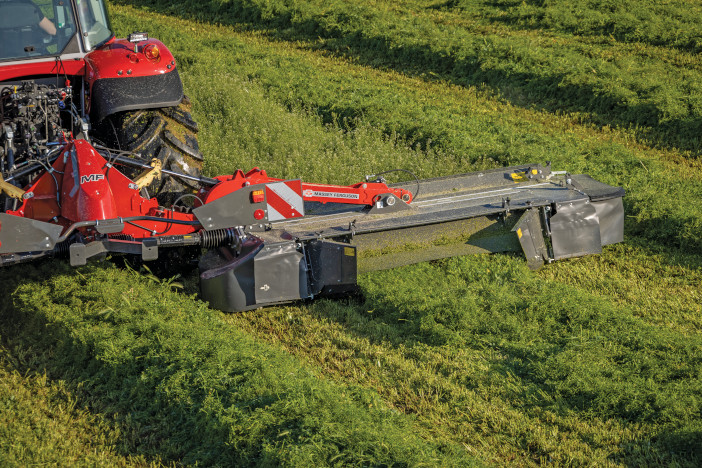 The new silage mowing development announced this year by Massey Ferguson is the introduction of the DM8612 TL KC mower-conditioner, a development of the new mowers announced for last year's silage season. The DM98612 series are triple mowers with cutterbars equipped with six discs on each side providing working widths between 8.3 and 8.6m. The new TL KC version includes a conditioning unit with a triple choice of steel plastic or roller options. Massey-Ferguson forage equipment specialists expect the roller conditioner or RC option will be the least popular UK choice, based on previous sales experience. The new mower-conditioner specification includes the Massey Ferguson TurboLift Hydropneumatic suspension providing a free-floating mowing system with particular benefits on uneven surfaces, and stone protection featured on the new models includes a steel shield and there is a double thickness front curtain to reduce damage.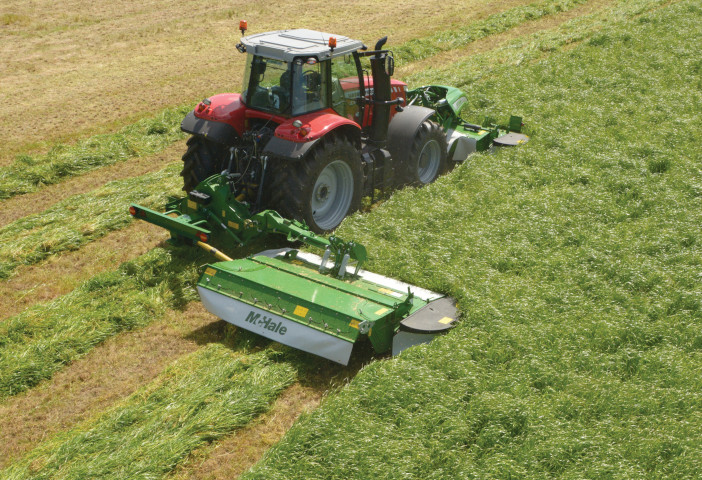 The newest addition to the Pro Glide range is the R310 non-conditioning mower equipped with a 3.0m cutterbar giving a 3.1m mowing width. The decision to add a non-conditioning mower to the Pro Glide range was prompted by customer requests, says McHale, and some of the design features are shared with their existing Pro-Glide models. These include the 3D Ground Tracking Technology developed to provide improved flotation over uneven surfaces. The adjustable ground pressure system and the mower bed design are also adopted for the new Pro Glide R310, and it also features a protective upward and rearwards movement if the cutterbar hits a solid object. The Pro Glide B9000 model in the McHale range of mower-conditioners provides an 8.75m cutting width when working with a front-mounted Pro Glide F3100, and this can be increased to 9.6m when the F3100 is working with a B9600 mower-conditioner.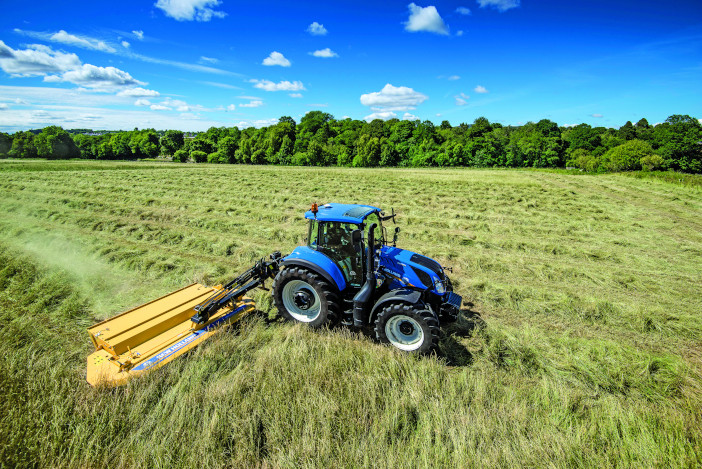 Choices available in the New Holland range include rear-mounted DiscCutter mowers with working widths from 2.77 to 3.86m and list prices starting at £15,234. DiscCutters are also offered in a front-mounted version, and mower-conditioner versions are available in front and rear versions priced from £21,068 for a 2.77m width rear-mounted model. Special design features on DiscCutters include a low profile cutterbar designed to allow cutting heights to be reduced to maximise crop output and a smooth underside with a large load bearing surface helps to minimise ground pressure and assist crop regrowth. Fingers on DiscCutter mower-conditioners are made from polyethylene to achieve flexibility and light weight with low maintenance, and if a finger is lost in the harvested crop it will not harm livestock. Another DiscCutter design feature is using New Holland's TopDry technology to leave a wider swath of freshly cut crop material to achieve faster moisture loss.
Read about New Hollands straddle tractor here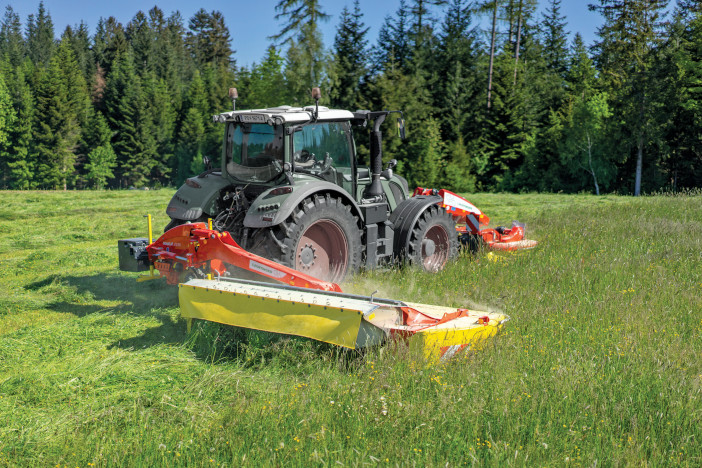 With 75 models, disc mower choices from Pottinger meet most requirements with list prices starting from £10,352 for the entry level rear mounted mowers in the Novadisc series. There are five cutting discs on each of the four models with working widths from 2.2m. Novacat mounted models with six discs, working widths from 2.62 to 4.30m and easy conversion to a mower only by removing the quickly detachable conditioner, are priced from £14,593. Novacat trailed models have 3.0 and 3.5m cutting widths, list prices start at £31,825 and extra high clearance is available for difficult conditions, and front mounted Novacat models offer a 2.62m working width from £15,065. The Pottinger range also includes butterfly type disc mowers priced from £37,739 for two disc mower units cutting 8.3m, and the range-topping models are the S10 and S12 Novacat mowers requiring 170hp and said to be the biggest mounted disc mowers available.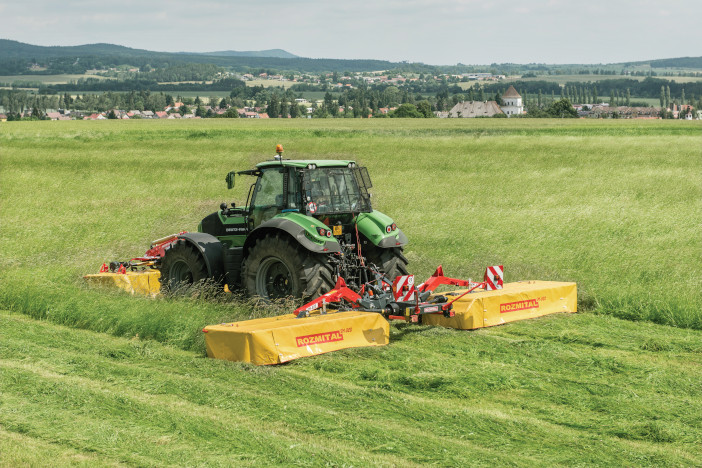 Rozmital has made engineering products in the Czech Republic for more than 100 years, but farm machinery production has expanded to become their dominant business with most of the output being exported. The UK is a recent addition to export markets, and Rozmital aims to appoint more dealers here to expand sales. Grass machinery provides their biggest product lists, including a large selections of mowers, tedders and round balers. Rozmital offer a comprehensive range of mowers, round balers and other grass machinery with export sales to most European countries, and the aim of adding more UK dealers. Rozmital mowers include a lightweight series for smaller acreages, providing 2.03 and 2.38m working widths for tractors of 60hp, and their mower-conditioner range includes 3.01m width front-mounted models available with roller or finger type conditioners.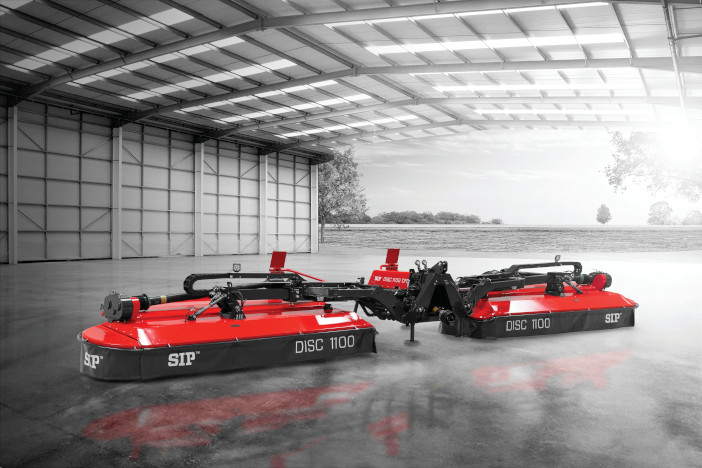 A new addition to the SIP range that is scheduled to be available in the UK soon is the DISC D double mower combination with belt conveyors, telescopic adjustment for the working width and an integrated overload system or OMS. Designed for high outputs, the new mowers will suit large farms and busy contractors, providing working widths up to 11m with a design aimed at providing easy access to major components to simplify maintenance. SIP is based in Slovenia and exports farm machinery to more than 35 countries including the UK. SIP's silage mowers suit small, medium and large farms, and its Silvercut 1500T combination mower with a 15m working width is said to be the biggest in the world. A special sales feature for grassland machinery is an extended warranty which is transferred to the new owner if the machine is sold, helping to boot resale values for SIP machinery.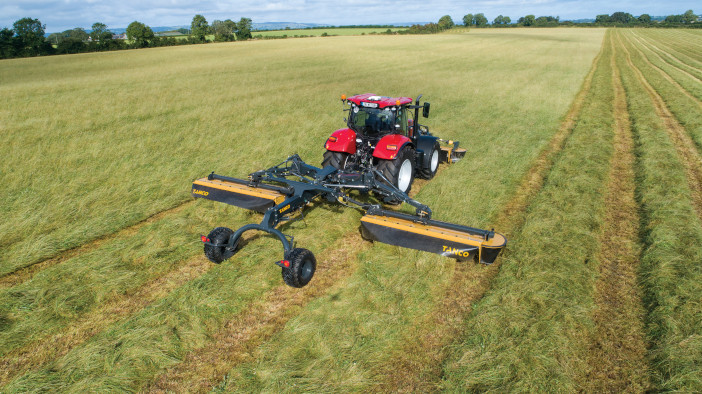 The Tanco company specialises in manufacturing a range of forage equipment including high output triple mower-conditioners in the Autocut series with front and rear units producing 8.9 and 9.8m cutting widths. The Autocut specifications include the Comer cutterbar made from a single metal stamping, and the cutting action is provided by Quick-Attack blades that can rotate freely to reduce blockage risks. The front-mounted mower-conditioning unit for both Autocut models has a 2.8m cutting width and the conditioner units at the front and rear can be set at 850 or 1000 rpm rotation speeds. The conditioners use v-shaped tines to speed up the moisture loss, and each tine is retained by a single bolt to simplify replacement in the field. The rear cutting units on the Autocut units fold vertically to reduce the transport width, but the height in the folded position is only 2.0m. Driver assistance includes Active Steering Control to adjust the response when turning.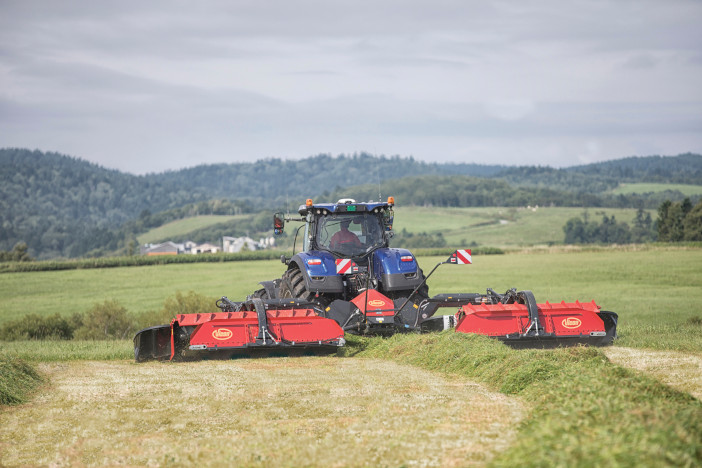 There are three models in the Extra trailed mower-conditioner series, all with eight cutting discs. The Extra 928T model cuts 2.8m, increasing on the 932T to 3.2m, and both have a left-hand drawbar, but the 3.2m CT model has a central drawbar for its 3.2m cutterbar. Prices start at £28,611 with steel tine conditioning, and options include hydraulically operated stubble height control. Vicon mower-conditioners can be equipped with either steel or nylon tines and the Extra 600N and 628FN series mounted mower-conditioners are among the models with steel tines as an option, while nylon tines are standard for weight saving and achieving effective moisture loss. Vicon entry level models for smaller acreages are the rear-mounted Extra 100 series disc mowers with widths from 1.6 to 2.4m and list prices from £6,701. Features include a hydraulic lift cylinder to avoid using the tractor three-point linkage, and there are six discs on the largest models.