Designed for narrow vineyards, New Holland has developed a two-model Straddle Tractor TE6 range – the TE6.120N and TE6.150N – which will be available from the end of this year.
It's inspired by the Straddle Tractor Concept, developed in collaboration with Italian design firm Pininfarina and winner of the Good Design Award and the German Design Award in 2022.
The production models three free independent tool zones for multiple implement combinations, with the option of an extra quick hitch. New Holland states that a sprayer can be mounted in less than ten minutes with this option.
Thierry Le Briquer, grape, olive and coffee harvester global product and platform manager at New Holland said: "Multifunctionality, manoeuvrability, compact design and power: these are the key elements of the new Straddle Tractor range that is completely revolutionizing our offering in Straddle tractors. The best quality is ensured by our engineering and manufacturing at the Centre of Excellence in Coëx, France. These tractors are produced and specialised in grape, olive harvesters and straddle tractors, serving customers worldwide."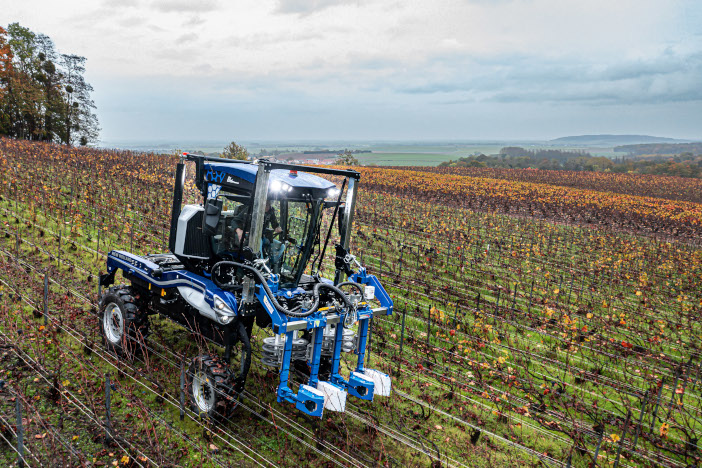 The units feature a new Superlight steering system for improved manoeuvrability and come equipped with the Intelliview IV Plus display and My PLM Connect telematics and data management. It's powered by an FTP Industrial Stage V engine, with IntelliFlow hydraulic systems, and is completed with a newly designed cab.
Carlo Lambro, brand president of New Holland Agriculture said: "It's with great pride that we add these Straddle tractors to our already excellent range, featuring a new design that combines our long-lasting identity with the most innovative features and inspired by the collaboration with a great design firm such as Pininfarina. It brings elegance, comfort and performance to our customers specialized in viticulture and I'm excited to see it in action very soon in the most prestigious vineyards."
For more information go to www.newholland.com