Househam Sprayers has announced that its AirRide and Harrier self-propelled machines will now be fitted with the latest Claas X10 cabin, replacing the Excalibur unit which was built by ABT.
The new cabin is said to offer more space and greater visibility, along with a higher-specification interior. Most notably, views of the boom are said to be greatly improved thanks to the large corner windows and redesigned engine canopy.
Automatic air conditioning is standard, as is a Bluetooth radio, three-way tilting steering column and adjustable sun blinds on all windows. There is also a larger buddy seat with a 27-litre fridge housed underneath.  All vehicle and boom control have been integrated into the cab's original control panel.
Entry-level AirRide models will come with a simpler interior specification with an air-suspended cloth seat, while Harrier units will be fitted with a high-back leather version with climate control and heating. This will also be available as an option across all models.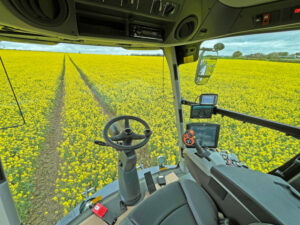 For both ranges, Househam engineers have redesigned the mirrors to improve access, fitted LED lights and installed a hydraulically folding ladder with a controller integrated into the parking brake. An illuminated pressure gauge has also been included, for clearer visibility when working at night.
Sprayer functions and vehicle readouts are integrated into the latest TMC V6 terminal, which is setup for automatic section control and automatic nozzle select as standard. It offers improved graphics and the option of the NavGuide mapping software while using less processor memory than the previous FieldMaster. This results in faster operation when using additional functions.
Further updates
AirRide models now come with a choice of four or six-cylinder Stage V Mercedes engines with power outputs ranging from 170hp to 240hp. The 170hp model is fitted with a single-turbo, four-cylinder power unit, while the 228hp is equipped with an additional turbo. The 240hp version is a six-cylinder model with a single turbo.
These power the hydrostatic drive, with Poclain wheel motors on 3000 and 3500 models, with heavy-duty Sauer Danfoss units on larger machines. Danfoss motors are available as an option across the range.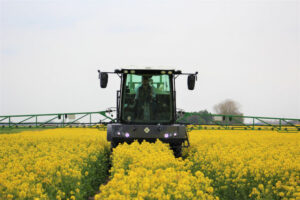 Tank options range from 3,000 litres to 6,000 litres, with boom widths from 24m to 30m. The unladen weight is 6,700kg and operators can increase ground clearance from the standard 1.1m to 1.7m.
On Harrier machines, a six-cylinder 240hp Mercedes engine is fitted as standard, as are the Danfoss wheel motors. Spray packs are integrated into the chassis with capacities from 4,000 to 6,000 litres and boom options up to 36m.
The unladen weight of the new Harrier is 8,500kg and the range offers a ground clearance of 1.1m.
On-farm prices start from £150,000 for the AirRide 3000 with a 24m boom and £178,750 for a 4,000 litre Harrier with a 24m boom.
More information is available at www.househamsprayers.com.