The latest KMA 135 R joins the KMA 130 R, extended the KombiEngine range for users tackling tough jobs. It features a sturdy new battery housing to easily slot the company's 36V AP batteries, a feature Stihl states will increase versatility.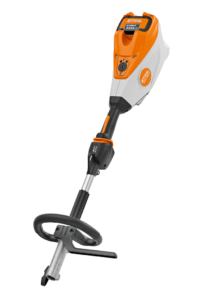 The motor requires little-to-no servicing, reportedly, while the air filters are easy to clean and provide a long service life. To ease transport of the unit, the KombiEngine features a quick-release coupling, splitting the tool into two parts. Uncoupling and recoupling require no tools.
Stihl's latest KMA 135 R brushcutter is compatible with a wide range of KombiTool attachments, all of which are interchangeable due to the straightforward and sturdy connection point. Further accessories include shaft extensions, RTS harnesses, an angled gearhead and a carry bag.
More information is available at www.stihl.co.uk