Merlo has extended its range of heavy-duty Turbofarmer telescopic handlers with the TF65.9TCS170-HF, developed for users in large scale agricultural, aggregate, renewable energy, timber and waste sectors.
It offers a maximum lift capacity of 6.5 tonnes, lifting to 8.8m and is powered by a four-cylinder, 4.5 litre FPT turbo diesel engine, meeting Stage V emissions regulations and offering 170hp. Merlo's own hydrostatic transmission puts the power to the ground, fitted as standard with the EPD TOP (Eco Power Drive) electronic control, providing automatic engine response when using hydraulic functions, ensuring efficient and correct use of power.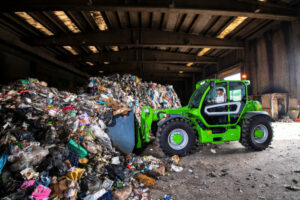 Furthermore, the machine can be operated in Eco and Speed modes to adapt performance to the situation and minimise fuel consumption. As standard, the new Turbofarmer model also comes with a 40kph top speed. As an option, operators can specify the MCVTronic CVT transmission, which has been developed by the company and increases the torque at the wheels at low speeds for increased pushing power, while improving efficiency at high speeds for transport work.
The latest TF65.9 machine is equipped with the new ASCS (Adaptive Stability Control System). This comprises an in-cab 10.1-inch LCD colour screen that displays load dynamic information and the capacity chart, both updated in real-time. The information includes the weight of the load lifted, the attachment in use and the machine's stability, as well as allowing adjustment of the hydraulic functions; the setting of possible load capacities for each attachment; and the recording and storing of load cycle data.
Merlo has also fitted the latest High Flow hydraulic system as standard. Using a 160 litre per minute variable displacement pump, this is said to offer responsive, high output hydraulic power for the most demanding tasks.
The modular type cabin completes the TF65.9TCS170-HF, with an internal width of 1,010mm – reportedly one of the largest on the market. The CS hydro-pneumatic cab suspension is fitted as standard, reducing vibration, shock loads and fatigue to improve operator safety.
The TF65.9TCS170-HF is available from Merlo dealers now, with further information available at www.merlo.co.uk